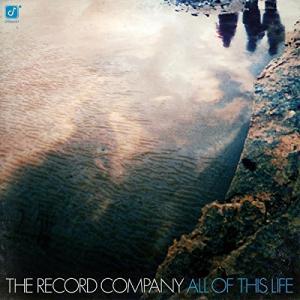 There are many theories about the dreaded sophomore slump. One is that while a band has, essentially, an infinite amount of time to write their debut album, they have a much tighter turnaround for their second. Another is that touring behind a debut album doesn't leave much time to write.
But a personal and less popular theory is that expectations are the real challenge of a second album. If a band deviates too far from the sound of the first album—especially a successful one—some fans are upset the band changed. But if the band recreates the sound of the debut, other fans are upset there's no growth. It's tough to win the battle of hearts with a second album. Having said that, All of This Life, the  sophomore album from Los Angeles power trio The Record Company, is a solid blues-rock album that builds, ever so slightly but quite deftly, on the work of their hit, Grammy-nominated 2016 album, Give It Back to You.
The big change is the rise of the background vocals. Give It Back to You had some, but All of This Life really takes advantage of the vocals of bassist Alex Stiff and drummer Marc Cazorla. They push and lift singer/guitarist Chris Vos over the course of the album, giving the album a warmth and depth that can be challenging to hit when working in the power trio format.
Power trios are all about filling space and background vocals are a fantastic tool for helping three instruments sound like a veritable orchestra. It's a tip practiced by (but not exclusive to) many Los Angeles bands, from Van Halen to Mötley Crüe. The background vocals kick in on the first track, "Life to Fix," which begins with a bass riff that gives way to the drums, becoming a stomp with Vos's singing reinforced by background chanting. That same chanting returns on "I'm Getting Better," a rockabilly-esque tune that also features some harmonica.
Vos also explores falsetto on the album. "Goodbye to the Hard Life" is a great example of it, with the falsetto augmented by more background vocals that give the song a doo-wop feel. Vos also shifts back into a soulful lower register for the bridge, demonstrating his versatility not just between albums but even within songs. The falsetto returns for "You and Me Now," a piano ballad, sweetened with some slide. Which isn't to say the album is all about the vocals. It rocks in a bluesy and country-ish way. And there are interesting surprises, like "Coming Home," which is John Mellencamp's "Hurts So Good" crossed with ELO's "Don't Let Me Down," all built around a handclap of a beat.
One interesting note about All of This Life is that it often mirrors Give It Back to You. For instance, the first track on both records starts with bass guitar and the second track on both are heavily rockabilly influenced. They probably weren't trying to recreate their successful debut song-for-song, but it seems like the one-time-winning formula was on the band's mind. What's nice about All of This Life is that it builds just the right amount off of their first album. It's familiar, but also slightly better, which is the sweet spot for sophomore records.
The Record Company – All This Life
Tracks: 10
Label: Concord Records
Released: June 22, 2018
Run time: 44:48