Across the Great Divide is the title of the benefit concert presented by the UpperWest Music Group. Scheduled for Friday, October 19th, at the Ace Theater in Los Angeles, proceeds from the concert benefit the Americana Music Association & the Blues Foundation. This will be the first time that these two outstanding music organizations join forces to shine a light on the deep connectivity between the blues & Americana music.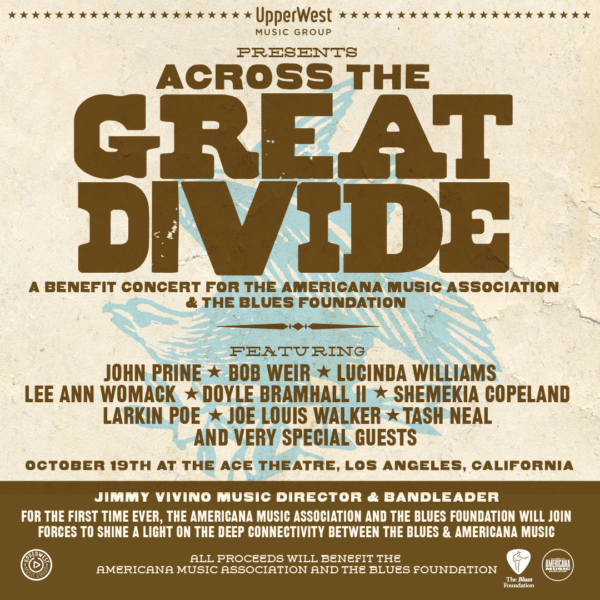 "The intersection of Americana and the Blues is a place of integrity, passion, and love of American roots traditions," said Jed Hilly, Executive Director of The Americana Music Association. "We are so grateful for Greg Williamson and UpperWest Music Group for their support and passion for the music we love. It's a perfect partnership."
The house band will be led by Conan O'Brien musical director Jimmy Vivino. A stellar lineup of blues, Americana and roots rock artists will take to the stage including John Prine, Bob Weir, Lucinda Williams, Lee Ann Womack, Joe Louis Walker, Shemekia Copeland, Slash, Doyle Bramhall II, Larkin Poe, Tash Neal and some very special surprise guests.
"The Blues Foundation is most appreciative of UpperWest Music Group and Greg Williamson for creating an evening to celebrate the ties between The Blues and Americana music," said Barbara Newman, President & CEO, The Blues Foundation, "Each of our organizations and the genres we represent are intricately linked. While The Blues Foundation and the Americana Music Association have had a strong working relationship behind the scenes for many years now, I am especially excited for this opportunity to publicly spread the word of our missions together during what I know will be a unique and special night of music."
The UpperWest Music Group curates. produces, and executes exceptional, one-of-a-kind concerts nationwide. Entrepreneurial and philanthropic at their core, they concept and produce rock 'n' roll, soul, blues, roots and funk marquee concerts. All of their shows feature world-class artists who have a deep respect for each other's craft and musicianship.
The Americana Music Association is a professional not-for-profit trade organization whose mission is to advocate for the authentic voice of American roots music around the world. The Association produces events throughout the year; including AMERICANAFEST®: The Americana Music Festival & Conference and the critically acclaimed Americana Honors & Awards program.
The Blues Foundation is Memphis-based but world-renowned as the organization whose mission is to preserve blues heritage, celebrate blues recording and performance, expand worldwide awareness of the blues, and ensure the future of this uniquely American art form. Founded in 1980, its signature honors and events include The Blues Music Awards, Blues Hall of Fame, International Blues Challenge, and Keeping the Blues Alive Awards. Its HART Fund provides the blues community with medical assistance for musicians in need while Blues in the Schools programs and Generation Blues scholarships expose new generations to blues music.