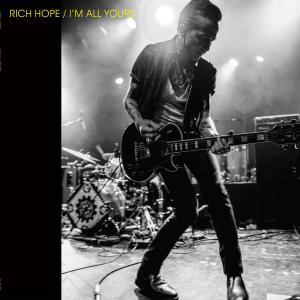 Rich Hope's I'm All Yours has a number of musical touch stones, from rock to garage to blues to country. But perhaps the best comparison to describe the album is not from music, but from the home of three bears, where a young woman struggled to find balance in a world of extremes. Hope, like Goldilocks, finds incredible balance in his fourth album, creating something that rocks with a palpable, raw energy, while also sounding smooth, polished, and, overall, just right.
There are a lot of factors working to make this a great album. The primary one might be Hope's voice, which is pure mania. He's able to reach down into desperation yet focus that panic into a pleasant, melodic vocal delivery. His tone might be howling but his vocals are almost always crooning. You can hear the best example of this on "Running Shoes," a fast-paced track that's powered by a hand-clapping beat and Hope's punk-energy singing.
Hope's band is top notch. Matt Kelly's organ serves as the backbone of many of the album's songs, acting as the sonic container for pounding drums, rumbling bass, wild guitar, and, of course, Hope's vocals. Kelly nails the garage rock organ sound. Nowhere is this more apparent than on "5 Cents a Dance," which seems very inspired by the organ riff from Question Mark and The Mysterians' "96 Tears," but that also has a bit of Freddy Cannon's decidedly less garage-y "Palisades Park."
Hope also has some nice sax and trumpet work courtesy of Jerry Cook and Derry Byrne, respectively. The horns are especially effective on "Some Kind of Love," which has a pretty, Motown-style soul chorus made positively huge thanks to the sax and trumpet. It might be the most produced track on the album, but it still has a loose, dangerous energy.
I'm All Yours also showcases strong songwriting. "Heartbreaker" is probably the album's best written song, relying not just on great energy but also on building a track that evolves. It begins with a slow groove not unlike the Stones' own "Heartbreaker" (the "Doo Doo Doo Doo (Heartbreaker)" one). But instead of relying upon a solid groove, Hope's song is propelled by organ, and eventually by tasty/tasteful pedal steel, courtesy of Scott Smith, as it moves into a sweet, soulful chorus that's practically country. The song beautifully soars anthem-like out of garage rock and into something almost religious. It's an amazing track.
The album works for a lot of reasons, but the main one is its balance. Hope takes songs in all kinds of directions, but it never feels contrived or random. He's obviously creating music that speaks to his personal sensibility and he has a impressive sense of how to keep all of these sounds in perfect proportion. It makes I'm All Yours one tasty bowl of porridge.
Artist: Rich Hope
Title: I'm All Yours
Label: Planned Obsolescence Recording & Novelty Inc.
Release Date: October 19th, 2018
Running Time: 39:28
*Feature image Chris Wong