It has been an amazing 50 years for Jorma Kaukonen and Jack Casady. Their band, Hot Tuna, invokes as many different moods and reactions as there are Hot Tuna fans — millions of them. To some Hot Tuna is a reminder of some wild and happy times. To others, that name will forever be linked to their own discovery of the power and depth of American blues and roots music. To newer fans, Hot Tuna is a tight, masterful act who define the cutting edge of great music. For five decades, Hot Tuna has played, toured, and recorded some of the best and most memorable original electric rock and soulful acoustic music.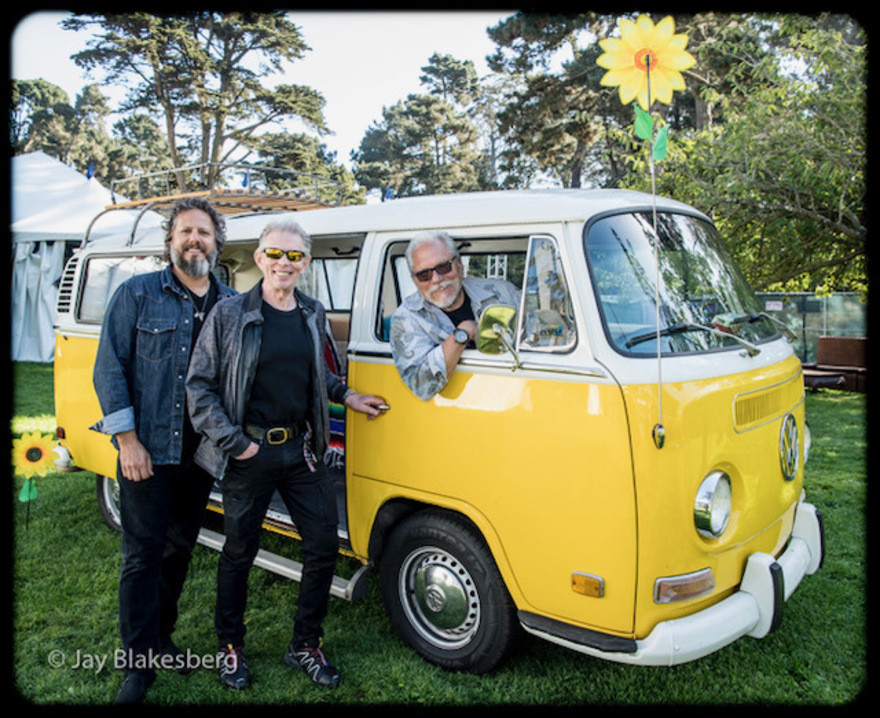 "For a band that traces its roots back to 1969, Hot Tuna can still bring the heat. Not only did they tackle songs from their wide catalog and long career, but they also showed the audience that they still have fun doing it. Jack Casady stomped around the stage totting a bass that is about the same size as him while Jorma Kaukonen lit a fuse and transformed his guitar into a firework." – Live For Live Music
From their days playing together as teenagers to their current acoustic and electric blues, no one has more consistently led American music for the last 50 years than Jorma Kaukonen and Jack Casady, the founders and core members of Hot Tuna. Three-time Grammy winner, drummer and percussionist Justin Guip is all about the groove, the heartbeat at the essence of all great music. Justin lets the song — delicate or driving as the music needs — dictate his drumming style providing the perfect dynamic for Hot Tuna to electrify their trademark sound.
2019 brings Hot Tuna jamming with their many friends on tour, including Dave Mason, David Bromberg, Larry Campbell & Teresa Williams, Rob Ickes & Trey Hensley, and Dark Star Orchestra.
Hot Tuna on Tour 2019
Acoustic Hot Tuna = (AHT) Electric Hot Tuna= (EHT)
Jan 22 Key West Theatre, Key West, FL (AHT)
Jan 24 Plaza Theatre, Orlando, FL (AHT)
Jan 25 Capital Theatre, Clearwater, FL (AHT)
Jan 26 Southwest Florida Events Center, Bonita Springs, FL (AHT)
Jan 28-Feb 8 FPR On the Road Sanibel Island, FL (Jorma)
Feb 27 Musical Instrument Museum, Phoenix, AZ (Jorma)
Mar 1 AMSD Concerts @Sweetwater, San Diego, CA (Jorma)
Mar 2&3 McCabes, Los Angeles, CA (Jorma)
Mar 7 Rio Theatre, Santa Cruz, CA (Jorma)
Mar 8&9 Sweetwater Music Hall, Mill Valley, CA (Jorma)
Mar 22-25 Fur Peace Ranch, Pomeroy, OH, (Jorma, Jack)
Mar 26 Natalie's Coal Fired Grill, Worthington, OH (AHT)
Celebrating Jack's 75 Birthday!
April 04 Levon Helm Studios, Woodstock, NY (AHT)
April 05 At The Tabernacle, Tabor, NJ (AHT)
April 06 Murmrr Ballroom, Brooklyn, NY (AHT)
April 12-15 Fur Peace Ranch, Pomeroy, OH (Jorma)
April 26-29 Fur Peace Ranch, Pomeroy, OH (Jorma)
May 03-06 Fur Peace Ranch, Pomeroy, OH (Jorma)
May 10 Stephen Talkhouse, Amagansett, NY (Jorma)
May 17-20 Fur Peace Ranch, Pomeroy, OH (Jorma)
June 21-24 Fur Peace Ranch, Pomeroy, OH (Jorma)
June 27-29 The Egyptian Theatre, Park City, UT (AHT)
July 06-13 ITALY Electric Hot Tuna TBA
Aug 09-12 Fur Peace Ranch, Pomeroy, OH (Jorma)
Aug 15 Capitol Theatre, Port Chester, NY (EHT w/David Bromberg Quintet)
Aug 16 Paramount Thtr, Asbury Park, NJ (EHT w/David Bromberg Quintet)
Aug 17 Theatre at Westbury, NY (EHT w/Larry Campbell & Teresa Williams)
Aug 20 College Street Music Hall, New Haven, CT (EHT w/Dave Mason)
Aug 21 Wilbur Theatre, Boston, MA (EHT w/Dave Mason)
Aug 23 Keswick Theatre, Philadelphia, PA (EHT w/Dave Mason)
Aug 24 Sherman Theatre, Stroudsburg, PA (EHT w/Dave Mason)
Aug 25 Warner Theatre, Washington DC (EHT w/Dave Mason)
Aug 27 Cat's Cradle, Carrboro, NC (EHT)
Aug 30 The Caverns, Pelham, TN (EHT w/Rob Ickes & Trey Hensley)
Aug 31 Variety Playhouse, Atlanta, GA (EHT)
Sept 04 Sheldon Opera, St. Louis, MO (EHT w/Rob Ickes & Trey Hensley)
Sept 05 Gillioz Theater, Springfield, MO (EHT w/Rob Ickes & Trey Hensley)
Sept 08 Red Rocks, Morrison, CO (EHT w/Dark Star Orchestra)
Sept 10 Rialto Theatre, Bozeman, MT (EHT)
Sept 11 The Wilma, Missoula, MT (EHT w/David Bromberg Quintet)
Sept 13 Moore Theatre, Seattle, WA (EHT w/David Bromberg Quintet)
Sept 14 Revolution Hall, Portland, OR (EHT w/David Bromberg Quintet)
Sept 15 McDonald Theatre, Eugene, OR (EHT w/David Bromberg Quintet)
*Feature image Barry Berenson