With the emotional capacity of a hurricane, Dave Cavalier's guitar playing is almost as if a tattooed James Dean played guitar like Hendrix. Billboard has said Cavalier has some of "The greatest tracks you've never heard of." The Huffington Post has called him, "Jack White merging his talents with those of Robert Palmer…his music defines what is known as the carnal arts – sexy, sensuous, gritty music."
In 2015, Grammy-nominated producer, Hal Winer, produced Cavalier's Howl. He has performed with Buddy Guy, Eddie Vedder, Don Henley, Aloe Blacc, Kendrick Lamar, Kenny Wayne Shepard, Amos Lee, Band of Horses & many more at festivals across the country. He is an award-winning film composer and has been the focus of both national and international marketing campaigns for brands such as Peugeot, Best Buy, HTC Vive, Las Vegas & San Diego Tourism.
Brant Buckley:
Who are your favorite Blues artists?
Dave Cavalier:
The 4 pillars of my electric church are Jimi Hendrix, B.B. King, Stevie Ray Vaughan, and Eric Clapton. If you dig into my most individual guitar playing moments, you will find a smattering of all of them.
Can you talk about your new EP Rumors?
I am genuinely very excited to get these songs out. We started the release of Rumors with our first single "Snap Out Of It" followed by "Talk is Cheap". Currently, I'm dishing out "Damage Is Done", "Rumors", and "No More". I have had these songs for over a year and I needed to get them out. They need to see the light of day. It is very exciting.

Musically speaking this was a growth period for my sound. With my first EP Howl, I was a straight Blues Rock guy. My perspective changed a little bit more with Rumors and I tried to modernize the sound. I know at my core I have always been a Blues guitar player. I was delicately walking this balance between creating something that fits into a modern radio landscape while still retaining my roots. "Damage Is Done" is an Alternative Rock song with Blues licks. It's a 6/8 groove until you get to the chorus where some synths come in and it gets a lot more modern and big. It was a growth thing for me to try and marry these two things together in a cohesive and entertaining way.
How do you describe your sound? Can you talk about the soul of Chicago meeting the grit of Hollywood?
I like to call it Alternative Blues. For me it all comes from that place. Lyrically a lot of the story lines tend to revolve around classic Blues themes like heartbreak and people getting cheated on. I think what it really came down to is what I call L.A. Blues. I am from Chicago so I grew up around the very traditional Chicago Blues mentality. The B.B. King and Buddy Guy thing. There's a sound to it that is in a very specific lane even though these artists approached it in their own individual way.

Los Angeles is such an amalgam of different kinds of music and art. The Blues that exists in Los Angeles is much more specific than what other people deal with in other cities or regions in the United States. Here you could be in total love with someone and they will still ditch you for a producer with a Ferrari. The Blues people deal with here is about people chasing their dreams and having their dreams crushed or having them come true and then having them crushed. It is so unique. I wanted to explore what that side of the Blues felt like to me. I think that is why I had to modernize the sound. Los Angeles is always on the cusp of whatever is new. I don't think it would do L.A. Blues justice to give it an old school sound.
You and your band play live music with burlesque dancers. Can you talk about this?
It all started a few years ago at a show called Blue Velvet. I started with my business partner Olivia Bellafontaine. We performed at a local Hollywood spot called Sassafras Saloon. It has an elevated stage as it's supposed to represent New Orleans. You are essentially playing from a balcony like you would at The French Quarter. The problem was we weren't really connecting with the audience while jamming on the second floor. What ended up happening is they had burlesque dancers performing. I met Olivia who's in charge of doing the shows and we discussed burlesque dancers performing to bridge the gap; Dancing on the bar to bridge the performance gap from the first level to the second balcony level while we play music. It turned into a fully improvised theatrical performance that has become incredibly fulfilling.

From the first step to the last note everything from the dancers to the band members is totally improvised. The band will get into a groove and as the dancers begin to move, I bend the strings as they bend their bodies. We build up a visceral sexual energy in the whole room which leads to people taking off their clothes. We offer a fully improvised experience. When you see a show like Blue Velvet or our Alligator Wine show, the first time you see it is the first time I see it. The first time you hear it is the first time I hear it. I lose my mind onstage as it is so much fun. It's very much an exorcism as it is a musical performance. It is incredibly emotional and a blast.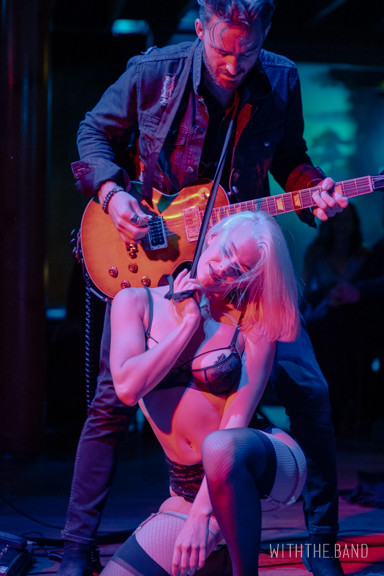 You primarily play Gibson Les Paul guitars. Why do you like them so much?
I have a 2000 Classic that used to belong to my dad who is still around. I was gifted it from him when my needs changed so to speak. Back when I was a touring guitar player for the pop group Stamps, I played a Fender Telecaster and I loved it. It was a Nashville style Telecaster with 3 pickups like a Strat. It was great but when I started playing in a power trio I needed something much bigger. I wasn't interested in the Jimi Hendrix, Marshall stack sound. I needed sound that could fill up space and a lot of that has to do with my Gibson Les Paul. I have Seymour Duncan Humbucker pickups installed. They accent the nuance in my playing.

I will openly admit, I do not have the best Blues licks but I have always loved how B.B. King could make you cry with one note. I always strive to be the most emotional emotive player as opposed to being an encyclopedia of riffs. My Les Paul is set up to be as articulate and nuanced as possible. A lot of my tone comes from my Red Plate Amp which is a boutique amp from Arizona. It is one of the best purchases I have made that defines my sound. My pedal board is very simple. My main weapon is my wah pedal. I have some great dialed in tones that fit my voice and I use a little bit of overdrive when I need some extra juice. That's kinda the sauce.
What else do you want to accomplish?
I would love to see more people using guitars again. Not in an Indie Rock kind of way. I mean using them in the way that inspired me; whether its throwbacks to Hendrix or the Alternative Rock days when people were using them in really creative ways. The idea is to keep guitar playing moving forward. You won't see me using techniques like Mat Bellamy from Muse, but a Kaoss Pad inside of a guitar is a really fun and crazy way to keep pushing the instrument forward.

The Blues philosophy is about making music as emotional and from the heart as possible. Now we have all these new tools to create new sounds and I would love to see guitar come back to the forefront. I hope I can play some small part in doing that. Within my career I want to keep making great music, continue getting it out as often as possible, and being as genuine as possible.
*Feature image Gregory Thomas