Gracie Curran's voice is reminiscent of Brittany Howard of Alabama Shakes. There's similar
power and emotional directness, which makes Come Undone, her second album, such an
enjoyable journey.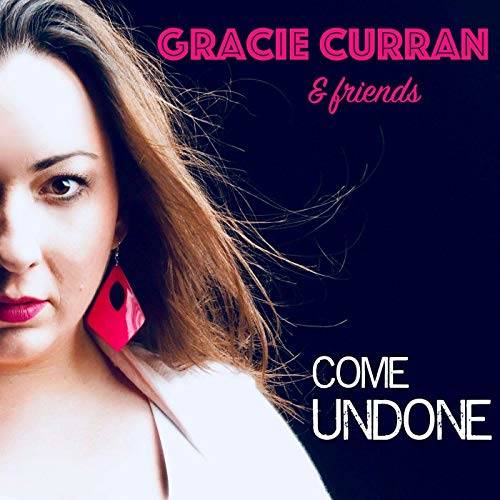 Come Undone is all about Curran's voice, which has a bluesy rasp but a pure-rock energy. It's
the first thing you notice on every track and it's at the center of every song. Curran's supporting band does a great job of laying down the music, but everything is in service to Curran's vocals. Which is a wise move.
The title track is a slow burn, a la Alabama Shakes. The music quietly simmers while Curran
boils, pushing back against horns and drums. Her voice covers the track, like a pot lid, just to
keep the analogy going a little longer, not stifling the energy of the track, but creating a tension that makes the song hotter. Sure, the track moves into an odd reggae break, but when you have pipes like Curran, you can make reggae detours. People get it.
While that song has a contemporary vibe, Curran also has some very nice, older-school blues
and soul numbers on the album. "Stay Up" is also horn-driven, this time in more of a blues jazz vein. Here, Curran's singing is percussive, the staccato performance almost making the track's drums unnecessary. But Curran manages inject her vocals with tone and melody, so it's not like she's rapping, so much as she's using her voice like a drum kit.
"If Mama Ain't Happy" also has a 1950s sound. Curran's band here is relatively stripped down, with some Jerry Lee Lewis-approved piano framing out the song, and some vintage guitar soloing providing period-authentic color. But Curran's voice centers the tune, once again practically acting as her own rhythm section.
Which isn't to say that Curran is all about the power. There are quieter tracks, although Curran's voice just doesn't seem wired for anything but intensity. She never bulldozes her way through a song, and she's capable of finesse, but the performances are never delicate. "Love is the Cruelest" is a soulful love song, built upon some sparse guitar, and while Curran is tapping into a serious emotional space, her voice still shines, like a spotlight that can't be dimmed.
It would be insulting to say Curran could make anything sound good. The songs on Come
Undone are all well-written. Her band is also impressive. Everyone stays out of Curran's way,
yet the performances are all interesting. They're supportive but not demure, and that's a hard tightrope to walk. So while Curran could rest on the laurels of her vocal gift, she doesn't. There's a lot of thought and deliberateness in every aspect of Come Undone. But it certainly helps that Curran is starting from such a talented position.
Artist: Gracie Curran & Friends
Title: Come Undone
Label: Vizztone Label Group
Release Date: July 26th, 2019
Running Time: 31:52
*Feature image Thomas Dove