The big question was how could UK harp ace Giles Robson follow up his prestigious Blues Music Award in Memphis for the Best Acoustic Album, Journeys To The Heart Of The Blues, with Bruce Katz and Joe Louis Walker on Alligator/Munich records? The answer lies in this exciting, inventive, powerful and glorious collaboration with Bruce Katz and the band's Don't Give Up On The Blues. It was expertly recorded in New Jersey at the American Showplace
Records studios by label boss Ben Elliott and firmly establishes Robson as a premier harp player on both sides of the Pond. As the 30th anniversary of Harp Attack approaches, it is timely that Chicago legends James Cotton, Junior Wells, Carey Bell, and Billy Branch have a potential worthy heir to the blues harp throne.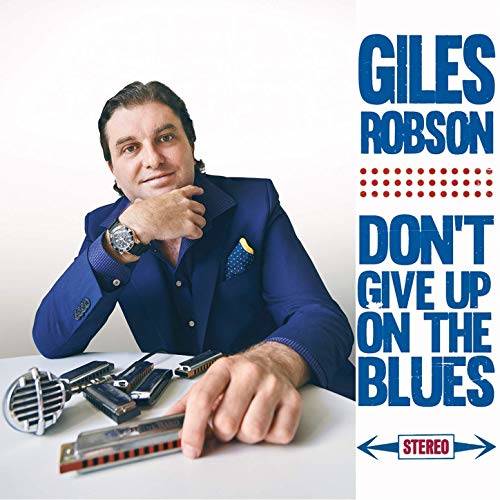 This USA debut recording explodes into life with "Land To Land," its mesmeric harp riff and eerie vocal delivery interspersed by piercing solos complemented by trademark Hammond B3 background licks from Katz. The jaunty "Don't Give Up On The Blues" promotes the healing qualities of the blues, the optimistic message enhanced by Bruce's joyful and inspirational piano accompaniment. The shuffling, percussive rhythm of drummer Ray Hangen underpins "Damn Fool Way" providing the perfect platform for Robson's quirky vocal and harp delivery.
"Your Dirty Look And Your Cheeky Grin" is a slow burning, atmospheric account of truth and lies in a relationship, the lung-bursting wailing harp and mournful piano keys building to acrescendo. The mood lightens a little on the beautifully arranged "Show A Little Mercy," Aaron Lieberman excelling on guitar and bassist Antar Goodwin maintaining a solid groove. All of Giles' technical qualities are evident in the instrumental "Boogie At The Showplace" as he duels with Katz, namely his supreme timing, phrasing, use of vibrato and chugging.
On the politically charged "Fearless Leaders," Robson expresses his mistrust of who and what to believe through his poignant vocals and heart-rending harp accompaniment. The upbeat "Hey, Hey Now!" with its staccato rhythm contrasting with the fluid B3 solo is another highlight and a precursor to the equally memorable instrumental, "Giles' Theme." "Life, With All It's Charms" has one of the most enchanting, repetitive harp phrasings as Giles muses on what it means to hold his baby in his arms. Chicago style blues is celebrated on "That Ol' Heartbreak Sound" with Robson proving his status as a major player on the contemporary scene — his energy boosted by the flamboyant Katz and the phenomenal band. The last of the 12 original tracks, "Way Past Midnight," is an instrumental tour de force from five musicians at the top of their game. Giles Robson proves he is well worth his place in blues harp history.
Giles summarizes his feelings about the album as follows:
"As an artist I'm all about blues. This incredible music has taken me around the
worldperforming it to audiences of all races and nationalities, who love and feel the music. This album is really a letter of gratitude and respect to the music not only for the wonderful career it's given me, but also because on a personal level it's seen me through some tough times over the past few years and will be there for me to help me out in years to come. I'm sure there are many blues fans out there who have the same feeling towards the music too. I wanted to keep the powerful essence and feeling of the blues but also add my own personal stamp to it. With the help of Ben Elliott and Bruce Katz with his incredible band I hope that we've done just that!"
Artist: Giles Robson
Title: Don't Give Up On The Blues
Label: American Showplace Music
Release Date: 20th September, 2019