Valerie and Ben Turner, the husband and wife duo known as Piedmont Blūz, are true ambassadors of Country Blues music. More appropriately, the music of the Eastern United States known as Piedmont Blues. It is a finger-picking style of music based on ragtime type rhythms. Some of the originators of this style include Blind Blake and Rev Gary Davis. However, later artists have included Brownie McGhee and Sonny Terry, as well as Cephas & Wiggins. And even later Eric Bibb, Ry Cooder, and others have spread this art form throughout the country and the world. Arlo Guthrie famously used a Piedmont blues backing for his "Alice's Restaurant" monologues, as it was easy to play repeatedly for long stretches of time.
Like many of the later performers, Valerie Turner, who has been playing guitar since age ten and plays guitar and sings in Piedmont Blūz was taught, in part, by one of the masters of the craft, John Cephas of Cephas & Wiggins fame. However, her talents were influenced by other greats as well, including one from the Delta area that at first surprised me: Mississippi John Hurt.
"I was studying it on my own but also with my mentor, John Cephas," Valerie explains. "Before he passed away in 2009 he encouraged all his students to keep that style of finger-picking going and that's what we've been doing."
I couldn't help but wonder how a native New Yorker found Cephas to teach her. "I had already been playing in that style when I met him in the early 2000s. It was just very fortuitous that I was looking for some instruction from another blues player. I Googled 'blues guitar teacher' and his name came up. I got in touch with him and he was very gracious to respond and reach out to me. Then from that time until he passed away I was able to study with him. He gave me a really good feel for the music. He kind of put the polish on things I had already been studying."
The couple have been playing together for about six years, with Valerie on guitar and her husband Ben accompanying her on washboard, bones, and harmonica.
"We're now married for twenty four years," Ben explains. "Valerie has always had a guitar and played the music, sometimes putting it down for quite a few years. We worked in corporate America. I was a graphic designer and Valerie was a software engineer, so most of our time was given to that. When Valerie's teacher John Cephas passed, she wanted to make a change. Since he'd asked her to keep the tradition going, we spoke about her leaving her job. We decided, 'hey, you only live once and you should go ahead and play your music.' I've always loved her music and we decided it was the time to just do it. She kept leaving instruments around the house for me, but I'm more of a sports guy, snowboarding, speed skating and the like, but eventually I found the washboard on my own. I brought it back and showed it to Val, and she said, 'oh, well, it goes with the genre of music so look up blues washboard and figure it out.'
"The next week she had me at an open mic, and that was my first introduction to music. At first I was just figuring it out on my own, but there are a few blues camps around so I did take a couple of lessons with Washboard Chaz of Louisiana and also with Newman Taylor Baker who is a classically trained drummer. He's been playing washboard with the Ebony Hillbillies, who are from Queens. I don't sound like either of them, I still have my own feel. They told me keep doing what I'm doing because it sounds very different from what everyone else is doing."
Piedmont Blūz will be playing at the Mississippi John Hurt Homecoming Music Festival in October. Taj Mahal is one of the performers at that festival but also the curator of the event, so I was curious how Piedmont Blūz were included in the lineup.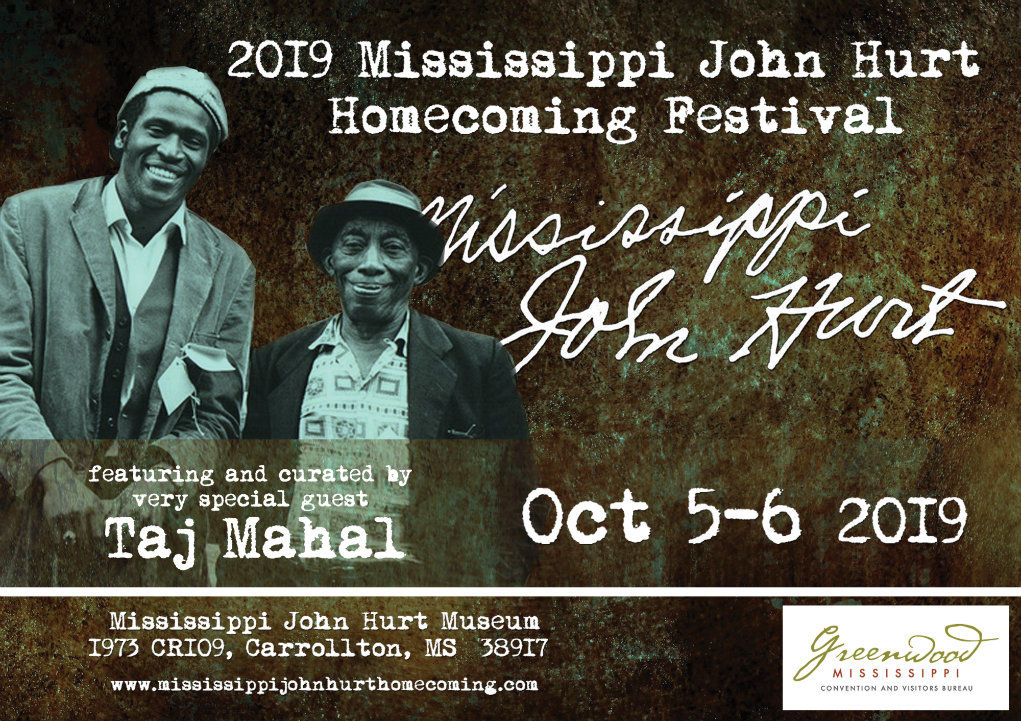 "First we just want to say we're so excited to be included in that lineup," Valerie shared. "How we came to be part of it is sort of interesting. There are two separate stories that merge. We had performed at the Chicago Blues Festival last June and we realized we were within spitting distance of John Hurt's granddaughter, Mary Frances. We had spoken to her many times over the phone during the course of several years, but had never met her, so we called and asked if we could visit. We spent a couple of days there and played a lot of music for her. She really enjoyed us playing her granddaddy's music. So that's one half of it. Separately, a couple of years ago, Taj Mahal was performing in New York City in Central Park. We were able to go backstage to meet and play a little bit of music for him which he seemed to enjoy. When he was speaking to Mary Frances about the lineup for the festival, he was talking to her about a couple he had met in New York City, and she was talking to him about a couple that had visited her from New York City. At some point I imagine they realized it was the same couple, and that's how we became part of this event."
Again, I began wondering how self-proclaimed Piedmont artists would be so familiar with the music of Mississippi John Hurt. In true ambassador fashion, Valerie educated me.
"I'm going to answer your specific question but then I'd like to fill in some gaps around what styles of music people played depending on what region they came from," she began. "I first came across his music when I listened to his album in the music library of my school. I had come across his name in a discography and I began to look up the albums in that discography. The only one my school had was an album called The Best of Mississippi John Hurt. I can tell you from the first note of the first track I was hooked. I knew I had come across something that could engage me for the rest of my life. I returned to the library every single day that I had classes and I requested that record. They stopped putting it away because they knew I would be in. I actually wore the record out. I went in one day and it was no longer playable. My brother, who had always been my biggest supporter and fan, bought me the record, so I was able to play it at home non-stop.
"As for John Hurt, yes he was from the Mississippi Delta. Of course you have wonderful Delta Blues artists and a Delta Blues style that was coming along at the time he was actively playing music. But remember, musicians travel all around. Just because you live in one area doesn't mean you might not have been exposed to another style of playing. I don't think we'll ever know exactly how he was exposed to an East Coast style of finger-picking, but he was. It was something that he took to, and it was the main style that he played in.
"For example, although I have deep Southern roots with family, one side from Georgia and the other side from Virginia which happen to be the Northern and Southern ends of the Piedmont region, I was born and raised in New York City. Just because I'm a native New Yorker doesn't mean I wouldn't be exposed to this beautiful music and learn to make it my own."
I've yet to speak to a more loving, knowledgeable couple. The most wonderful thing about Piedmont Blūz is they share the history of the music as well as playing the songs. They're able to do that in a way that doesn't take away from the musical performance, but rather add an educational aspect that blues fans truly love. Make plans to attend the Mississippi John Hurt Homecoming Festival – October 5th and 6th at the Mississippi John Hurt Museum in Carrollton, MS. Piedmont Blūz will be joined there by Howard Curry and William Goins; Dom Flemons; Jim Kweskin; Guy Davis; and Taj Mahal with special guest Jesse Colin Young.
*Feature image Lisa Elmaleh