MEMPHIS, Tenn. — Since The Blues Foundation was founded in 1980, it has held the mission of preserving and promoting blues around the world, and this year's Keeping the Blues Alive Award honorees demonstrate just how successful the organization has been over the past four decades. The nine individuals and organizations receiving KBAs in 2020 don't just hail from the blues' traditional territory of the American South but from such far-reaching blues outposts as Denmark, Poland, and Colombia.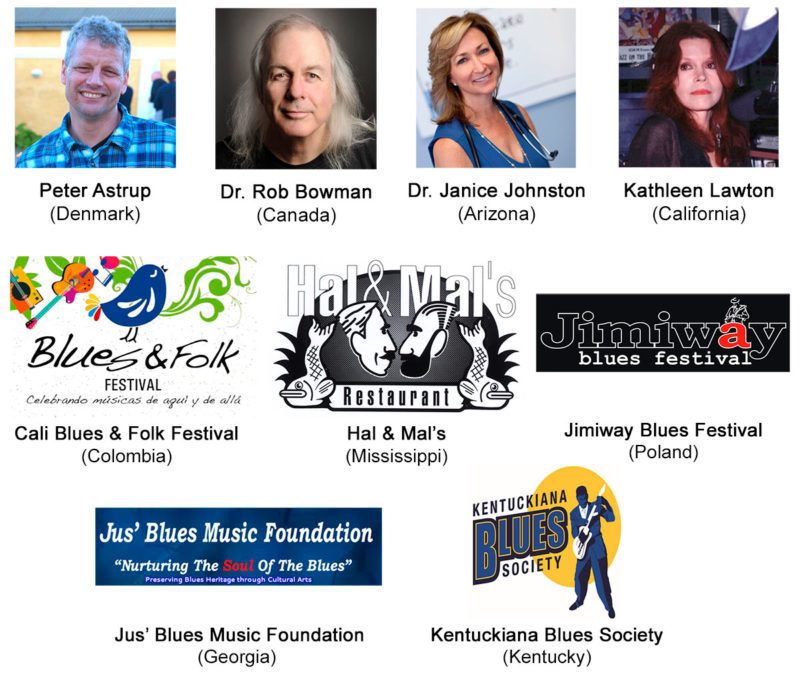 The KBA Awards, chosen annually by a select panel of blues professionals, salutes those who have played crucial roles in advancing the art and commerce of blues. This year's esteemed honorees will be recognized for their achievements at the Keeping the Blues Alive Awards brunch, taking place on Friday, January 31, 2020, 10:30 a.m., in the Holiday Inn Memphis-Downtown Ballroom.
The KBA ceremony represents just one part of The Blues Foundation's 36th Annual International Blues Challenge. The IBC Week kicks off Tuesday, January 28, 2020 with International Showcase performances on historic Beale Street, and concludes with the finals at Memphis' Orpheum Theatre on Saturday, February 1 at 12 noon. More than 800 musicians will arrive in Memphis from all across the globe to battle for glory — along with prizes and bookings — in the International Blues Challenge, the world's largest and most renowned blues music competition. Showcases, jams, panels, workshops, and master classes will occur daily up and down Beale Street, with the music jamming on into the wee hours after the IBC challenger performances conclude each evening.
To purchase an International Blues Challenge Pass and final seating upgrades, along with tickets to the Keeping the Blues Alive Awards Brunch and Ceremony, please visit this link: IBC and KBA Tickets
The 2020 Keeping the Blues Alive Awards recipients are:
PETER ASTRUP
Well known to thousands of musicians in Europe and the United States, Peter Astrup has dedicated his life to establishing, and expanding, the blues music scene in his native Denmark and throughout Europe. After two decades of producing and promoting blues events in Europe, he founded the Frederikshavn Blues Festival in that northern Danish port city in 2006. Recently renamed the Blues Heaven Festival, this premier blues event now attracts audiences from 17 countries to enjoy performances by 15 blues, soul, and gospel bands over two full days. In 2018, Astrup launched a second festival, Blues Paradise, that is held the same weekend as the Frederikshavn event. His dedication to blues music has been widely recognized and he has been honored with many awards and accolades, including the French website ZicaZic's International Festival of the Year in 2018 and the 2018 Danish Music Award as Hoochie Coochie Man of the Year for being a pioneer of blues music in Denmark.
ROB BOWMAN
Dr. Rob Bowman, associate professor of music at Toronto's York University, is an accomplished blues educator lauded for his scholarship as well as for his support of Toronto's blues music community and his involvement in Canada's prestigious Juno Awards. A six-time Grammy nominee, Dr. Bowman received the 1996 Best Album Notes Grammy® for his 47,000-word monograph in the 10-CD box set The Complete Stax/Volt Soul Singles, Vol. 3: 1972-1975. In 1998, he won the prestigious ASCAP Deems Taylor/Virgil Thompson Award for his book Soulsville U.S.A.: The Story of Stax Records, which was inducted into The Blues Foundation's Blues Hall of Fame in 2013. Dr. Bowman has written liner notes for more than 88 blues releases, has been published in distinguished academic journals, and has produced compilations by Isaac Hayes, Carla Thomas, Lou Reed, Otis Redding, and Booker T. & the MG's. Besides teaching the blues in university classrooms, as he has since 1978, he also currently mentors and manages the award-winning Toronto blues band Samantha Martin & Delta Sugar.
THE CALI BLUES & FOLK FESTIVAL 
The Cali Blues & Folk Festival is a signature event of the Centro Cultural Colombo Americano in Cali, Colombia. Founded in 1954, this nonprofit binational center is dedicated to enhancing the friendship between Colombia and the United States through an array of arts, cultural, and English language education programs. In 2007, the Centro began the Cali Blues & Folk Festival, which presents blues artists from the USA, Mexico, Argentina, Spain, and Colombia. Its substantial education and community outreach initiatives include the formation of the Colombian Blues Society in 2014. U.S. blues artists such as Michael "Hawkeye" Herman, Rich DelGrosso, J.P. Soars, and Jon Del Toro Richardson have co-led blues education master classes and educational workshops with local artists that annually attract 500-plus youths (from elementary schools through universities) in eight cities during the festival. Sustained by partnerships with the Mayor's Office and the Secretary of Culture and Tourism, the Valle del Cauca Promotion of Cultural Programs, the Colombia Ministry of Culture, and the U.S. Embassy, the Cali Blues & Folk Festival has networked with other Colombian festivals to expand performing opportunities for their nation's blues musicians.
HAL & MAL'S USA BLUES CLUB
Operating out of the circa-1923 GM&O freight depot building in downtown Jackson, Mississippi, Hal & Mal's USA Blues Club was founded in 1985 by brothers Hal White (now deceased) and Malcolm White, current director of the Mississippi Arts Commission. While Hal & Mal's has presented all types of music, the main focus has been blues and R&B. The club, in fact, was one of the first white-owned venues in central Mississippi to book black bands. Albert King was their first act, and B.B. King, Koko Taylor, Little Milton, Mose Allison, James Brown, Charlie Musselwhite, Buckwheat Zydeco, Johnny Winter, R.L. Burnside, Pinetop Perkins, and Bobby Rush performed there over the years. For the past 13 years, Hal & Mal's has partnered with the Central Mississippi Blues Society to host Blue Monday, a show/jam featuring local blues talent as well as visiting musicians who come to play with the Blue Monday Band. With more than three decades of blues music history, the venue has been identified by scholars as deserving of a Mississippi Blues Trail marker from the Mississippi Blues Commission; installation of the marker currently awaiting funding.
JIMIWAY BLUES FESTIVAL 
In 1994, the father-and-son team of Benedykt Kunicki and Oskar Kunicki founded the Jimiway Blues Festival in Ostrów Wielkopolski, Poland. Named in tribute to Jimi Hendrix, this nonprofit initiative is rooted in the mission of presenting a broad spectrum of blues music styles. Music enthusiasts travel from far and wide to attend this two-day event, which is held annually on the third weekend of October. The festival contains a diverse lineup of live concerts, jam sessions, and exhibits of music photos. Internationally renowned blues artists including Sugaray Rayford, Lil' Ed & the Blues Imperials, Kenny Neal, Joe Louis Walker, John Németh, Curtis Salgado, Nick Moss, Coco Montoya, Tommy Castro, Toronzo Cannon, Mr. Sipp, Lucky Peterson, and Albert Cummings have performed at Jimiway. Its organizers also are devoted to showcasing Polish blues stars and promising young blues acts as a way to bring together multiple generations of musicians and fans.
JANICE JOHNSTON
Dr. Janice Johnston has been an advocate for blues musician health since becoming involved with The Blues Foundation in 2013. As the chairperson of The Blues Foundation's HART Fund, Dr. Johnston has worked tirelessly to expand the offerings of this fund, which was established to ensure that blues musicians can get the resources needed to secure healthcare for both acute and chronic conditions. She spearheads the free health screenings originally held as part of the International Blues Challenge and Blues Music Awards and that now have expanded to other music festivals and conferences. Dr. Johnston regularly negotiates on behalf of musicians to lower their costs for services, and seeks outpatient assistance programs so that musicians can independently continue their care. She also helped develop teams of volunteers in Memphis, Nashville, Las Vegas, and other cities, along with coordinating the hiring of registered nurses to support the program where volunteers were not available. Blues musicians the world over continue to benefit from her ongoing health advocacy on their behalf.
JUS' BLUES MUSIC FOUNDATION
Established in 1995, this Georgia-based 501(c)(3) nonprofit organization was founded "to preserve blues heritage through cultural arts by nurturing the soul of the blues with historical blues education programming." Jus' Blues has promoted that education to youths and performing artists in communities nationwide and around the world. The foundation acknowledges the originators of the blues by archiving and preserving the legacy of those artists, and also honors those under-the-radar musicians who are still performing in the blues and soul traditions. The foundation has expanded its goals by recognizing the best in blues and soul music artistry through the annual Jus' Blues Music Awards and Conference, while also establishing itself as a prominent leading blues and soul music advocacy and outreach organization.
KENTUCKIANA BLUES SOCIETY
Located in Louisville, Kentucky, the Kentuckiana Blues Society was founded in 1988 with the goal to preserve, promote, and perpetuate the blues tradition in all its forms. Through extensive research and documentation, the KBS has made major inroads in authenticating the history of the blues in Louisville. Their work has resulted in the discovery of valuable rare photos and interviews, as well as the locations of many early blues-related sites. From its inception, the KBS also has played an active role in the local blues scene. Albert Collins, Pinetop Perkins, Henry Townsend and other blues greats were all able to appear in Louisville under the auspices of the KBS. Since 1988, the KBS has been involved with, and supportive of, multiple local events including the Garvin Gate Blues Festival, the Germantown-Schnitzelburg Blues Festival, and the Louisville Blues & Barbecue Festival. Through its historical work and present day community involvement, KBS reveals a strong commitment to keep blues tradition flourishing so that generations to come will be able to know and appreciate this style of music.
KATHLEEN LAWTON
One of the world's preeminent blues DJs, Kathleen Lawton has hosted the radio show Crazy 'Bout the Blueson San Mateo-based KCSM-FM since 1988. It can be heard live on terrestrial radio at 91.1 FM, and streaming via the Internet, every Friday from 9 p.m. until midnight Pacific time. The program has also aired on Radio Free America for the past several years. As a result, Lawton's listenership extends beyond the Bay Area to blues fans worldwide, from Montevideo to Mumbai and Miami. Lawton received the Blues DJ of the Year Award in 2004 from the Bay Area Blues Society. While jazz is KCSM's core music, Lawton's mission has been to show listeners how the roots of jazz, and so much modern music, lie in the blues, from Son House and Hop Wilson right up to the Cash Box Kings and Howell Devine. Above all, she aims to entertain and delight all during her three-hour Friday-night show with the passion, wit, wildness, and diversity of the blues — plus gospel, zydeco, and soul music —and make her listeners become "crazy 'bout the blues."
* * *
In addition to the KBA Awards brunch and the multitude of IBC performances leading up to the February 1 finals, The Blues Foundation also has programmed a variety of seminars, showcases, master classes, film screenings, book signings, exhibits, networking events, and receptions that musicians, blues professionals and fans can attend. On Wednesday, January 29, The Blues Foundation hosts a noontime book signing by Janiva Magness for her recently published autobiography Weeds Like Us. Wednesday also features the Blues Society workshop "How to Write a Successful Grant," while IBC Musician Workshop "Managing Your Career, Insights from Bobby Rush" will take place on January 30.
The IBC's Keynote Panel, Friday, January 31, 2:30 p.m. at Alfred's on Beale, will address "Blues Women — Creators, Connectors, Catalysts." Author Dr. Marie Trout (The Blues: Why It Still Hurts So Good) will serve as moderator with panelists including the BMA-winning blues musician/educator/activist Gaye Adegbalola, award-winning media consultant and founder of the African American Public Relations Collective, Gwendolyn Quinn, and Grammy-winning producer and co-founder of Omnivore Recordings, Cheryl Pawelski.
The Blues Foundation will again host health screenings for diabetes, cholesterol, PSA, Hepatitis C and other conditions free of charge to IBC musicians and attendees. This year, for the first time, onsite behavioral health consultations with psychiatrist, Dr Rebecca Dulit will be available for those desiring evaluation. MusiCares will be on site too as a partner to provide custom ear molds to those who qualify. Sponsored by The Blues Foundation's HART (Handy Artist Relief Trust) Fund, these screenings will be provided on Wednesday, January 29 and Thursday, January 30 from noon-2:30 p.m. on the second floor of Club 152 (152 Beale Street).