"If Joni Mitchell and Richie Havens had a love child, with Rodney Dangerfield as the midwife, the results might have been something close to the great Vance Gilbert." As the above quote from Richmond magazine suggests, Vance Gilbert defies stereotypes. It's little wonder then that he also exceeds expectations. In this case, those two qualities go hand in hand.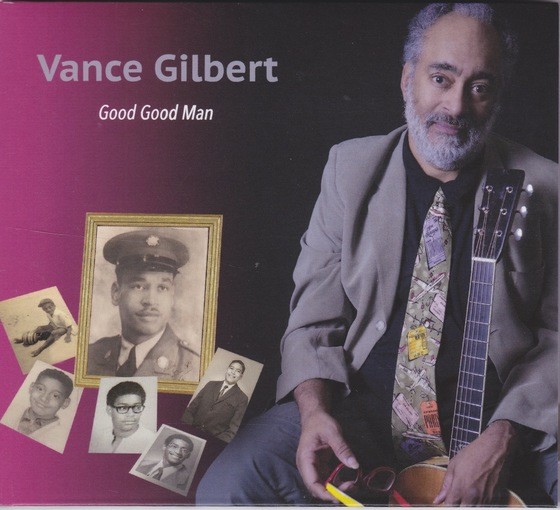 They also come to full fruition on Gilbert's upcoming album, the appropriately named Good, Good Man, out January 24, 2020. Recorded with an A-list support cast that includes bluesman and singer/songwriter Chris Smither, Al Green's organist Stacey Wade, Tommy Malone of the Subdudes on guitars, Mike Posner on backing vocals, and Celtic harpist and vocalist Aine Minough it sums up the strengths that Gilbert's always had at his command. That is, a gift for compelling melodies, insightful lyrics, a witty and whimsical point of view, and the ability to maintain an inherent humanity that translates to his connection with his audiences.
As always, the music is as varied as it is vibrant, from the philosophic musings of "Pie and Whiskey" and the rollicking R&B-flavored title track, to the swinging sound of "Zombie Pattycake," the tender trappings of "Hitman" and the bare-bones remake of the 1972 hit "Wildflower," a seminal song given Gilbert's intimate and essential additives.
In short, it's Gilbert at his very best, a set of songs that deserves to bring Gilbert the wider recognition that's eluded him for far too long.
Of "Another Great Day Above Ground," Gilbert says, "A country-blues that was born from an older friend who said, when asked how he was, 'if I put my elbows out and don't feel wood, then I know it's another great day above ground.' I knew my friend Chris Smither would play this far better than I ever could, so I called him for his first-ever guitar and stomp-foot hiring in his long and wondrous career. He thinks it'll look great on his resume. Yeah, whatever, like he needs *that*."
The song also features Herb Gardner on trombone, with Vance singing and giggling.