Her voice is gritty, raspy, and a hundred other synonyms for exactly what I've always thought a female voice in the blues should sound like. Sass Jordan, with those vocals that conjure Janis Joplin, Koko Taylor, Gaye Adegbalola, Howlin' Wolf, and Gregg Allman is poised to release her newest offering, Rebel Moon Blues via Stony Plain Records on March 13, 2020.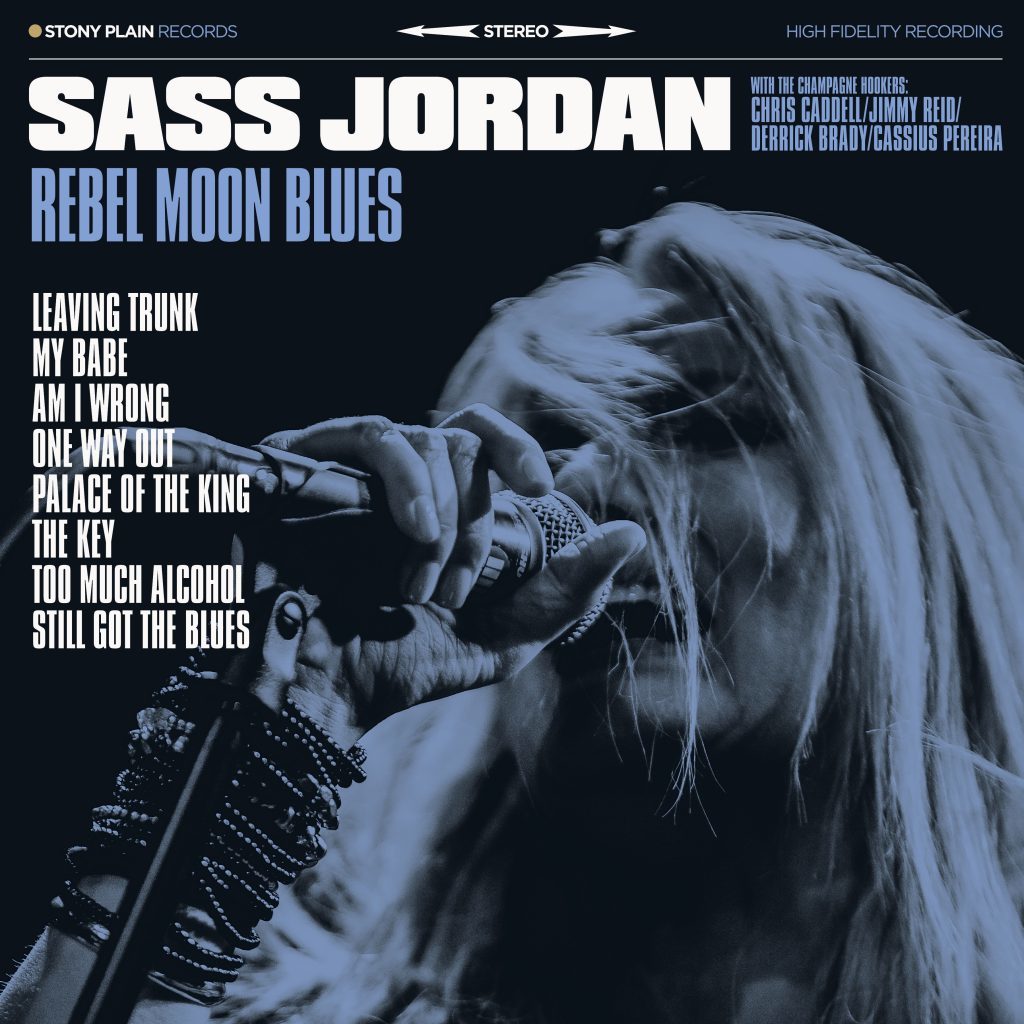 Jordan is a Canada-based artist, born in the UK and raised in Montreal. Her first single, "Tell Somebody," from her debut album of the same name won her the JUNO Award for Most Promising Female Vocalist in 1988. Since then, she's been nominated three more times and won the Billboard Best Female Rock Vocalist award. But that's not all. She is currently on an International 30-date tour — including Tel Aviv, San Francisco, New York, Atlanta, and Canadian stops in Vancouver, Calgary, Winnipeg and Toronto — with A Bowie Celebration, the critically acclaimed, one-of-a-kind roving tribute to the late legend, featuring a distinct alumni of former bandmates.
A pioneer of powerful, gritty female-fronted rock, Jordan has worked alongside fellow greats like Aerosmith, the Rolling Stones, AC/DC, and Van Halen, among many more, but her love for the blues has never been stronger.
Jordan co-produced the eight song Rebel Moon Blues with D#, featuring her signature rock goddess vox on seven unmistakable covers and one brand new original track. "The Blues has been there through my entire career," she says. "People have always said, 'You're so bluesy.' And it's true. My singing is blues-inflected. My songs use blues-type licks. I didn't do any of that on purpose. It isn't contrived. It's just me."
First out of the gate is the Sleepy John Estes classic, "Leaving Trunk," made famous by Taj Mahal on his debut album. After a few coughs that sound amazingly like me in the morning, the sound of guest blues harp master Steve Marriner pierce the veil. Although Jordan's vocals are distinctively Joplin-esque, she is not impersonating anyone. It's 100% pure Sass and fits hand in glove with this electrified Delta vibe.
"My Babe" follows again with Marriner's harp out front, and some of the gravel leaves Jordan's voice, replaced by the soulful sound of the golden age of Chess. One thing that is immediately noticeable is that she doesn't change the lyrics – at all – as many female artists would do so that the song comes from a woman's perspective. She explains, "To me, what makes these songs fresh, besides our energy, is that it's a female doing traditionally male stuff. And I sing the lyrics the way it was written…  If the singer's singing about, 'My girl,' I sing, 'My girl.' That's what puts the icing on the cake. I like approaching the songs the way they were written. I find that not messing with the original gender is particularly relevant in today's climate. It's great that we can get away with doing that now."
The other artists on the record are her touring band of guitarists Chris Caddell and Jimmy Reid, bassist Derrick Brady and drummer Cassius Pereira (the Champagne Hookers), augmented by Marriner and keyboardist Jesse O'Brien. They recorded the album the way these songs would have been recorded originally; in one room, all together, at one time. You can literally feel the jubilant vibe that comes across.
Next up is Keb' Mo's "Am I Wrong," replete with resonator guitar, and hand-clapping/foot-stomping rhythm. It's stripped to the bare bones, but anything else would have diminished the brilliance of this cover rather than improved it. Jordan has more soul in her voice on this track than many artists who make their living in that genre. "One Way Out," has that same hand-clap rhythm but when both guitars kick in, it picks up into a polite nod to the Brothers Allman. The slide work, while great, isn't quite up to par with what Duane would have played, but c'mon. That said, the signature guitar harmonies add that certain southern flavor that makes this song a true classic.
Jordan brings the funk with "Palace of the King." Written by Leon Russell, Don Nix, and Donald "Duck" Dunn, it's just as funky as Freddie King played it back in '71. Again, Jordan pulls not one vocal punch, but lays it out both powerful and sweet.Sass' voice softens a bit in the beginning of "Too Much Alcohol," another song stripped down to her vocals and Caddell's resonator guitar. As the song continues, one hears the joy in Jordan's voice and can tell she is truly in her element. With one final scream she brings it to a close and incites gooseflesh.
On the slow grind side, the band brilliantly covers Gary Moore's "Still Got the Blues." Jordan dismisses any grit on this one, her voice ringing out clear as a cathedral bell. It clocks in at nearly six minutes that I needed to play over and over. Although I love the grit that comes from a blues vocalist, and in this case a blues singing rock star, I have to admit, this was my favorite track.
The one original song on Rebel Moon Blues is "The Key," penned by Jordan and her husband Guess Who singer Derek Sharp. Although not as traditionally bluesy as the rest of the album, "The Key," adds the elements of not only a male duet vocal, but also a complete chorus. It's blues rock as good as any out there today.
After three decades in the business, many singers lose that certain something that may have launched their career. Not so with Sass Jordan. Not only is her voice as muscular as ever, I think, like fine wine, it's improved over the years. Rebel Moon Blues is her first venture into an entirely blues music record, after nearly a decade since her last studio album. I'll say an extra little prayer tonight that it's not her last.
Artist: Sass Jordan
Title: Rebel Moon Blues
Label: Stony Plain Records
Release Date: March 13, 2020
*Feature image courtesy of Spotify