The frustrating thing about Eric Clapton's mid-career work wasn't so much that he went in an adult contemporary direction, but that he put his fiery guitar playing aside. Many artists share the idea that mature songs and explosive instrumental work don't fit together. Luckily, on Ordinary Madness, singer/guitarist Walter Trout shows that, given the proper circumstances, the two can live happily together.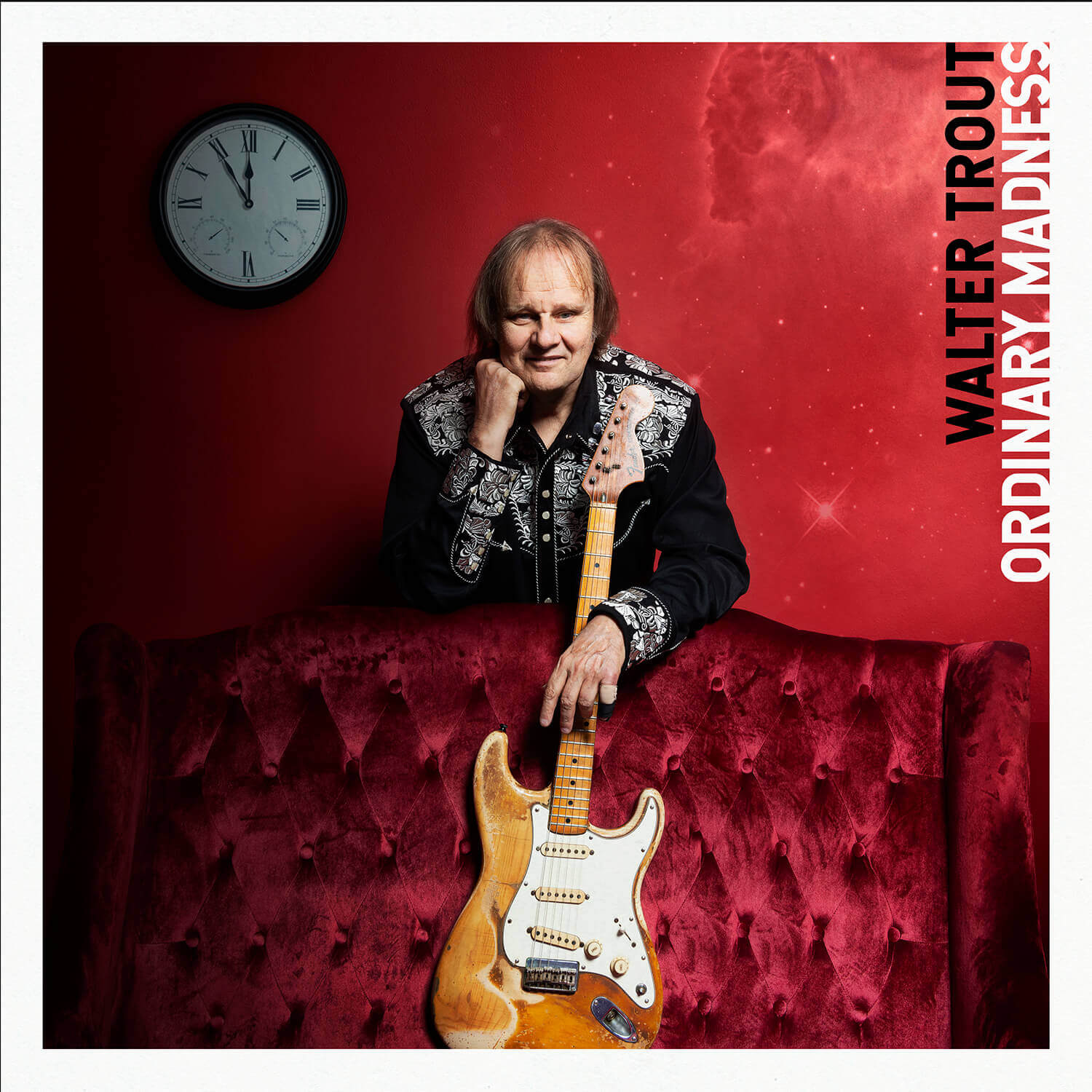 Trout has had a long blues rock career, spending the 1980s in Canned Heat and John Mayall's Bluesbreakers before going solo. He's toured and recorded extensively, barely pausing when cirrhosis led him to require a liver transplant in 2014. Ordinary Madness, recorded right before COVID-19 changed the U.S., is a master class in guitar craftsmanship, every solo a thoughtful journey. Trout helps the songs with his voice, which while not especially powerful, has a charming blues quality that veers toward country, an impressive trick for a New Jersey native.
"Wanna Dance" rocks with a Neil Young energy and groove. The track practically head-bangs but Trout keeps a clean guitar tone, which cuts through the chaos, while also feeling as liberating as a guitar with distortion oozing all over the tune. Trout moves into a solo with a manic energy but deliberate construction. The solo feels wild and improvised, but builds, taking the listener on a voyage. Trout isn't jamming out and he isn't showing off. But at the same time, his runs have moments of flash and showmanship.
"Final Curtain Call" is a riff-based rock song with incendiary harmonica work, courtesy of the versatile Trout, and a solo that's a song within a song, bends giving way to speed runs, yielding to melodies, the song's beat faithfully pounding behind him. Trout's voice sounds fine here, too, almost yelling to be heard over the din, adding to the live feel.
But while there's quite a few great rock moments on Ordinary Madness, Trout has gentler ones also. "Heaven in Your Eyes" has the feel of 80s Eric Clapton, Bruce Hornsby, or Don Henley, a soft piano-led track that gives Trout the chance to croon. The guitar is in the background until it's time for Trout's solo, which is, once again, a tutorial in how to wow an audience with melody and technique, without droning on. "My Foolish Pride" is a quiet ballad whose organ swells give the tune a Bob Dylan vibe. The guitar never dominates the song, but rather supports it, showing Trout still remembers how to be a good sideman. And the payoff is a solo that would work in an Allman Brothers' song.
Even Trout's occasional missteps are successful. The track "OK Boomer" is a response to the meme from late 2019. But, as often is the case with memes, enough time has passed that it feels like it may as well be a response to something from 1819. Despite that hiccup, it's a fun, rocking track with a great riff; ultimately it's just a poorly-chosen title. Trout is the all-too rare guitar hero who trusts himself enough to not fill every second of every track with his playing. He has created complete songs and solid performances. The guitar is a treat, but there's plenty more to enjoy on the album.
Artist: Walter Trout
Title: Ordinary Madness
Label: Provogue Records
Release Date: August 28th, 2020
Running Time: 57:39
*Feature image Alessandro Solca