Mississippi expatriate Robert Connely Farr knows the blues. He's not only lived them himself, but has learned at the knee of a master. On his newest offering, Country Supper, Farr serves a banquet of menacing Bentonia and Hill Country blues covers, mixed with original Americana and indie-rock.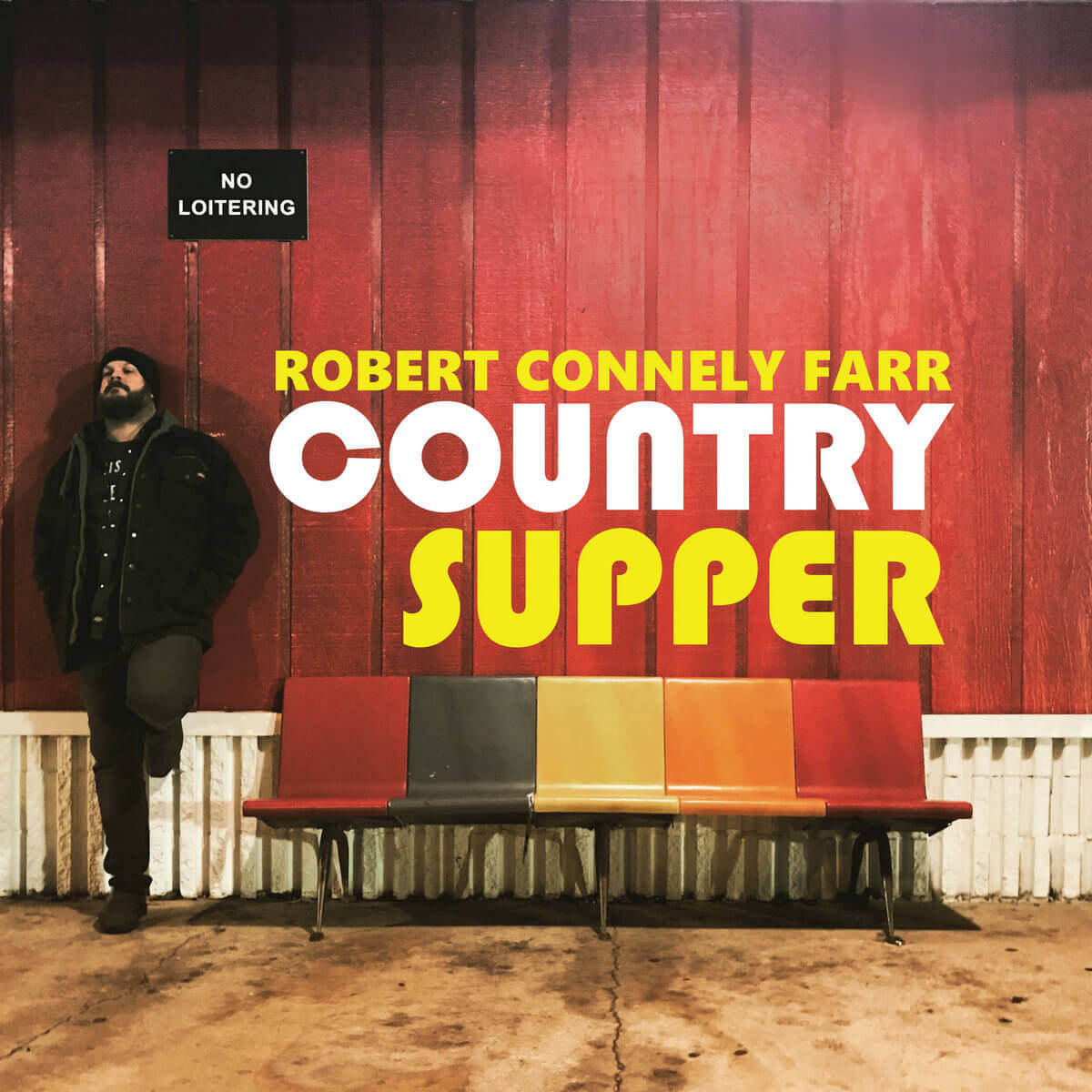 Farr grew up in the small southern town of Bolton, Mississippi, home of Charley Patton & The Mississippi Sheiks. He has been mentored in the Bentonia Style of the Delta Blues by Jimmy "Duck" Holmes since 2017. His 2019 release Dirty South Blues was met with widespread critical acclaim, including being named one of KEXP's Top Albums of 2019 & earning Farr nominations at Canada's prestigious Maple Blues Awards for Songwriter of the Year & New Artist of the Year. He currently resides in Vancouver, BC but when he's home in Mississippi, he can be found at Jimmy "Duck" Holmes' historic juke joint – the Blue Front Cafe.
Country Supper kicks off with Farr's rendition of Skip James' "Cypress Grove." A powerfully emotive slow drag done in Bentonia tuning and heavy, greasy, reverb guitar, "Cypress Grove" is an unexpected choice for a lead-off song, but man, does it work. It had my attention from the very first licks.
Following "Cypress Grove" is a strapping cover of Leo Bud Welch's "Girl in the Holler" and a completely unique and eery re-imaging of the Henry Stuckey/Robert Petway classic "Catfish." Among the 16 tracks on Country Supper, seven are covers, including two by Farr's mentor, Holmes. The rest were written by Farr, and most keep the poignant vibe that the covers emit.
Farr handles all the vocals on Country Supper. His muscular, gravelly voice is the perfect vehicle for the music he loves. He's joined on guitar by Jon Wood, with Tom #TommyRibs Hillifer on bass and Jay Bundy Johnson on drums. Recorded in Vancouver at the heralded Hipposonic Studios, the album was produced by the four musicians plus Liam Moes who also engineered and mixed it. One is quick to notice that the album wasn't produced to sound like it came from a studio. Rather, this is the sound of a late night juke, when the smoke is thick and the whiskey has all but run out.
The first original is "Water's Rising," Robert's voice is less gritty, and the resonator guitar and harmonica make for a less-over modulated, cleaner track, even though the lyrics are just as heart-rending. The powerful reverb returns on "Cadillac Problems." With its Hill Country energy, we only wish this one was a bit longer than its 2:29 run-time.
Arguably the most affecting song on Country Supper is the Farr penned "I Ain't Dyin'," for good reason. In 2019 as things were taking off with Dirty South Blues Farr was diagnosed with cancer and had to have an emergency surgery – but not before they recorded this record. Since it was previously released on an EP of the same name in 2016, one could take "I Ain't Dyin'," as a love gone wrong song, but what I hear in 2020 is a big "F U" to the "Big C."
60s psychedelia meets 21st Century indie-rock on "All Good, " one of the most upbeat song on the entire release with the exception of "Bad Bad Feeling," which had me stomping the floor in time.
Country Supper takes another turn with "If it Was Up to Me," an alt-country palate-cleanser. Make no mistake though, this isn't Nashville 'bro-country' cranked out of Music City. This is soulful, lonesome, what if Ol' Hank were still alive country-blues.
Maybe I'll head down to Mexico
Spend some time in a cheap hotel and slow my roll
Find me a no good senorita
Drown myself in bad boys tequila
Robert pays homage to Jack Owens, another Bentonia, Mississippi native with a cover of his "Gimme Yo Money." Owens took the classic Bentonia tuning and experimented with several other tunings, which appear to have been his own. He stayed near home for most of his 92 years, and many times was on the front porch of the Blue Front with Jimmy "Duck" Holmes (Farr's mentor), teaching him the idiosyncrasies of the style. Which lead us to Farr's self-admitted favorite song on Country Supper.
I think my favorite song on the album might be 'Must've Been The Devil' – it's the first song that Jimmy ever played for me – and our rendition is how Jimmy played it – but the song itself is by late Bentonia blues legend Jack Owens. – Robert Farr
Farr touches on today's climate with "Lately." Without rubbing anyone's name in the dirt, Robert simply shares his personal feelings in true singer-songwriter fashion. He follows that up with "Bad Whiskey," another blue-tinted country song.
Country Supper ends the way most country suppers begin – with a prayer. The LaShun Pace/Leo Bud Welch penned "I Know I Been Changed," contains a line which was the title of Welch's 2019 album, The Angels in Heaven Done Signed My Name.
So you see, Robert Connely Farr knows the blues. What's more, he takes the lessons he's learned and applies them to his original music without forgetting to honor the masters who came before him. With that seemingly simple focus, Farr shares some of the best of the original Mississippi blues in a style that remains relevant today.
Farr has laid out a 16-track feast of Country Supper, and invites us all to sit down for a heaping helping. All I can say is there's always room for more. Pass the sweet potato pie!
*Feature image by Davy Crockett