"Ugh!" 
Bruce Iglauer groaned. I had just asked the CEO of the premiere blues record label the what's-your-favorite-color question: How do you define blues? 
I DID set it up a little: "One simple simplistic question. Willie Dixon defined the blues as truth. What's your definition?" 
And it was the last question in an interview with a man I've known for 50 years, a man who has worked tirelessly to build blues from a chitlin circuit Saturday night fish fry/urban ghetto niche style of entertainment for African Americans into a phenomenon that today is ubiquitous enough to be called America's music.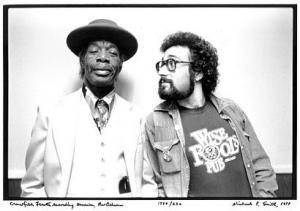 We'd already talked for an hour. I'd hit his sweet spot. He'd proven to me what I've personally known since he started the label on $2500 in 1971 with Hound Dog Taylor, a Chicago West Side electric guitarist with six fingers on one hand. Quite simply, Bruce Iglauer is the genius who led the charge of taking urban blues out of the ghetto and into a burgeoning white market. And he's been doing it well enough that I've continuously interviewed artists on his roster for a half century. 
Bruce loved Hound Dog Taylor's sound. It was so primal and elemental that even Bob Koester of Delmark Records wouldn't touch it. And Delmark since 1953 had already built a reputation among white college kids for capturing the essence of West Side soul on albums by artists like Junior Wells and Magic Sam. 
Bruce Iglauer met West Side Soul master Magic Sam two days before he died on December 1, 1969. Bruce was young blood. He worked for Koester at Bob's Jazz Record Mart, and when Koester refused to release a Hound Dog Taylor album, Bruce took that $2500, all the money he had, and did it himself. 
Bruce released that first Taylor album and personally took it around to the then emerging freeform FM radio stations, both commercial and college run. Then he took Hound Dog and his band on a tour that included Harvard, Yale, and Trinty College. The schools put up Bruce, Hound Dog, and his group in dorm rooms, but they paid the grizzled blues veteran $400 a night, more money than he'd ever earned grinding out a sound for stockyard workers letting it all hang out in clubs under the West Side subway tracks.  This was a ghetto sound, forbidden fruit parleyed in a section of Chicago that white blues rockers like the Stones had taken their lives in their hands to play.  
"When I recorded Hound Dog Taylor in 1971, he'd had two 45s some years before that and had gotten on some jukeboxes on the South Side, (but) I'd fallen in love with the music and wanted to share that music (with a wider audience)." 
Here I am 50 years later asking Bruce Iglauer – a man who singlehandedly led the charge to bring blues for a wider, whiter market – to define the genre. I myself have spent half a century interviewing Bruce's best acts from Albert Collins and Son Seals to Tinsley Ellis and Shemekia Copeland.  
On the face of it, it would appear to be a most insipid and simplistic question that he's probably been asked 567,230 times. Why not just ask him his favorite color? But I've learned after doing 7,000 interviews for as long as Bruce and I have both been in this business, that the question is far less important than the answer. And I did warn him: "I've saved the worst for last." 
"It's the most difficult question," he said. Then, without stopping to take a breath, he nailed it. "I guess the answer is it's magical soul – healing music. It's music that's created by a specific group of extremely oppressed people in order to deal with oppression that they are suffering. But it's so strong that those of us who didn't grow up in horrible oppression can feel it, and people who don't understand the words can feel it. It seems to speak across all kinds of cultural lives. So, I find it fabulous. I go to Japan, and people who don't know the words can be cheering in all the right places." 
And therein lies his mantra, the driving force behind a half century catalog of blues music that has made Bruce Iglauer the Svengali to hundreds of artists who have carried blues beyond its core audience of West Side and South Side nightclubs, Saturday night fish fries, "race records," and boutique labels like Delmark and Cobra. 
Just released is the three-CD set Alligator Records: 50 Years of Genuine Houserockin' Music, Bruce's aural Ph.D. thesis and a testament to his genius: 58 songs on three CDs packaged with liner notes offering the back stories on the disparate collection of artists – many of whom Bruce produced himself – who have brought America's music to a mass audience.  
As if to underline the significance of Alligator's importance to the genre, the collection comes on the heels of his artists winning nine Blues Music Awards from the Blues Foundation. "I feel wonderful for them," he says. "I feel wonderful for the records that won, and yet I feel bad because a number of the artists were competing against each other, and therefore for each one who won, somebody else lost.  
"I'm so proud of the artists on the label, and one of the things I did with this collection was – the third side is almost entirely artists who are still on our roster, and I feel strongly about shining the spotlight on them, but also as I put this together, I just thought about what quality people they are above and beyond their musical ability."  
Bruce built his business brick by brick. "It was hard. I was trying to do everything. I started in a one-room apartment. I was sleeping on a mattress on the floor and struggling to make enough money to survive. But I was always proactive. I remember sitting on the floor with a portable typewriter my mother had given me when I went off to college, a manual typewriter typing individual labels for a few hundred radio stations to send my next release and staying up until 3 in the morning doing that. So, I always felt the one thing I had unlimited amounts of was my own labor. 
"And I also thought that sleep was for sissies. 
"These are people that I trust, and I like who are caring people, caring of other people. Almost all of my artists play benefits on a pretty regular basis, and they don't just think about themselves, and I thought how lucky I am to be working with people of this quality, not just my 14 staffers who have been with me since the beginning of time as well, you know, but also the artists who have been with me in some cases in the case of L'il Ed, what has this been, 35 years?" 
Bruce agonized over the selection of artists included in Alligator Records 50 Years of Genuine Houserocking Music even though he'd already been through the exercise with 25th and 40th anniversary collections. Alligator is the standard, the high water mark that other labels measure their work against. This 50th anniversary set, in fact, is the perfect starter set for anyone unfamiliar with the blues, who wants a Whitman's Sampler of America's music.  
"It was so hard to figure what not to include because even though I had three CDs which meant over 230 minutes of music, I knew I was going to have to leave off a number of artists and each one was a hard decision," says Bruce.  

"Most of the artists in the collection had a couple if not three or more albums on Alligator, but there are a few, like Mavis (Staples), for example, who had one, and it was just an important a landmark for the label as well as being a wonderful piece of music, so I had to include that, and there were others that I included like Michael Hill who was not commercial success for us and wasn't one of the landmarks or iconic artists on the label, but I loved his music, and I want to give it another chance to be shared." 
Bruce is not done yet. At a time when independent record labels are disappearing or being swallowed up by conglomerates, Alligator is not only releasing new product, they're also partnering with Exceleration, a company formed by Glen Barros, the former CEO for Concord Records, the label that took over Rounder Records, another indie that released more than 3000 albums including such high-profile examples of work by George Thorogood and The Destroyers and Alison Krauss recording with Robert Plant. 
"I trust Glenn Barros and the other parties at Exceleration, and over a period of time probably starting a little later this summer we're going to be working with them to move our royalties accounting from our part of the business to their part of the business, and virtually they're also going to be taking over the physical manufacturing. "  
At 73, Bruce has no intention of cashing in and selling out. "Quite to the contrary, we have an agreement in the business deal that I will be running Alligator hands on. Nobody can take this away from me. I will make all of the talent decisions, and we'll negotiate all the deals, and it's absolutely my baby. And they can't say, 'You're going to release this or that.'  
"So, there's a guarantee that the Alligator legacy will be carried on in the future, and that was a great deal of what I was looking for, and these are quality people. I trust them. They are ethical people, and it's a better move for the future of the label than anything I imagined, and I'm keeping essentially my whole staff." 
I've interviewed more Alligator artists than those on any other label in 51 years as a music journalist. Of those on this collection I've interviewed Koko Taylor, Carey Bell, Son Seals, Johnny Winter, Albert Collins, James Cotton, Robert Cray, Johnny Copeland, Lonnie Mack, Lonnie Brooks, Luther Allison, Clarence "Gatemouth" Brown, Saffire The Uppity Blues Women (Ann Rbson), Roy Buchanan, Michael Burks, The Holmes Brothers (Wendell Holmes), Smokin' Joe Kubek, The Kinsey Report, Carey Bell, C. J. Chenier, Michael Hill, Steady Rollin' Bob Margolin, Billy Boy Arnold, Cephas & Wiggins (Phil Wiggins), Long John Hunter, Dave Hole, Joe Louis Walker, Janiva Magness, Corey Harris, Marcia Ball, Billy Branch, Christian "Kingfish" Ingram, Shemekia Copeland, Curtis Selgado, Selwin Birchwood, Elvin Bishop, Charle Musselwhite, The Cash Box Kings, Tommy Castro, J. J. Grey & Mofro, Rick Estrin, Tinsley Ellis, Chris Cain, Nick Moss, and Toronzo Cannon.