On Faster, Samantha Fish has gone deep into territory where most blues artists fear to tread. As she says, pop is not a dirty word, and neither is digital. Yet, each is often an anathema to blues artists. She embraces both on this record. And she does it without ever digressing into saccharine pop. Her guitar playing cuts like barbed wire, and she forewarns her fans of her aggressive sexuality with an album cover photo of her licking a guitar neck like a phallus.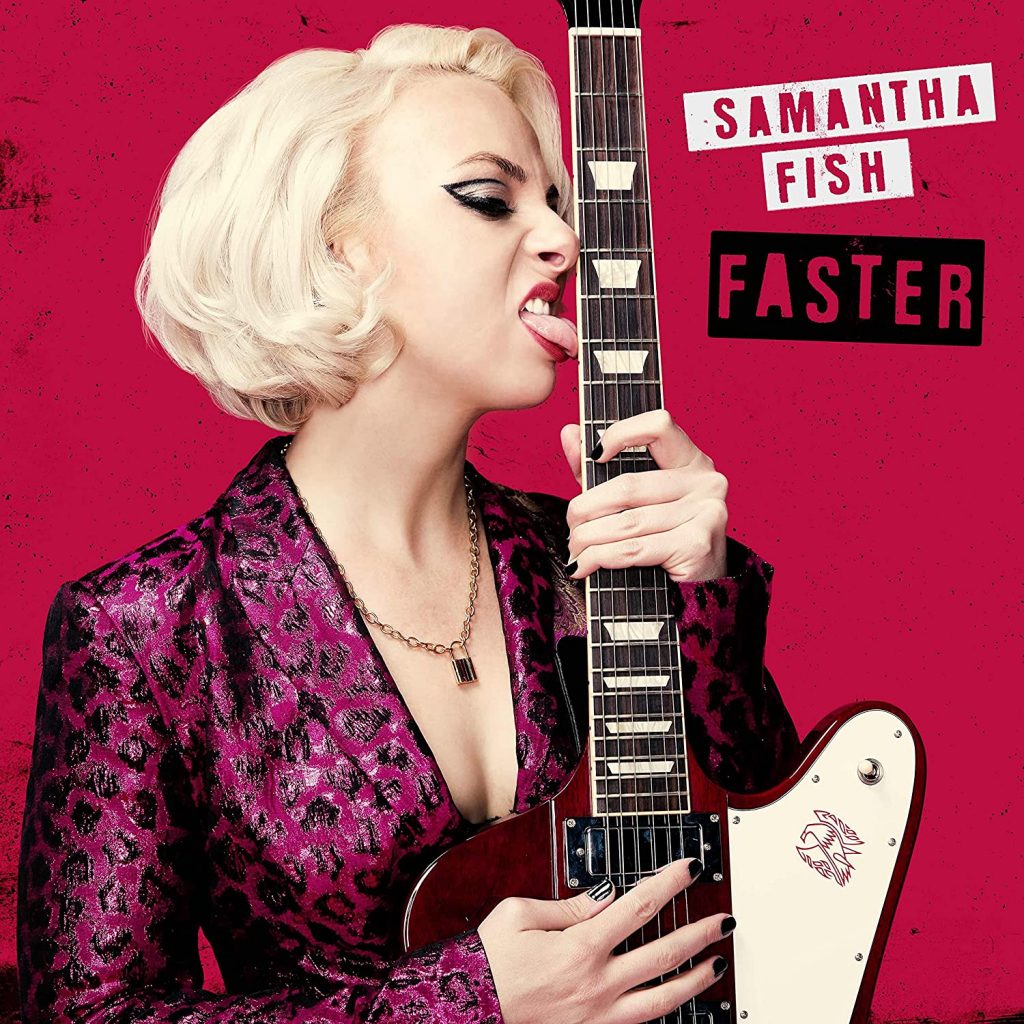 Ma Rainey may have been predatory in delivery, but her sensuality was a bargaining tool to get what she wanted from a man. Samantha is more like Deborah Harry of Bondie – she admits to loving Deborah. She a contemporary woman who takes control of her relationships. On the title cut she sings: It's alright, I just might be the type to wanna be a little bolder/I wanna ooh, I wanna ooh/You're gonna ooh/That's how I'll make your heart faster, faster/I wanna ooh, I wanna ooh/You're gonna ooh/That's how I'll make your heart faster, faster. 
She is a feminist who sees the main difference between her guitar playing and that of Keith Richards represented in the size of their hands, not their gender. That's not to say she doesn't champion women's equality.  
"We're talking about sizes. So, it doesn't really have any effect. Society believes that men have roles, and women have roles, and the only way to fucking (change) that is to have women go and fill these roles and for young girls to see that happen, realize I can do whatever I want in life. I don't have to fit whatever molds society thinks whatever a woman should be. You can do whatever you want, and honestly I found people really want the female perspective on songwriting. People want women producers. They want women sound engineers. They want female monitors.  
"The world is changing. It shouldn't be about gender. I think one peeve about that, I'm constantly being compared in a lot of ways. A lot of contemporary women –can be compared to other guitar players for no other reason than you're both women. You don't sound anything alike. Our styles of music aren't at all alike if you're comparing two male guitar players of two completely different genres. So, because we're women, we're constantly compared, no matter what. So, I think my one pet peeve is alright, we have that in common, but you know something? Let's get into the more heady shit like music." 
There's a Bad Company meets Cyndi Lauper character to this album. The intriguing revelation here is that she's not just a girl who wants to have fun. Rather, she is addressing contemporary male/female issues here, and she's placing some sterling blues guitar work in a framework that takes the genre way out of is comfort zone. The result is exciting, stimulating, fresher and "faster." 
On "Twisted Ambition" she sings: "Twisted ambition, I'm in control/Switch your position, time to let go."
*Feature image credit: Greg Logan