"You can never go wrong when you make albums for the fans."
I had just asked Tinsley Ellis who he writes songs for, himself, his label or his fans?
"All of them, really. The philosophy I've had for years is not trying to get on the radio or get on a major label or something like that. Really what works best is to make albums for the existing fans."
Rolling Stone has said of Tinsley that he plays "feral blues guitar…non-stop gigging has sharpened his six-string to a razor's edge…his eloquence dazzles…he achieves pyrotechnics that rival early Jeff Beck and Eric Clapton." 
Tinsley proves them right once again on his 20th album, Devil May Care, and is now on tour. The album was produced by his friend and co-producer, keyboard master Kevin McKendree and recorded in Franklin, Tennessee's Rock House recording studio.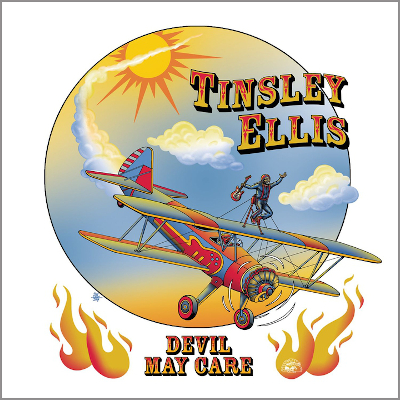 If you're his fan, you're going to love it. He sings on "Step Up," "They told me this morning things could change. That we can walk together out of the rain." That's kind of where we all are right now, and Devil May Care is as comfortable as the first album you bought as a teenager. For Tinsley that album was Mike Bloomfield Al Kooper Super Session. The year was 1971. Tinsley was 14.
"This friend and I grew up in South Florida were listening in his bedroom to Mike Bloomfield Al Kooper Super Session."  Tinsley's older brother came in and said 'I hear you guys are getting into Mike Bloomfield, and you're getting into Peter Green and Eric Clapton and there's a guy you gotta go see. He's coming to town, and he's the guy that invented that style of guitar playing.' 
That guy was B.B. King. "It was a time when B.B. King was playing in hotel lounges for a week. I mean, imagine going to see B. B. King every night for a week, but he was doing that."
Tinsley and his friend piled into the family station wagon and his brother took them to the Swinger Lounge at the Marco Polo Hotel in North Miami Beach. "The carpeting on the floor was like two inches thick, shag carpeting. He had to play a teen matinee either the Saturday or Sunday.
"It sort of blew my mind, and then he greeted us all in the lobby, all the teenagers in the lobby for what seemed like hours. It was probably 20 or 30 minutes, and he just stayed there and talked to all of us. That was like the template for my entire musical career, perform and greet the fans and give a shit on stage about the music, you know? I never tire of that story."
As music journalist, I've heard variations of that story more than 200 times. Tinsley and I don't have a "normal" musician/music journalist friendship. We've been more like buddies ever since he appeared on my radio show almost 30 years ago and rushed out into the parking lot to listen to how a cut from his latest album sounded on the speakers of his rental car. I told him this time on the phone that I couldn't be objective about him and his music anymore, that I loved him as a person.
His response? "Don't think of me as a person. Think of me as deity."
ABS: Seriously, are you ok?
Yeah, doing well. It's been a couple of years, especially the last one. Making this album was somewhat of a salvation. We've cancelled the same tour three times now. Apparently, rescheduling doesn't seem to work. So now we're just going to go out and do one.
So, are the dates currently listed by Alligator on, or are there kinks in it already?
I ask myself that question every morning. I think we're just going to have to find a better way to deal with this. Life needs to continue because they say there's a microchip in it. But at this point, I'd be willing to put a laptop up my ass for the return of life. I don't care about the microchip.
I had to laugh at your interview with the Atlanta Journal Constitution where they quote Brue Iglauer as saying, "I asked him what do you have to say about (performing) 100 nights a year, and he would say Great! Artists who come to labels like ours are lifers. They're not going to score a big hit and swim around in pools of dollars like Uncle Scrooge. They know they're going to be doing it for the rest of their lives."
Yeah.
I asked you when you were here last time in 2019 about what kind of day you were having, and I think you said something like, "Great, but that's only the one hour a day I'm on stage."
I can't even remember what the rest of it's like. I haven't done it in so long. That night I wasn't on stage that long because we were sharing the stage with Tommy Castro. Generally, it's a couple hours a night, but yeah, it's a weird job. It's more of a calling than an occupation really, wouldn't you say as a writer? More of a calling.
You're in the road warrior chapter of my memoir. You are the ultimate road warrior.
I was until two years ago. We had the new album out, and they sent us home and all the dates in northern California went down so fast we had to come home. Basically, the whole circuit was crumbling. That was March of 2020 and nada – nothing since then. Not one concert. We kept rescheduling the concert, and it kept falling through.
How did you deal with your "addiction?" Is there a methadone for people like you?
Uh, songwriting. Maybe this album is very much a salvation. One of my big worries. I didn't want to lose my chops, so I designated every morning from 7 to 8 in the morning until noon as time for songwriting. That's when my brain works best. I went down stairs and moved my studio from being an actual studio in my basement and used those times to write songs and came up with a lot of them, and I would send those songs up to Bruce (Iglauer) at Alligator. I posted them every week on Facebook, my Wednesday tapes. I got a lot of feedback, not only from Alligator but from fans, and that became the album.
Talk to me about Steve Johansen who did the album cover art.
He's an artist I like quite a bit. He's from Colorado. He did a great album cover for Tab Benoit and I said, "I'm gonna look to see who he is," and I contacted him and told him I enjoyed – I'd look at his website and see that he's done artwork for Gov't Mule, some for the Grateful Dead people, and I wanted him to do the album cover.

I told Bruce I wanted to do something different because typically album covers on somebody like me would be kinda dark and be kind of scowling on the front, and people have had a rough couple of years, and they don't want something dark and menacing. Something light and upbeat and that's the kind of cover he did, and the picture of the wing walker playing guitar, a very devil may care chap right there.
Is that you?
Who else could it be? Yeah, I think it's me. Yeah.
It's not a good likeness of you.
Well, squint and it'll become a good likeness. It's not a photograph. It's a drawing.
I'm glad you still have your sense of humor.
When white people play blues, they'd better at least be funny. That's a Billy Gibbons ZZ Top quote. They asked him why they had so much humor, and he said, "Well, white people play the blues, they'd better at least be funny." There is trepidation about this tour, and it is devil may care for me to launch a tour with the variant going on.
Is that why you name the album Devil May Care?
No, I didn't, but it seems very appropriate right at the moment, but I'll be very honest with you. I don't have another variant in me. I'm all out of variants, and this recent one better be the last.
What's the weirdest song out of the 200 that didn't make the 10.
I didn't send 'em all up there to Alligator. This one has no chance sort of thing. I have to think about that. I wrote some stuff in the vein of '60s British Invasion because it is so etched in my memory. I mention one: "I Tested Negative for Sympathy for You.
That's good. I like that.
I thought it was a good one. But I ran it up the pole and nobody saluted. I thought it would be a good one, somebody like Delbert McClinton who does some fine songs like that. So maybe I'll give it to him, but that's one I wrote. But I'll have to think about it.

I wrote some really dark stuff, but you don't want a whole album of that, so I only put a couple of 'em on the album. The song that closes side one and the song that closes side two, but I'm still of the feeling of a vinyl record that you put something slow, mostly pieces at the end, and the needle gets lifted up and you drift off to sleep. That's the way it used to be, but now everybody listens to music with ear pods on their telephone and stuff, but vinyl's making a comeback.
Do you think of yourself as being out of the norm for the blues on Alligator? 
I think I've said that I'm somewhat of an anomaly.
Do you feel that way?
Well, yeah, especially when compared to the colorful life that was lived by the first of the acts, Hound Dog Taylor. He shot his guitar player. I have not shot any of my musicians. I'm sure they have wanted to shoot me, but I have not shot any of them.
Devil May Care's dedication reads "in memory of William Tinsley "Trey" Ellis III" who passed away last year.
2022 DEVIL MAY CARE TOUR:
February 05 – Heidi's Jazz Club, Cocoa Beach, FL
February 06 – The Funky Biscuit, Boca Raton, FL
February 09 – Historic Masonic Theater, Clifton Forge, VA
February 10 – Rams Head On Stage, Annapolis, MD
February 11- Sellersville Theater, Sellersville, PA
February 12 – Arden Gild Hall, Arden, DE
February 13 – The Loft at City Winery, New York, NY
February 15 – Gateway City Arts, Holyoke, MA
February 16 – Daryl's House, Pawling, NY
February 17 – The Center for Arts in Natick, Natick, MA
February 18 – Spire Center for Performing Arts, Plymouth, MA
February 19 – Caffe Lena , Saratoga Springs, NY
February 20 – Infinity Music Hall,  Norfolk, CT
March 02 – Lafayette's, Memphis, TN
March 03 – 3rd and Lindsley, Nashville, TN
March 09 – Woodlands Tavern, Columbus, OH
March 10 – Music Box Supper Club, Cleveland, OH
March 11 – The Jazz Kitchen, Indianapolis, IN
March 12 – C2G Music Hall, Fort Wayne, IN
March 13 – SPACE, Evanston, IL
March 14 – Dakota,  Minneapolis, MN
March 16 – Swallow Hill Music – Daniels Hall, Denver, CO
March 17 – Egyptian Theatre, Park City, UT
March 18 – Egyptian Theatre, Park City, UT
March 19 – Egyptian Theatre, Park City, UT
March 21 – The Coach House, San Juan Capistrano, CA
March 22 – MIM Music Theater,  Phoenix, AZ
March 23 – 191 Toole, Tucson, AZ
March 24 – The Historic Lobo Theater,  Albuquerque, NM
March 25 – Belle Isle Restaurant & Brewery (with Marcia Ball), Oklahoma City, OK
April 08 – The Grey Eagle, Asheville, NC
April 09 – The Reeves Theater & Cafe, Elkin, NC