The legendary Willie Nelson famously sang "the life I love is making music with my friends," and Bucks County guitarist Mike Guldin has been living by that axiom for over 45 years. The leader of the two-time International Blues Challenge finalists Rollin' & Tumblin', Guldin has acquired a rich network of friends who have appeared as special guests on his albums, with latest release Tumblin' following that same formula of a collaborative musical funhouse.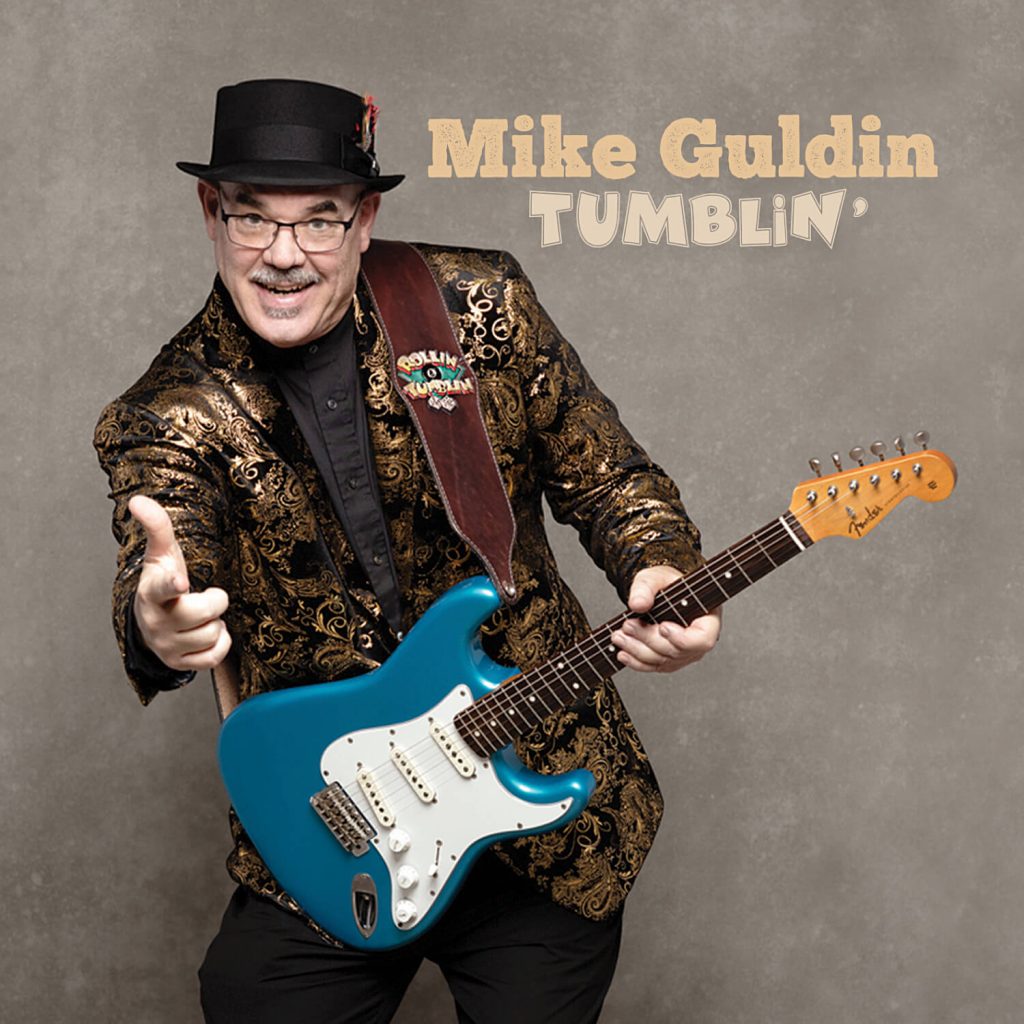 The ambitious collection of thirteen original songs and two tried and true covers runs the gamut of style from rock to country, blues to soul, recorded at seven different studios by over a dozen players. Guldin and songwriting partner and co-producer Bill Sharrow (Black Cat Studio, Spring Mount, PA) invited acclaimed Philadelphia area musicians – Mikey Junior, Roger Girke, Will Hodgson, Craig Thatcher, and Kevin Vannoy – to sit in with the band along with special guests Kevin McKendree, James Pennebaker, Lewis Stephens, and Luis Mora, each adding unique spice to the eclectic music mix.
The sizzling instrumental title track 'Tumblin'' opens the show, by paying tribute to their musical heroes. The herky-jerky shuffle "Sad And Lonely" features fine barrelhouse piano from McKendree on a classic tale of a man done wrong. The Taj Mahal standard "She Caught The Katy" is given a southern rock treatment with greasy slide guitar from Craig Thatcher. Pennebaker drops in authentic pedal steel on the honky-tonk anthem "Alabama Pines," celebrating the laid-back life in the country. The horn driven "Raise A Ruckus" is a dose of the Muscle Shoals sound with Vannoy delivering a Bobby Keys' salutation on his tenor sax. Then Mikey Junior steps up to the mic joining Guldin in singing the praises of their favorite watering hole during the swampy boogaloo "Twisted Tail."
Guldin first picked up the guitar at age 15 and for over 45 years has honed his craft playing in roadhouses, clubs and bars, and festivals and theaters influenced by blues legends Muddy Waters, Howlin' Wolf, Willie Dixon, Albert Collins, & The Three Kings (B.B., Albert and Freddie). Guldin is also inspired by contemporary artists including The Allman Bros, Eric Clapton, Stevie Ray and Jimmie Vaughan, and The Rolling Stones. R&B/Soul icons Sam & Dave, Booker T and The MG's, Reverend Al Green and The Memphis Stax and High Tone Records grooves are also a heavy influence, along with the southern fried Muscle Shoals sounds of Lynyrd Skynyrd, The Outlaws and a slew of country and crossover artists like Delbert McClinton and Lee Roy Parnell. It is little wonder that stinging guitar and soulful vocals are second nature for Guldin. When combined with the raucous backing sounds of his band, Rollin' & Tumblin', all of these inspirations come to life into blues they have branded "Good Ole Butt-Shakin' Music"!
On Tumblin' Guldin flips the old expression, "unlucky at cards lucky in love," on its head for the swinging "House Of Cards," and has a little fun creating a blues limerick on the jaunty rhumba "That's All She Wrote." There is plenty of pickin' and grinnin' on the singalong roots rocker, "You Just Can't Lose," and Guldin declares his love on the sentimental ballad "Home Is Where The Heart Is." Hot horn jabs and a layer of Hammond B3 make the groovin' "Sweet Thing," a soul stew. The folk infused advisory "Check Yourself," features tasty mandolin and harmonica from Will Hodgson, leader of the veteran Pennsylvania group, The Mighty Manatees. Guldin takes his cues from the great political satirist Mark Russel for his comical rebuke "One Percent." Mickey Junior returns to jam with the band on classic twelve bar chestnut "Key To The Highway," before the acoustic instrumental "Waterfall," with its shimmering guitars, closes the set.
The joy Mike Guldin and his friends had making Tumblin' is felt and heard on every track of the album.
Guldin and The Tumblers are two-time finalists in the International Blues Challenge. Band members are Mike Guldin, guitar and vocals; Tim Hooper, keyboards and vocals; CJ Clark, bass and vocals; and Billy Wear, drums. A journeyman of the blues, Guldin has opened for and shared billing with a wide range of artists including Sam Moore, Delbert McClinton, Levon Helm, E.G. Kight, Tab Benoit, Tommy Castro, Teresa James, The Nighthawks, Little Milton, Shemekia Copeland, Debbie Davies, Saffire The Uppity Blues Women, Michael Hill and his Blues Mob, John Sebastian, and Jimmy Vivino.
Tumblin' hits the streets on March 18th, via Blue Heart Records.
*Feature image photo credit: Tina Pastor