Welcome to Windy City Wednesday. This weekly offering from American Blues Scene shares classic and sometimes forgotten blues albums from some of the most iconic Chicago blues men and women ever to grace wax. This edition focuses on the album Been There Done That and an early birthday shout out to Linsey Alexander.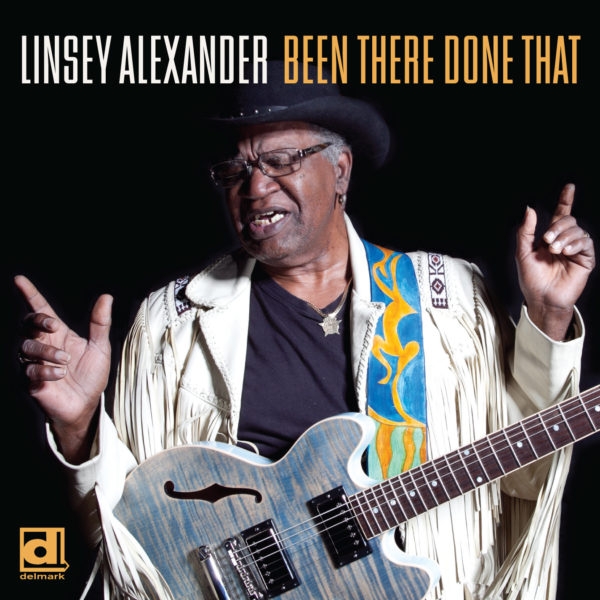 Linsey "Hoochie Man" Alexander will celebrate his 80th birthday on Saturday, July 23rd. Born in Holly Springs, Mississippi, to a family of sharecroppers, Linsey moved to Memphis with his mother and sister at the age of 12. Alexander's interest in music started when a family friend he knew only as Otis taught him enough that when Otis left his guitar as a gift at Alexander's home, he was able pick it up and play. Linsey concentrated on singing as a teenager and later developed his guitar playing. His early influences were blues, country music, and rock and roll, including the blues keyboardist Rosco Gordon and rock-and-roll artists Chuck Berry and Elvis Presley.
In 1959, he pawned his first guitar to help pay his way to Chicago by Greyhound bus, following a girl he had met in Memphis. In Chicago, he had a series of jobs, working for a car dealer, at a gas station, and as a cook and busboy. He received a pension after he was wounded while working for the Chicago Police Department.
Alexander was pulled into the Chicago South Side music scene, where he heard soul artists like McKinley Mitchell and Bobby Day and bluesman Howlin' Wolf. His first guitar was never recovered from the pawnshop, but he bought another guitar and formed a band, the Hot Tomatoes. When Linsey was playing at Red's, a club at 35th Street and Archer, he was approached by an agent who introduced him to the popular North Side blues clubs B.L.U.E.S. and Kingston Mines. His entry into "Blue Chicago" (downtown) exposed him to tourists to whom he started selling independently recorded CDs, which are still selling well.
In March, 2012, Alexander recorded his first international release Been There Done That for the Delmark imprint. No doubt because of those years of experience, as well as his hard-won businesslike attitude and determination, Linsey recorded this, his first-ever CD on an established label, with a rare blend of improvisational flair and no-nonsense attention to detail. The songs combine streetsy toughness with an eclectic approach that reflects Linsey's diverse musical influences. Although most of what's here is rooted solidly in the postwar blues tradition, there are strong flavorings of deep soul and funk-driven R&B.
Linsey wrote or co-wrote 11 of the 12 songs and sings and plays lead guitar on all 12 tracks, with a small army of Chicago blues royalty in attendance. Two guitarists join in with Breezy Rodio on two tracks and Mike Wheeler on 4 tracks, Roosevelt Purifoy on piano and organ, Greg McDaniel on bass, James Wilson on drums, Ryan Nyther on trumpet, Bryan Fritz on tenor saxophone, and Billy Branch blowing harp on 3 tracks.
I like the traditional sound. Then I like my sound, and I try to get it all there together, where they can really combine together and make one thing. I hear a lot of guitar players all playing in the same – all trying to sound like somebody else. I don 't want to be known for that. When you hear me, I want you to know who I am. I'm still living; I still got a story to tell.

Linsey Alexander
Since then, Linsey Alexander has recorded three more albums for Delmark; Come Back Baby in 2014, Two Cats in 2017, and Live at Rosa's in 2020.