"There is so much love in this whole project for us to do this album, Blues for Breakfast, and put it together this way. I just hope that people love it as much as we do, you know? It's not the greatest record we've ever made or the greatest one I've ever been on," says Tony Braunagel.
I chuckle and tell him he's not supposed to say that.
"I'm being humble. I always play my shit down. I don't know."
It IS a good album, and it almost didn't happen. The death of The Phantom Blues Band's keyboardist and vocalist Mike Finnigan for a moment stopped them cold.
"When we were doing this in January, we decided, look, what can we do? Mike's passed. We're in absolute shock. We're in absolute shock not just losing a good friend and a great human being and a great guy, but he was the biggest voice in the room all the time. Like you couldn't deny Mike's presence musically. You couldn't deny his personality. You couldn't deny his intellect. All of those things were so powerful, and Mike's gone.
"I could turn these things into tears pretty easily, but we all decided, let's do something. And we thought, 'Well, we'll probably find a way we normally do it. Let's just do our simple funding and just get it together. and maybe go on VizzTone again, and then (Little Village label owner and keyboardist) Jim (Pugh) said, 'Look, I'll be more than happy to put up the money to do this on Little Village.'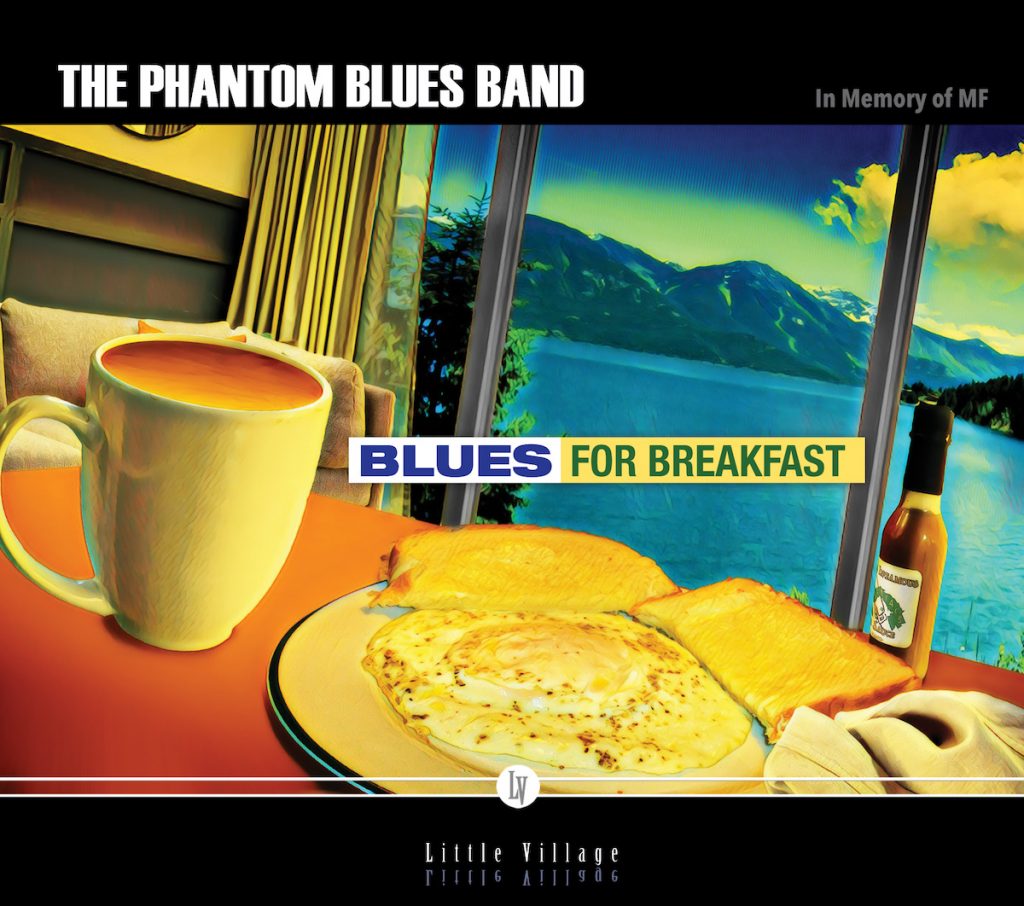 "At first, there were questions because we were doing something different with our own business, but once we realized it was gonna be easy and seamless, and actually better in some ways. We're getting a whole lot more publicity and p.r. (attached to) the show and the situation."
"Jim came forth and said, 'Hey, let's do this.' So, we went into the studio, and we assembled the songs as quickly as we could, and then we decided that's what we're gonna do. I'm sitting there and going, what are we doing? Mike's not here. We're not The Phantom Blues Band anymore.
"Yes, we are!
"We lost a member, but we definitely are The Phantom Blues Band. We've got to stand up on our own two feet. I got on the phone with Larry (Fulcher, bass player and vocalist). He says, 'I know. It just feels weird, doesn't it? You just have to take deep breaths.' And I go, 'Yeah, because we can't stop. We have to keep breathing and breathe our way through this.' We did and we're cutting the tracks, and I'm going, 'Am I good enough? Are we good enough?' Literally, I'm not lying. Are we good enough now? The answer is yes."
Blues for Breakfast is dedicated to Mike's memory. Mike wrote, sings and plays keyboards on one of the songs "Ok, I Admit and It."
"That song was cut somewhat as a demo, a songwriting demo for him. We turned the demo into a real track 'cause it had Mike on it. We wanted to have Mike's voice and playing on at least one song in his memory. We already had the track. We finished it and mixed it and threw it on the group of 12 songs."
Mike's son Kelly does an organ solo on "I Know You Don't Love Me." Curtis Salgado handles vocals and harmonica. "We needed an organ solo and we wanted to have Kelly involved. When Mke was still alive and ill, we had some shows come up, and we were going to go out and do things and we said, 'Hey, Mike, do you mind if we ask Kelly?'
'Oh, hell no. That's a great idea. He should be playing with his uncle,' and so we asked Kelly. He was reticent because he didn't even think he rated. So, we go, 'Shut up. Just come and play the fucking song, you know? You'll have a great time.'
"Kelly said, 'Dad. I don't know if I can even –'
"'Son, just do it.'
"So, Kelly was going to do some shows with us, and I'm not saying we were trying to replace Mike with Kelly, but we had some shows and we would like to fulfill the contract, and Mike passed away. And Kelly said, 'I can't do it.' And that's when we asked Jim Pugh to join the band, and he'd been sitting there being the obvious person anyhow 'cause Mike loved Jim Pugh. They got along really well. I used Jim Pugh and Mike together on sessions many times when I would use Mike Finnigan on B3 and Jim Pugh on piano.
Curtis Salgado sings and plays harp on "I Know You Don't Love Me" and "Laughin'and Cryin'." Braunagal has produced three Salgado albums. "In fact, a couple of those Curtis Salgado records, if you look at the lineup, you'll see Jim Pugh and Mike Finnigan playing keyboards at the same time. Anyway, we needed an artist solo and it was suggested we get Kelly, so Johnny Lee (Schell, guitarist and vocalist) called up Kelly and sent the track to him, and he did it in his home studio."
The album was cut in three days and features guest vocals by Bonnie Raitt and Ruthie Foster. "We can work like a machine here," chuckles Braunagel, "and it would still be interesting and fun and great. Everybody's smart in this band, you know? There's no drug addicts. We all did that shit. We're all grownups. Everybody's smart and intelligent. Larry Fulcher produces records. Johnny Lee Schell (guitar and vocals) can produce records. Jim Pugh produces records. I produce records.
"Jim has a foundation. Johnny runs a studio. (saxophone player) Joe Sublett is out on the road with Kenny Wayne Shepherd. He writes arrangements. He's a top call, and Les Lovitt is a brilliant trumpeter that can write and arrange. Everyone's powerful in their own respects, but different roles are taken by different people. I end up running most of the business all day long, and I didn't choose to do it. It just fell in my lap, and if I didn't do it, some other person was gonna have to do it. And it would possibly fall through the cracks. So, that's kind of how we work."
The band's genesis goes back to the '90s when Taj Mahal needed a backup band. "Taj gave the band its name because we had to go out on the road and support those records, and when we did, we said, 'What's the name of the band,' and he said, 'I don't know. Call it The Phantom Blues Band (gruff accent). "We can work like a machine here. (Chuckle) And it would still be interesting and fun and great."
Produced in three days, the new record contains a dozen cuts masterfully crafted and featuring guest vocals by Bonnie Raitt, Ruthie Foster, and Curtis Salgado, all of whom Braunagel has worked with in various capacities. All but one of the songs is a cover that ranges from soul and R&B to reggae.
"The roots are so important," Braunael says. "I'm 72 years old, and I'm still making those records. It's funny because Bill Bentley (who wrote liner notes on Blues for Breakfast) came over to interview me. Bill Bentley is an old friend of mine from Texas, and he went to Warner Brothers. You know, Bill's been around. He said, 'The crazy thing is this is a lost art from years ago. This is a dying breed. These guys are holding on to this thing.'
"I go, 'I never thought of it that way, but I guess you're right because it's going away from its pure form, you know? And we're old enough to have experienced it as kids learning to play it, and then we end up playing with all these legends.' I played with Jimmy Reed. I played with Lightnin' Hopkins. I played with John Lee Hooker. I recorded with B.B. King. I played on stage with him. I've played with Buddy Guy. I've played with Otis Rush. I've played with Etta James."
The Phantom Blues Band is a democratic unit with musicians all of whom have a multiple skill set. "Playing with the Phantom Blues Band is like playing with your friends or your cohorts or your peers, and you know what kind of brotherhood or fraternity turns out when you're with those kinds of guys.
"Nobody runs this band. Nobody leads this band. Nobody makes the rules. Tony Braunegal does most of the freaking work. (Tony talks about himself in the third person.) Johnny Schell does the bookkeeping and signs most of the contracts, and he does some of the work as well. He books the airfares, but I'm the guy on the phone with the agent, and I'm the guy who is doing all the outreach because that's me and my personality, and it's what I already do. So, I might as well fold it into my day, right?
"Larry works. He's got things he does. His communications with Taj are good when we had Taj in. Larry usually has things to say about what we're playing. The horns have their roles as well. Everybody has an opinion, and I always tell people if you call me today, and you want answer from the Phantom Blues Band, you'll have to wait a month because we're painfully democratic."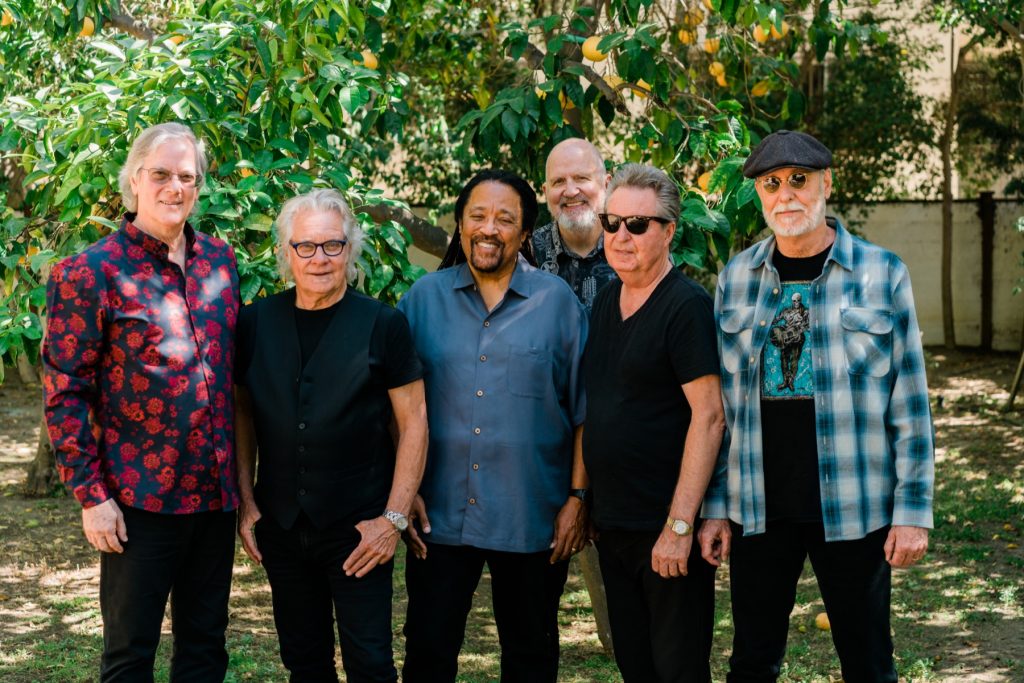 At 72, Braunagel has figured out who is. He's a Renaissance man. "I'm doing all the things I've done, touring all over the world with different groups of wonderful incredible artists and being able to be in the studio with many of them, and playing on important records that I was fortunate to be in them, there are those important moments, to me I've kind of gotten to the point where I'm gonna try and do things that mean something to me for the rest of my life if that makes any sense.
"There was a time when I would take anything because it paid and I'm a musician. It's like, I'm a plumber, I fix pipes, but right now where I am, I want to try and do things that mean something every time I do something – and whether I produce someone, I help someone. I set up a phone call, I set up three other situations already this morning for other people, and it just helps me do it and stay connected and stay dedicated to it. And there's nothing like that good feeling.
Braunagel does a lot of multitasking, but I asked him what his biggest buzz is. "Playing music! Playing! The feeling I get when the numbers are right, and the tones are right, and everybody is doing it all at the same time. There is no buzz like that. It's a magical buzz. That's a magical buzz right there.
"I'm not going to make millions of dollars doing this now. It would have happened already if it was going to, and that's not the most important thing, but the fact that the purpose brings me more happiness. And I'd rather see these things happen because it's kind of like they need to happen. You see things in the world that need to happen, you know? And you can't fix everything in your community or your state or your nation, you would do something that would do those things, but if I can just do those things in small areas, like this, that's what I'm after, dude."