Musicians are always among the first to respond in times of crisis and offer up aid and lend their time and talents to support a cause. When word got around that award-winning bluesman John Németh was facing surgery to treat a potentially career-ending and life-threatening illness, several of his old friends stepped up to help him record May Be The Last Time, before his operation.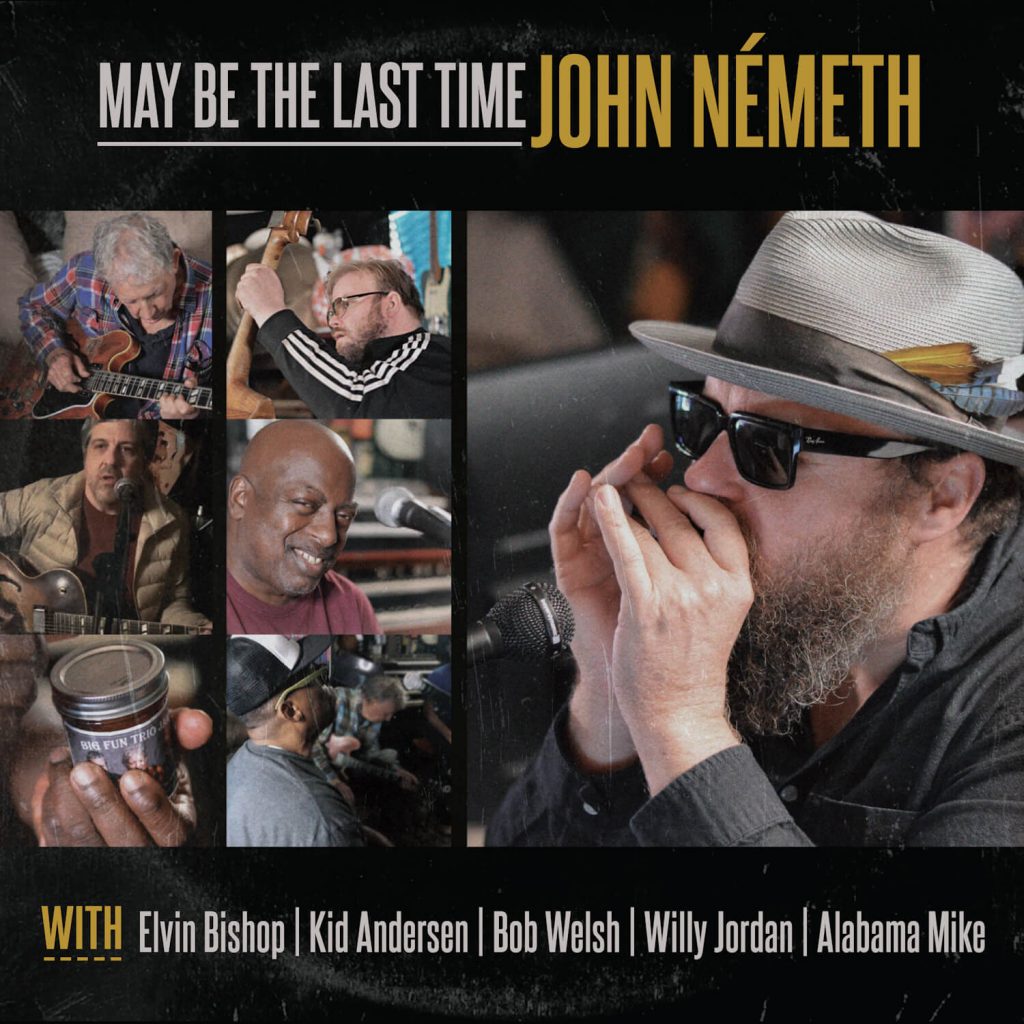 I recorded this album before my jaw amputation surgery, which took place in late May. It's called May Be The Last Time because I didn't know then and I still don't know if I will ever sing or play again like I used to. I have to say the magic of this performance is beyond this world and maybe the greatest of my life.

John Németh
The project was organized by vaunted guitarist Kid Andersen, who hosted the sessions at his Greaseland Studios in California and brought in fellow West Coast musicians, and living legends, Elvin Bishop and his Big Fun Trio (Bob Welsh and Willy Jordan) with Alabama Mike joining in for good measure. For two days in May this year, they recorded old favorites and new tunes from Németh in a freewheeling jam session that resulted in eleven new tracks that capture the urgency and cathartic essence of the music and the brotherhood they share.
The set opens with a heart-felt interpretation of "The Last Time," a traditional Gospel chorus made famous by The Staples Singers, with Németh taking joyous liberties with the lyrics. The fellas then burn through the Elvin Bishop Band classic from 1972 "Rock Bottom;" the lowdown blues never sounded so good. Németh examines life's lessons on a stripped-down version of his tune, "Sooner Or Later," that first appeared on his Memphis Grease album that won the Blues Music Award (BMA) for "Best Soul Blues Album" in 2015. Andersen struts the upright bass on a swinging arrangement of J.B. Lenoir's social commentary from 1966, "Feeling Good," that remains poignant to this day. No one else could deliver the vocals the way he does, so it goes without saying that Bishop stepped up to the mic to lead the band through his swampy romp "Stealin' Watermelons."
Németh then demonstrates his award-winning vocal chops on the Wilson Picket soul classic "I Found A Love," performed as a duet with Willy Jordan. The crew has some fun with "Sexy Ways," from early rhythm & blues and doo-wop pioneer, Hank Ballard of The Midnighters. Németh steps into the shoes of Junior Wells for the bump and grind blues "Come On In This House." Welsh plays honky-tonk piano on another tune from Memphis Grease, the rollicking road song "Elbows On The Wheel," and Jordan thumps the cajon hard during the Slim Harpo blues ramble "Shake Your Hips." The session ends on an upbeat note via the foot-stomping Elvin Bishop tune "I'll Be Glad," and all its cockeyed optimism.
'I'll Be Glad' is a song co-written by the late, great Bobbie Cochran and the still kicking, Rock And Roll Hall Of Famer Elvin Bishop. Elvin performs on all the tracks from the album. It's truly an uplifting, blues-chasing song.

John Németh
In order to completely remove the tumor, John had all of his teeth removed with the exception of his lower molars. He also had a successful stem cell transfer to regenerate his jawbone and is scheduled for replacement teeth implants in November. This American Blues Scene interview provides more information.