Tomás Doncker and the True Groove All-Stars designed their latest album ENDANGERED as a travelogue through 1960s and 1970s Black music. Doncker elaborates, "It goes from Bill Withers to Curtis Mayfield, James Brown to George Clinton, Howlin' Wolf to R.L. Burnside. True Groove music is rooted in these styles and colors."
Their music has also given life to ENDANGERED the show, inspired by the painted works of artist Floyd D. Tunson and propelled forward by the lyrics of Pulitzer Prize-winning poet Yusef Komunyakaa. Tunson – who works in drawing, photography, painting, sculpture, mixed media, and installation – deals primarily in abstract themes and metaphors centered on racial injustice. ENDANGERED originally premiered during Juneteenth weekend at the Fine Arts Center at Colorado College in Colorado Springs, as part of a month-long tribute to Floyd Tunson. And most recently, it was presented at The Dodge Poetry Festival with Tomás & The True Groove All-Stars performing once again.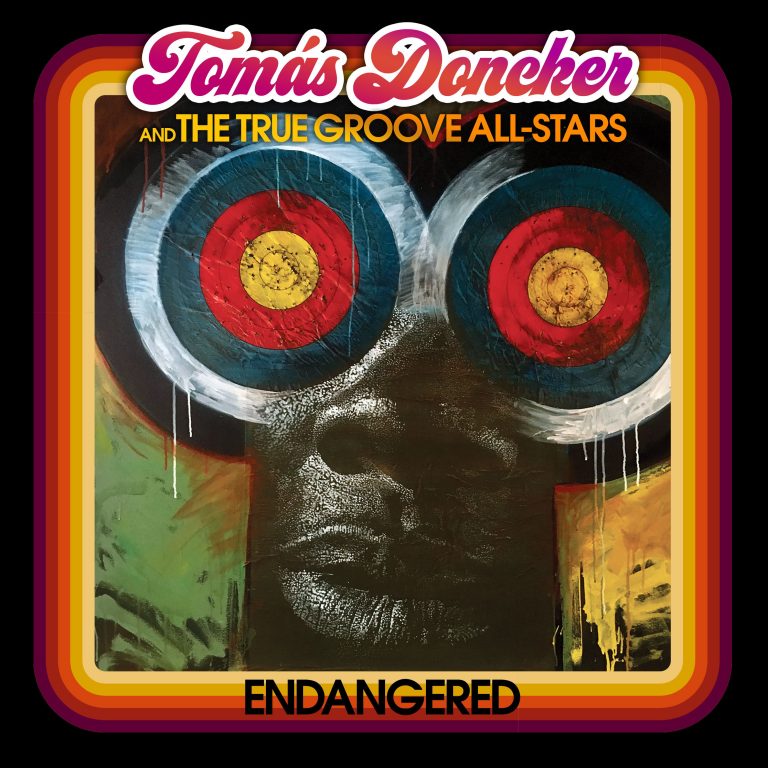 The band did not set out to make a retro record, rather, "we were already informed by these styles of music. It's not retro to us. It's about the intention and the spirit of it. That's what we set out to do in order to give a sonic backdrop in support of Floyd's work." Auxiliary True Groove All-Star Michael "Kidd Funkadelic" Hampton helped co-write the final track on the record, "Universal Bunnies," which features a sample of Floyd D. Tunson's voice. The album also contains two spoken word performances by Yusef Komunyakaa, who Doncker says is his mentor, poet and lyricist for the record. Those songs are "The Same Beat" and "Blue Dementia."
Heavily influenced by David Byrne's American Utopia, Doncker wanted to integrate the band into the show. "You can't beat a band – a great band, that is. It represents the best in us, everybody working together to create a joyful noise. It makes the music transcendent. It's like an invitation to a tribal ritual. And that's the idea behind ENDANGERED. There's a struggle going on. No question about it, but we need to continue to build through cultural expression in order to bring about change. It's a means to an end; it really is."
Premiering today from ENDANGERED is the new video for "This Time," written by Yosef Komunyakaa and Tomás Doncker; shot, directed and edited by William Murray. Of the album, Doncker says, "I'm very proud of it as a body of work. I feel that we achieved our objective and it's growing."
You can listen to the full album on Spotify and Soundcloud.