Singer-songwriter Serabee combines the vibrance of New Orleans with the holiday season with her new song "New Orleans."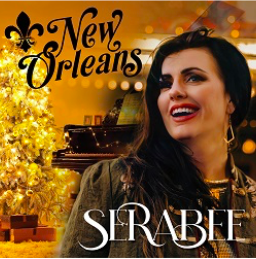 The song was recorded at Rabadash Studios with legendary drummer Russell Batiste, his Uncle bass player Michael Batiste (Jon Batiste's father), and Dave Easley (Ruthie Foster, Shannon McNally) on pedal steel guitar. Other players that lent their talents are Mark Levron, Joe Krown, and a male-voiced quartet featuring Russell Batiste, Anthony Rejiv, Charles Carter, and Michael Batiste, giving it that gospel feel.
Recorded in one take with Marc Hewitt in the studio, this song has become a new favorite in the setlist during her live shows.
Written on the plane from Miami, on her way back to New Orleans, Sera felt being out of town gave her the energy to come home and finish Hummingbird Tea. She had gotten a new lease on life after being cooped up for a couple of years due to the Covid pandemic. "New Orleans" is a homecoming song as she pines for the NOLA culture that is unique with its food, sounds, smells, and people. The original words are about Mardi Gras, but Sera felt it could also be a holiday song. So, with a little bit of songwriting magic, she tweaked it a bit to acknowledge the holiday season.
"… sounds like she's surfing her muse on a wave powered by the likes of Bonnie Raitt and Shemekia Copeland with a touch of a feminine yin to Waylon Jennings' yang." – American Blues Scene's Don Wilcock said of the album.
"I'm coming home," she sings soulfully as the video finds her strolling through the beautiful, lit-up Crescent City streets: Canal, Frenchmen, and Bourbon. Reflecting on what the holidays truly mean, Sera brings fans and family alike together with the gift of song.