Bill Harden is a musician and guitar builder. He grew up playing blues on Maxwell Street in Chicago. He played with Lefty Dizz and even opened up for B.B. King in Indianola, Mississippi. After making 10-12 guitars, Bill created Harden Engineering. Building guitars for over twenty-five years, Bill is a creative original. He builds every guitar by hand and all of his guitars come with his custom one of a kind unique pickups. He makes high quality guitars for the gigging musician that have excellent action and intonation.
Bill says of his instruments, "I want to make a guitar that will make you play better than you can." Popular Harden guitar models include: Muddy Waters, Switchblade, BluesBird, BluesMaster, ThunderHawk, and Esmeralda. Bill currently lives in Hammond, Indiana where he creates his guitars.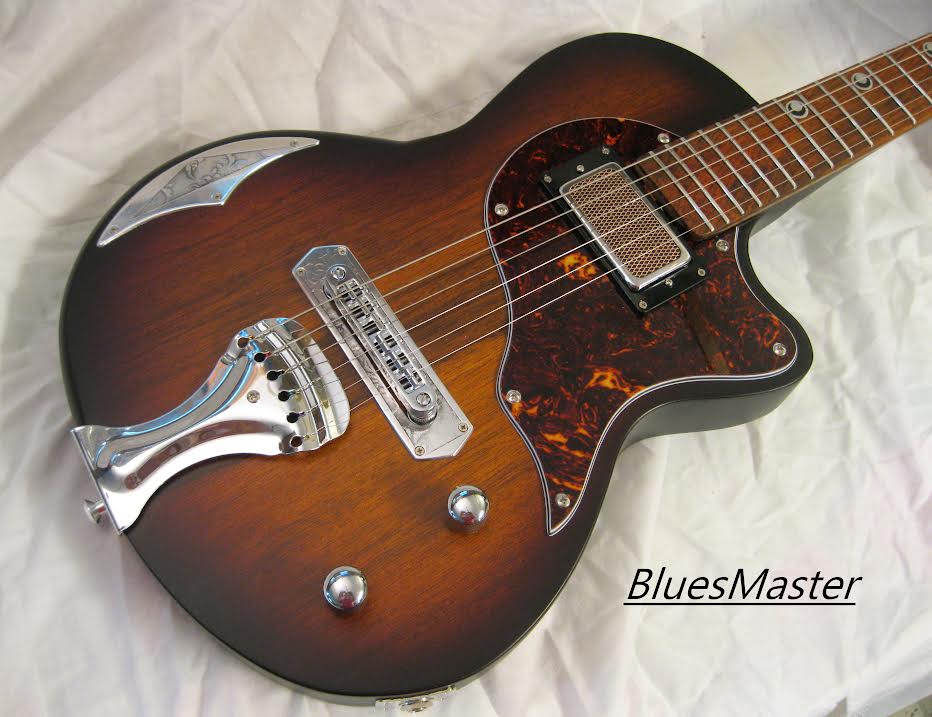 How and why did you get into guitar making?
This all started about twenty-five years ago. I had a small guitar store in Chicago and I was mainly teaching lessons and doing repairs. I was very poor, and it was a very small store. I am mainly self-taught and I worked with another luthier for a little bit. I made about 10 to 12 guitars before I called the business Harden Engineering.

The tools I used to repair guitars are the tools I used to make guitars. Every one that I made was sold. With each guitar, I would learn a little bit more. After about fifteen guitars, I came up with a design called the Switchblade which is an original body shape and they started selling. At the time I was pretty poor, so getting $1,500 for a guitar was a pretty good thing.
Can you talk about the process of guitar building?
My building is done through different phases. The reason there is so much metal on my early guitars with handmade pickups is because I was simply too poor to buy everything. I started hand-making everything. With the first few guitars I spent six months learning how to make a pickup. It took me a long time before I made one that sounded good, but I learned how to make a good pickup. My guitars are largely about the pickups.

Basically, if you have a really good fret job on some resonant wood with really nice pickups and electronics, you will have a good guitar. A lot of people don't really talk about the electronics on guitars which changes the sound tremendously. I am really painstaking even about potentiometers. This has been going on for twenty-five years so I've had a lot of time to try different things and figure out what I really like.

When you buy a guitar from me now, you are getting twenty-five years of guitar-making experience boiled into a reasonably affordable guitar. I was making guitars and they were selling for $1,500. I was contacted by heavy weight music dealers who pushed my price up into the $3,500 to $4,500 range. I make completely handmade guitars, but I didn't really know about the boutique market. I was just a guy making guitars in Chicago.

With the blues, as a kid, I played on Maxwell Street in Chicago. There were a lot of old blues dudes. That is where the idea of what I like in sound came from. When I was learning how to make pickups, I didn't want them to sound like Steely Dan, I wanted them to sound like Hound Dog Taylor. I had that sensibility because when I was a younger dude, I played with a lot of the older dudes. I played with Lefty Dizz and I opened up for B.B. King in Indianola, Mississippi. I played a lot of blues and I know the sound.

For a period of my life, I was a professional musician. I know what good sound is and I know a guitar should feel like if it is going to play well all night long. What makes a guitar great is a really good fret job, great intonation and pickups, and electronics. The rest is subjective, which includes the wood, shape, and the aesthetic.

I was building higher end guitars for the higher end crowd and boutique market. That was going well for a while and I was making pretty good money doing that. One bad thing about it was the guitars – I don't want to say this in a bad way – hung on wealthier people's walls. Nothing against people with wealth or expensive guitars, I am not against that, but I noticed as a brand I wasn't really growing because people who play gigs can't afford a $4,000 guitar. Some can. As a business model for me, I realized I could use my same skills to make a guitar for less than $1,000. For example, with the Muddy Waters guitar, I use premade Telecaster bodies. It cuts my time down considerably.

Over the last few years, I have really boiled it down to how can I make a musician-ready, fairly affordable guitar. So instead of making one a month, I can make five a month. My money is still the same. Players of gigs can afford this realm. Most people can afford $850. For the last couple of years, it has been about getting guitars out at gigs. It has worked very well. I live in Hammond, Indiana which is just south of Chicago and there is a really healthy guitar playing community in northwest Indiana as well as Chicago. Even though you are getting a guitar that doesn't cost $4,000, you get my twenty-five years of pickup and electronics making experience. It's not like you are getting the cheap stuff. You are getting the same fret job I do on a $4,000 guitar.

 I try to offer something very high quality of the sound and aesthetic of the blues because that is mainly what I played when I grew up. I also played a lot of gospel music. I try to offer a really affordable yet really high-quality, gig-ready guitar. When you buy it from me, you don't need to go get it set up. They sound really good, will play all night long, and have cool looks. It comes down to looks as you have to make something cool enough for someone to buy. Then it has to play right, have good intonation, and good sound. A guy playing a gig needs good action. That is what it comes to. I am not a huge name or anything, but I am somewhat known. That is just strictly from selling guitars by hand. I just completed the 555th guitar, which is kind of a landmark.

Photo courtesy of Bill Harden
What are the advantages of having a handmade guitar and what makes yours so unique?
The electronics and the pickups are a major part of it because I am really picky about it. For instance, most tone controls don't really work. You turn your control down and it doesn't really do anything and then at the end there is kind of a farty sound like a Wah-Wah pedal cocked in the middle. My guitar's tone guitar can range from sparkly Tele Buck Owens all the way to Wes Montgomery with just the turn of the knob. If it costs me an extra dollar to do something and it is going to sound really good, I am going to do it as it is only a buck.

Other companies may spend four cents on a capacitor and I spend a buck on a capacitor. I use really high-quality parts. When I was a kid, I was a Schwinn bike mechanic. Back in the day of Schwinn bikes there was a lifetime guarantee, which my guitars also have and it was about customer service. You are buying a product made in America by an American and if there is a problem, I stand behind what I do. Instead of trying to shave off a few bucks, I try and make the highest quality product I can within reason for the amount of money being spent.

Obviously, an $850 guitar is not as good as a $4,000 one, but you'd be surprised by how close they are. Each guitar is handmade by me. There is no factory going on here and I make each guitar and try and do the best job on each one. If you have a problem with it, I will either fix it or give you your money back.
What are your favorite guitar models that you make?
It is a hard subject, because I have made so many different models throughout the years. When I was young, I worked in a factory so I don't like doing the same thing all the time. Most of my models nowadays are based off Tele style stuff. The BluesBird is a Strat style guitar with a Tele pickup. I have another model called The Muddy Waters, which has been popular. It is a certain kind of Telecaster with the Fender Amp knobs on it and a barn brown relic finish.

I am constantly coming up with new models. I do Firebirds, Flying Vs, my own original design called The Switchblade, and The Little Calumet which is named after a river by my house. I try to take the classic elements of guitar design from the '50s and '60s. One thing about being a guitar maker is you take the different facets to try and combine them in an interesting modern way.

Even though you are getting a guitar that looks like it's from the '50s, the playability is a modern high quality performance guitar. The only thing I am not high performance on is the way it looks. I want to make a guitar that will make you play better than you can. Also, when you buy your standard off the shelf guitar, it is not intonated or set up. It's the attention to the little details like perfect intonation and a really good fret job. Most people buy a guitar and pay to get it set up. With mine you get it right off the bat.
Can you talk about the custom amplifiers, pedals, and pickups you make?
I stopped making amps, but I make pedals. I make a pedal that is a tube screamer on steroids. I wouldn't call it a tube screamer; it is a booster distortion. The goal with my pickups is to not just do another Fender or Gibson pickup. I like '50s and '60s Harmony pickups. I think those pickups sound really good, but I didn't want to just copy everybody else's stuff. It comes down to this, magnetism is a wide-open field.

Magnetism is like studying the elements. If you have x amount of magnetism produced over a coil, you are going to get a certain sound. I am not going to get into my secret recipes, but I will stay that my stuff is original. If you like classic guitar sounds, you will like my guitars as they sound like something from the '50s or '60s. I think most people will agree that was the golden time of the electric guitar. You can play anything on it. You can play Van Halen, The Animals, or blues and it will all sound good. You can shred on them, too.

There is something about '50s pickups people really like. Over twenty-five years, I have a stash of magnets that work for the sound I want to go for. To me a P-90 is a great pickup. Anyone who's played an old P-90 knows they are great. It is the closest to another pickup that I go for.