"My goal with my music is to introduce people who may not know about blues music and segue them into that world," Texas blues-rock guitarist, vocalist, and songwriter Ally Venable told ABS in a 2021 interview about the album Heart of Fire. With her style and tone appealing to blues novices and aficionados alike, it's a quote that holds true on the follow-up album Real Gone.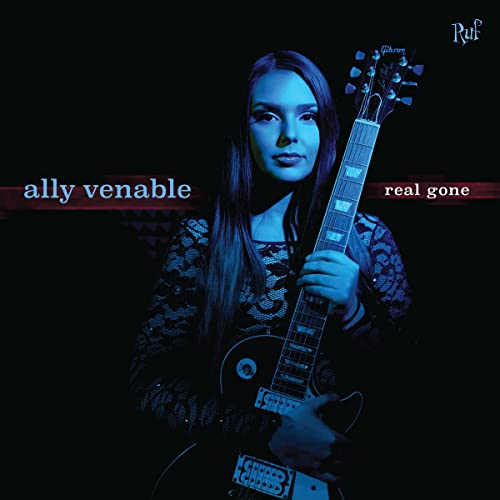 Premiering exclusively today is the video for the title track, showcasing her knack for both the hook-driven chorus and turbocharging the blues guitar. "Real Gone" was so fun to play in the studio," Venable tells me. Enthusing, "It's real rockin' and I love how I can really get into my guitar playing on this tune! When we were writing the songs for the album, when we were looking at 'Real Gone' it was brought to my attention that it's an older term for 'badass.' It's a really fun song to jam out to."
She considers this album to be a step up from the last record. "I not only matured musically from playing live with my band, but I was also more collaborative with my songwriting on this record," Venable says of the new and interesting ideas that came together with her producer, GRAMMY winner Tom Hambridge (Buddy Guy, Susan Tedeschi).
"I really loved working with Tom. We wrote the album in just two days which was incredible. I think that my favorite part was writing the songs with him. Even though it was just two days, it didn't feel rushed at all, and I really loved how the songs turned out before we brought them to the studio."
The video was shot at Muddy's Club in Weinheim, Germany. "I was on tour in Europe with my band and I wanted to shoot our video at one of our live shows with our fans! It was so fun! I love my band (Isaac Pulido on drums and EJ Bedford on bass). They are amazing musicians and great friends. I couldn't ask for anything better than that."
The new album features a duet with Buddy Guy. Venable has toured and jammed with him before, and is now set to support him on his farewell tour. This is the first time she and Buddy have recorded in the studio together. "It's an honor to be around Buddy and to have his guidance and support."
In addition to the farewell tour this year, she will rock Europe yet again on the Blues Caravan Tour, as well as her own headline shows domestically and abroad. "I'm very excited for 2023 and all of the cool shows we will be doing, being able to be a part of Buddy's farewell tour is an honor as well. I'm also excited about the Blues Caravan tour and my own shows with my band. There are a lot of cool things happening and I'm just grateful for all of it."