Jeff Beck and Buddy Guy leaned into each other shoulder to shoulder. Their fingers flew across the strings of their guitars in an extemporaneous jam that was two parts duet and one part duel.
We were in a huge second story photo studio deep in the heart of London's Soho Arts District getting ready for a guitar magazine photoshoot. They were playing electric guitars that weren't plugged in, and the sound barely audible, cut into my brain like a snow squall on Christmas, a psychedelic high without the drugs.
Music journalists haven't invented a word to describe what that sounded like. Imagine being in a field in 1950 with Woody Guthrie inventing a sound so fundamental it would influence Dylan and a cadre of Greenwich Village and Harvard Square folk singers a decade later, who in turn would inspire the British invasion and the Haight Ashbury clarion call to youth a few years after that –  unique, primal, beyond the crunch of would-be icons.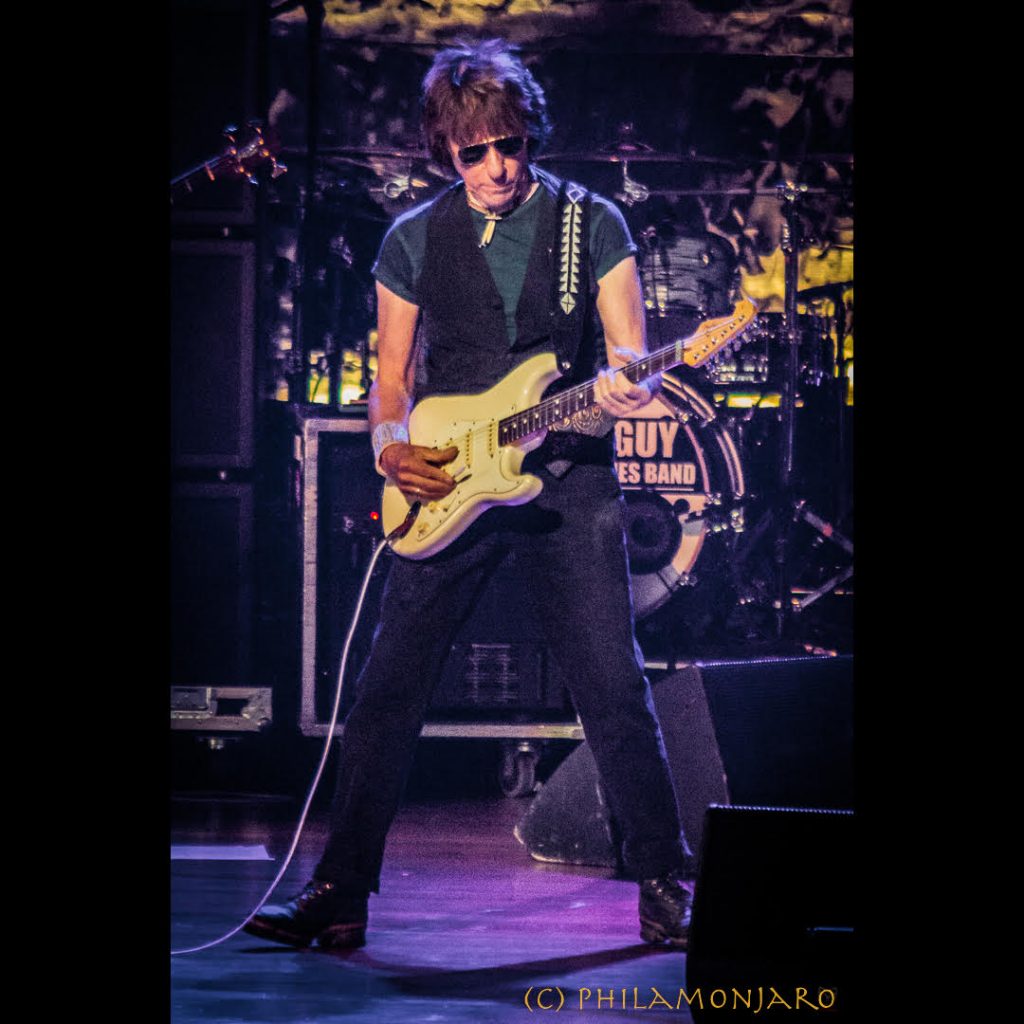 Waiting for the shoot to begin, Jeff came over to me and we talked about his other obsession: cars. I was in London with Buddy to attend the Eric Clapton Royal Albert Hall concert series in anticipation of writing my Buddy Guy biography, Damn Right I've Got The Blues. I didn't have my usual agenda of collecting quotes for an article. Jeff and I were just two people from different worlds sharing some downtime.
There I was shooting the shit with a man who'd turned down a Rolling Stones invitation to replace Brian Jones. A man who briefly in The Yardbirds elevated the UK rock hierarchy above emulating an American Country/R&B/soul hybrid to produce "rave-ups" as they called them.
If Hendrix was the guitarist who forged a unique path among rock's emerging hierarchy, Jeff Beck was the British equivalent.
The Beatles may have opened the floodgates, and The Stones may have created the white man's equivalent to a chitlin circuit Saturday night blowout, but Jeff Beck soared above them all on a guitar that knew no limits.
He had influences that were extraterrestrial. Sure, he played with everyone from Clapton to Johnny Depp, an equal opportunity partner with Buddy Guy in the musical journeys near the end of a century of artistic experimentation. He may not have been "plugged in" that day with Buddy, but they were hearing each other on another plane.
This wasn't a show to jack off an arena crowd of thousands. This was two human beings making musical love to each other. This was primal. And I stood 20 feet away tripping out on an intimate moment that's burned in my memory, the high point in a lifetime of moments that lifted my soul above the harsh realities of everyday existence:
The Jeff Beck Group concert in DC when I was in The Army waiting to deploy to Nam.
The Beck, Bogart and Appice performance in Syracuse just after my first son was born.
The opening act for Stevie Ray Vaughan at the RPI Fieldhouse in Troy when I was spearheading the Northeast Blues Society. That was the show that inspired Albert Cummings to seriously take up the guitar. It took place on November 12th, 1989. Shelly and I would eventually marry on 11/12 in 1994. Here's how my friend Steve Webb, formerly the music critic for The Schenectady Union Star, remembers another stop on that tour in Albuquerque.
"What struck me was just how ripped his right forearm was and how everything else was possible because he was so strong picking and chording. Before that, what got me was that he played off his keyboardists better than anyone I can think of.
"The first real sign of this for me was the Beck-Ola treatment of "All Shook Up" with Nicky Hopkins, and he did great fusion things with Jan Hammer, but the link was him and Middleton and that was what made Blow By Blow such a great album for me. To me, they were every bit as great a guitar/keys pairing as Keith Richards and Ian Stuart on the '81 Stones tour, or Chuck Berry and Johnny Johnson on those great '50s records, and going further Basie and Freddie Green. You want to throw Wakeman and Howe in there, or Betts and Leavell? Fine by me."
James Brown died on Christmas. John Prine was the pandemic's finest victim. Jeff Beck has been snatched from us with no warning. But his influence is beyond belief; his memories each unique to the millions of people like you and me who live for the charge we get from the arts.