The brief snow flurries have subsided. The air is now crisp. Cool and refreshing for a January evening in Chicago, but still cold enough to warrant blowing some air into your hands as you enter Dusek's, the old school tavern at historic Thalia Hall. As the door closes, you are met with a cacophony of sound: bartenders shaking cocktails; servers hustling from table to table serving meals with one hand, clearing empty plates with the other; and customers laughing, clinking glasses and otherwise engaged in casual conversation. The sounds are reminiscent of the chatter that provides the background to the classic Marvin Gaye song "What's Going On."  
Like the party-goers in that song, the customers at Dusek's this particular evening were ready to hear some sweet soul music of their own just next door and up the stairs in Chicago's fabled Thalia Hall. Designed as an opera house in 1892, this landmark venue provided the perfect backdrop for Thee Sacred Souls, the soul/R&B trio hailing from San Diego, California.
Supporting their 2022 debut self-titled release on Penrose Records, a Daptone Recording Co. imprint, Thee Sacred Souls are taking the country by storm, playing sold out shows across the United States, including two packed nights in Chicago. From the opening notes of "Overflowing," it was clear that this was not a show that would ignite discordant dancing from the crowd. There would be no harsh or jarring pogoing. No outstretched fists or extension of the devil horns. Thee Sacred Souls ignited something better. Harmony. Through the passionate and expressive vocals of singer Josh Lane, and the deep grooves and rhythms of bassist Sal Samano and drummer Alex Garcia, Thee Sacred Souls created an intoxicatingly symbiotic relationship between music and crowd. With each passing song, the crowd moved and swayed together as one for the entire evening. It was a night of love and community.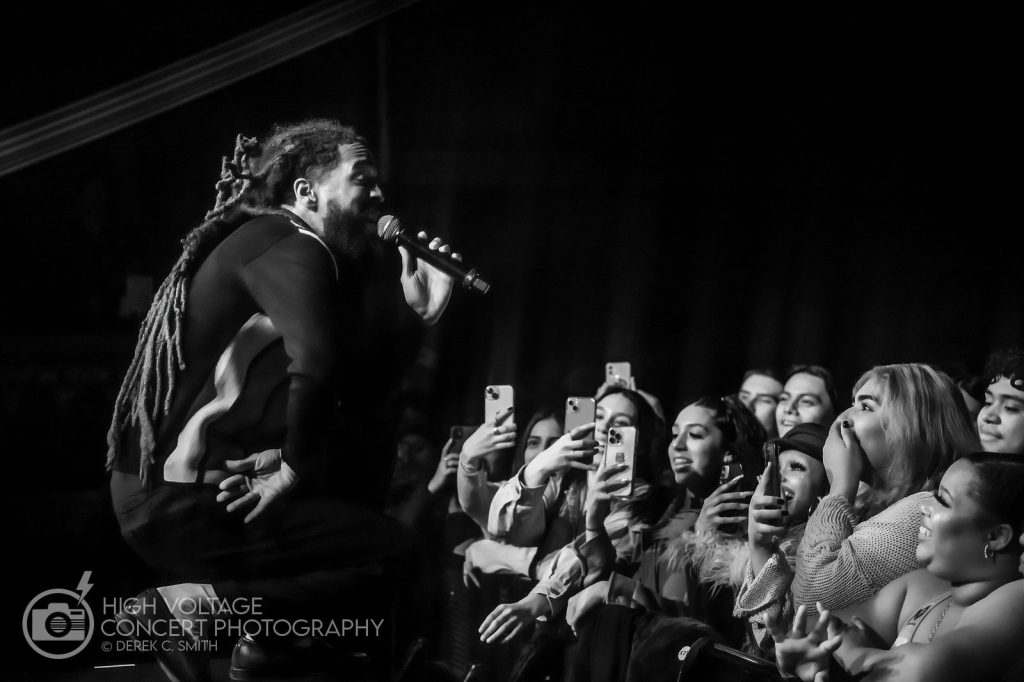 The band played their debut album in near entirety, including two of their heaviest streamed songs "Weak for Your Love" and "Can I Call You Rose?" Singularly, the beauty of each song is undeniable, but it is the album as a whole that deserves your attention. From top to bottom it is a stellar collection of modern soul; taking inspiration from, without imitation of, such musical giants as Smokey Robinson and Marvin Gaye. Streaming is nice, but if there is a recent release deserving of a moodily lit room, a well-crafted cocktail and a spin on the turntable, this is it.
For more information on Thee Sacred Souls, including their self-titled release and upcoming tour dates, head to their website.
Opening for Thee Sacred Souls in Chicago was Jalen Ngonda. He too is one to watch.  Supporting his recently released singles on Daptone Records – "Just Like You Used To" and "What a Difference She Made" – Ngonda's voice is rich, moody, and emotive.  On record, he is backed by a full band, but in Chicago Ngonda stood alone but for his guitar – something a crowd steeped in the blues can readily accept.  Ngonda delivered. Soulful and bluesy, Ngonda is seemingly on the precipice of stardom; talent like his just can't be denied. Keep him on your musical radar.
For more information on Ngonda, head to the Daptone website. His music is also available for streaming on all major platforms.
All images: © Derek Smith / High Voltage Concert Photography