"You know, you're requesting songs I know and love but haven't ever played. Why don't you write me a little setlist?" asked a tall, kindly figure taking a seat at my table. "I'll learn some."
So, I did. I handed it to him on a piece of composition paper the following week, and I think by that next Thursday set he had already worked through some Marty Robbins and George Jones medleys. And so began the pattern of the next four years. And a friendship unlike anything else in my life.
If I mentioned just some of the musicians he'd played with throughout his career – David Bromberg, Kate and Anna McGarrigle, Loudon Wainwright III, Maria Muldaur, Frank Wakefield, Norman Blake, John Hartford, Don McLean, Vassar Clements, Gamble Rogers – you'd think I was talking about an important fixture of the '60s-'70s folk scene. Well, I am. And, he was.
But I'm talking about Alan Stowell, one of the best human beings I've ever known and the truest of friends.
It didn't end there with those medleys. There'd be other medleys, ranging from Johnny Horton to Buddy Holly. I became addicted to writing down songs for him every week. He never let one conveniently get lost in the shuffle. I think it meant something to him that the same person came to see him every week, and it certainly meant something to me that he wanted to be my friend. I'd forget which titles I jotted down, and would just continue to be thoroughly surprised every week upon hearing each one live. I never expected him to learn even some of them, much less all of them. "This one's for Lauren," he'd say, yet again — in between category ten gale-force renditions of standards like "Orange Blossom Special," original arrangements, and tunes old, new, borrowed, and blues. The audience (always consisting of fellow devotees and newcomers alike) I am certain got sick of hearing my name. I'd laugh to myself, "What? He's actually singing 'Wolverton Mountain' right now?" The baritone even nailed the subtle, quasi-yodeling parts. What an ear he had.
You see, his professional role wasn't just player/instructor of fiddle, mandolin, and guitar; he was a sanger! If you ever heard Alan do "Sixteen Tons" or "St. James Infirmary Blues," consider yourself fortunate. If you ever heard him do "I Still Miss Someone," you knew he still missed someone – as with "Farewell Party." Or at least he was very convincing. Hearing Alan sing Gordon Lightfoot the way he sang it, "This old airport's got me down, it's no earthly good to me / And I'm stuck here on the ground as cold and drunk as I can be / You can't jump a jet plane like you can a freight train / So, I'd best be on my way in the early morning rain" gave me poetry to ponder.
Forming one-half of a perfectly matched duo was CP Heaton: five-string banjo baron, former language and literature professor, and author of scholarly articles on folk music. A sweet, soft-spoken, and wise man who sang like a bird and was also instrumental in the creation of Earl Scruggs Day in the state of North Carolina. Alan & CP played more music than you could shake a stick at. Their philosophy: pick it and they will come.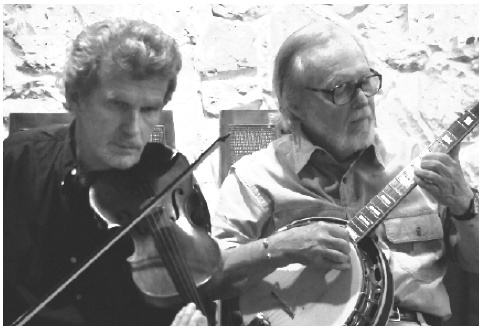 Alan and I had certain songs we liked to call "shitkickers." I'm pretty sure it was the wrong use of the word, but we knew what one another meant. Alan opened my world to the city-bred but high lonesome sound of the Greenbriar Boys, at which point I learned he had actually played with John Herald during his Northeast stint. "Play a shitkicker." More specifically, I'd request something like "Alligator Man" à la Greenbriar Boys. He'd play it like a shitkicker (as we knew the word anyway). "Kaw-Liga," if memory serves me well, was one played in the style of shitkicker.
In the four or so years leading up to my move out of Gainesville, I don't recall missing a weekly three-hour set. Maybe one or two simply because I was traveling and couldn't be in two places at once? I followed him from Farah's on the Avenue to Leonardo's 706 to Ballyhoo Grill on that timeline. There were times I wasn't able to afford to eat out every week. Sometimes friends would share plates. Sometimes I found myself alone at a table where I'd sit a little bit hungry with my own travel coffee mug filled with straight rum, enough to last the night. Alan's music was the pabulum to feed my soul. That sounds like it's written for dramatic effect, but it really was true of that period of my life.
I once namechecked him during an interview with Dave Alvin, on the topic of capos, for no reason other than my own personal thrill of going on record having said "Alan Stowell, my favorite guitar teacher."
I called him very recently. How fast an hour went by, as it always did. He answered the call with a sense of urgency. He must have known why I was calling. I asked him how he was doing, wincing at the perfunctory nature of my inquiry. In true Alan form, he replied, "Well, it's a pain in my ass not being able to play music as much as I want." I knew I needed to see him ASAP, and I admit I thought I had more time. Such is life: from crying yourself to sleep, fearing the unknown, to agonizing yourself to sleep the next night because the unknown becomes the known. I can't believe he's gone. This phase of shock I still find myself in is like my mind putting up a protective barrier to help me with just how tremendous and painful an Alan-shaped void is here in the corporeal world. To help me with the intense regret of not seeing him when I had the chance.
"I appreciate your call. It means a lot. I've always felt we had a strong bond," he said. He could tell I had been crying and, also in true Alan fashion, the very last words he said to me: "No tears, Lauren, sweetheart." He always called me that. Started and ended every call we ever had with "Lauren, sweetheart," as if it were a compound noun. And I'd always end the call teasing him in a masculine tone, "Ok then, Alan, sweetheart."
Looking back on emails, comments, posts, voice messages, etc. I'm reminded of that one time he called me just to tell me he saw a '66 T-bird, because he knew it was my dream car. That, sadly, he "left voice messages, but to no avail." (I'm not the best phone person.) That he emailed me a lot of Marty Robbins and George Jones concert videos. That he asked me a few times to help him post lesson flyers, which I did. That I can't get on Facebook without seeing the shortcut to his business page of which I am admin – however poorly I "helped" drum up business over the past decade. That he said both "I miss you" and "I love you" every time he reached out. You didn't just get one or the other with him. Nope, not Alan. He gave his all. In his performances, his teaching, and of course his friendships.
Well, Alan-sweetheart, I miss you. I love you.
An obituary written by none other than his guitar/banjo pickin' partner C.P. Heaton was published yesterday in Bluegrass Today. "In the words of the old song," C.P. says, "Alan was 'a jewel here on earth.'" And in the words of Gwen Williams, who used to sit in with the duo, "enjoy local music and tip a musician in his honor."