Megson duo, Stu and Debbie Hanna, celebrate 20 years on the burgeoning UK roots scene with their 13th album, What Are We Trying To Say? The award-winning singers, lyricists and multi-instrumentalists are joined in the studio by world class double bassist John Parker whose mastery of so many genres adds a third dimension to the glorious soundscape the trio creates. The influence of the media, especially the press during the constantly changing world of the pandemic and not knowing who or what to believe, was the starting point for this wonderful, eclectic and uncompromising collection of songs.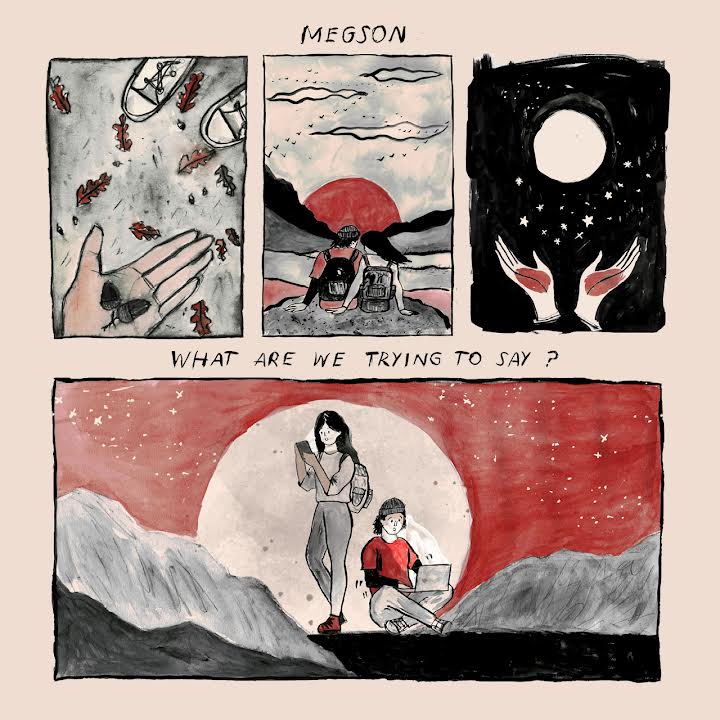 As Debbie explains: 'We spent so much time during the pandemic watching the news and endlessly scrolling – social media became a vital source of information but it also became clear that there were so many different takes on what was happening it became hard to figure out the real truth.'
Not surprisingly the opening title track is high impact with its mesmeric rhythm, edgy lyrics, and powerful vocal harmonies pleading, "Don't go hunting for glory/Just help the truth on its way." Its reference to "Watching the prince and his bride/Bound to make a good story/There must be something to hide" is particularly relevant on both sides of the pond as journalists pursued the story of the decade. The dark, balladic "Keeping Him On" explores the confusion and uncertainty arising when truth is distorted, Debbie's sumptuous vocals and Stu's spectacular strings providing the gravitas as "… we never will know/Quite where they point their gun, till the damage is done."
The mood lightens with "Before I Know It," Stu leading the full-on duet with his usual panache in this magnificently arranged upbeat song about obsessions with phone texting and internet searching detracting from real life and affecting well-being: "I'm googling the symptoms, for every virus even some extinct ones/And they all describe exactly how I'm suffering." The bluesy vibe of "Next Year" is the perfect context for reflections on future resolutions to become a better person expressed in the poignant lyrics and Stu's somber guitar.
The consummate storytellers find the perfect true tale to recount on "Anastasia & William," Debbie's sumptuous classical vocals and Parker's double bass providing an atmosphere which makes this track a tour de force. It tells of pioneering Northumbrian newspaper editor William Stead who had a romantic dalliance with Russian writer Anastasia Romanova Krandievskaya quashed when she read disparaging comments about him in the Russian revolutionary press. Apparently she later regretted spurning him only to learn he had died on the Titanic on his way to a conference aimed at the cessation of all wars. While this sequence of events redefines the meaning of misfortune, it is also beautifully written. The ending is a triumph: "And our hearts and minds can be so far apart/That they never connect till our days reach their end."
The tempo and temperature rise with "The Conspiracy Trap" the meaning of which Stu explains, "We had originally called this song 'Normal Person' which is about how easy it is for normal people to get drawn into these theories. When we listened back to the song, its conspiratorial arguments seemed so compelling we had to change the name to make sure people didn't think the world was flat!" On this track Debbie shows that she possesses an incredible vocal range. The catchy "We Are Better Than This" with its repetition of "we are," the swirling accordion, percussive backing, and infectious melody is trademark Megson at the top of their game.
Megson always remain true to their roots with songs from their native North East, this time two songs from the 1842 Newcastle Songbook (or Tyneside Songster) but with their own arrangements. Debbie says: "When thinking about songs for this album we were struck by how many of the older songs and ballads from the North East had been important news sources of their time – informing, educating and even influencing political discussion."
"Canny Old Blind Willie" is an abridged version of "Blind Willie's Death," an anonymous song about the 1832 death of celebrated Tyneside concert hall songwriter and performer William Purvis. Stu and Debbie's fiddle and vocal arrangement celebrates a man who later became known as 'The ancient laureate of the Tyne.' It is a song which will remind American Blues Scene readers of their own 19th century folk blues traditions. "The Barber's News" is another with origins in the north east coast of England, this one a tale of a gossiping barber who spread news of a sea monster swimming in the river, John Parker's pulsating double bass setting the pace and enhancing the drama.
"And Finally" another Hanna & Hanna homespun quirky, humorous, tongue-in-cheek composition inspired by the 'And Finally' section of the TV news where sometimes bizarre but often feel good stories appear. It was influenced further by a book they found featuring random odd headlines from local newspapers. "And finally, there's this woman from Henlow/Who ran a psychic show but had to cancel/Due to circumstances unforeseen."
Overall, this is another consistently brilliant album representing the best of British folk which makes you smile and think in equal measure, a rare commodity in today's world. Stu and Debbie are talented and creative songwriters, performers, social commentators and acute observers of everyday life. Their appeal will extend to fans across a broad range of genres who appreciate honesty, integrity and outstanding musicianship. 
Released by EDJ Records on March 24, 2023
Distributed by Proper Music
Produced by Stu Hanna
Illustrations by Jess Morgan
All songs written by S Hanna and D Hanna except "Canny Old Blind Willie" from The Newcastle Song Book, W&T Fordyce