Although If… is only his second full-length solo album, the renowned cartoonist, graphic designer and musician David Heatley has been writing songs and playing in bands for over 30 years. All of the tracks were written, performed and produced by David who was joined in the studio by an all-star line up including members of the Louisiana Grammy-winning Cajun band Lost Bayou Ramblers, folk jazz singer-songwriter and guitarist Sarah Quintana and Americana folk rocker Lilli Lewis.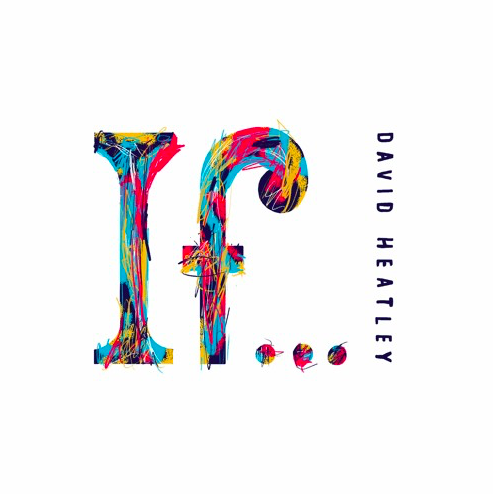 Heatley describes If… as "a portrait of someone in the throes of 'impossible love,' with all the attendant euphoria and longing pulsing beneath each track. I've always had an issue with crushes and falling in love. I fell in love with all three guest singers on my last record. The bulk of the songs came to me while recording down in Louisiana for the first time in the summer of 2021, surrounded by an inspiring and passionate array of New Orleans musician-heartthrobs."
What David couldn't have known was that by the time this new record was released, his personal life would be entirely rearranged and would line up with many of the themes of the songs he had written.
"It's honestly eerie how prescient some of these songs turned out to be. I've often gotten song ideas in my dreams, and I write them out and record them only to see how perfectly they fit some situation I'm living through years later. It's enough to make you believe in Carl Jung's theory of the archetypal field."
The album is a glorious cornucopia of genres, the various sounds, imagery and emotions expressed vividly and passionately by a carefully chosen group of innovative musicians with David leading from the center like the conductor of a symphony orchestra. The often poignant, sometimes joyful, and always uplifting lyrics reflect David's ability to portray a kaleidoscope of scenarios using words as well as music, capturing images as evocatively as he would through his illustrations.
The title track with its glorious brass introduction, the Jelly Sisters' sumptuous background vocal harmonies and magnificently arranged string and horn and ensemble courtesy of New Orleans jazz virtuoso Jimbo Walsh, sets the scene for the soundscape to come. The world recently lost one of its greatest composers, Burt Bacharach, and this track is the perfect tribute to his lifetime achievements.
"If / You hadn't been more than you seemed / And if / You were still just that face on that screen / And if / I didn't know what it felt like to hold that face in my hands / And if / We didn't share all our secrets and both understand."
As Heatley explains, "If we didn't share all our secrets and both understand, we could be in our separate lives. I wouldn't even try to see this through. Yeah, I'd be doing fine. I wouldn't know what it's like to be with you."
The central character in the blistering rocker and first single from the album, "Mess," featuring the Ramblers' Louis Michot on electrifying fiddle, could be straight from David's cartoon back catalogue: "Getting dressed / Clothes are clashin' / Far as I'm concerned she's the pinnacle of fashion.' This is psychedelia on steroids, as surreal, anarchic and mind-blowing as Frank Zappa. For Heatley it is: "A timely anthem and ode to the type of woman that sets my heart ablaze—the wild, creative, free spirit who's barely holding it all together. She's got her problems, but who doesn't? Proud to be the person her parents wish she wasn't. Been through hell, but still standing. Bet you when it's all said and done, she'll stick the landing."
Heatley's mellifluous vocals reach their zenith on "Beautiful Ending," a joyful, impassioned song of praise to the death of an idealized love: "It was sweet to believe you were the one. Now that's all ending. We can fade like the sunset above, a beautiful ending." The bouncy bossa nova-flavored "Run Away with You" features a gorgeous duet between David and the brilliant New Orlean's chanteuse Sarah Quintana, the chemistry between them palpable. The woodwind arrangement is superb, Rex Gregory's calming flute intonations taking this track soaring to a higher place. "Among The Lightning" with its dreamlike brass waves, complementary backing vocals and staccato trumpet interpolations sets the scene perfectly in the moment for the reflective lyrics: "The spark of possibility, the danger / The light touches down / Illuminating our faces just for a moment / That's all we have/Just this moment."
Bi-lingual, Mexican rapper and actress Emma Ramos brings energy and excitement to the raucous "Dancing Inside Out," sung and played at a pace made possible by the exceptional drumming of Jim Kolacek who gives a percussion masterclass throughout the album. The balladic "Too Sad to Write This Song," according to David, "gives voice to the fear that all art is futile and inadequate for expressing the depths of despair and longing in the rejected lover." The lyrics are pure poetry and who better to help communicate them than Sarah Quintana and the equally irrepressible Lilli Lewis, the Americana blues and soul legend.
The vastness, the emptiness

The beauty, the heartbreak

The words they just slide off the page

Onto the floor

Where they break

Like waves on a shore

And I ask myself

What is any of this for?
Quintana returns on the atmospheric "It's Midnight" with "hypnotic French cooing that will make any listener swoon with their own crush." Lilli creates a bluesy ambience with her empathetic piano accompaniment and solo. The upbeat and catchy "Stop Wasting Love" with its searing guitar and electric keyboard licks is "a public service announcement of sorts, exhorting everyone not to fall for unavailable people."
Finally, the album closer, "Clean Living," features the soulful influence of Lilli Lewis on the show-stopping finale which according to Heatley is, "a triumphant, queer-aligned declaration of the need to love who you want, unapologetically, in the face of the world's judgment and scorn." David gives the vocal performance his song deserves, with further plaudits for Bryan Webre's tasteful electric guitar work and Sam Kuslan's fluid piano keys.
This extraordinary and powerful music collaboration has come about because of David Heatley's talents and his artistic vision. He surrounded himself with, and empowered, exceptionally gifted, creative and inspiring musicians and recording engineers at the top of their game who shared that vision and brought it to life in this monumental musical representation.
David is a musician, cartoonist and animation director living in Queens, New York. His highly acclaimed debut album Life Our Own Way involved Heatley's "discovery of and immersion in the New Orleans' indie music scene." The current album "continues to highlight the chemistry in all of those evolving musical relationships."
The tracks were recorded at Piety Street Arnaudville Studio with additional recording at Restoration Sound with Lorenzo Wolff engineering.
String, horn and woodwind arrangements by Doctor Jimbo Walsh.
The assistant engineer was Kirkland Middleton.
The album was mastered by Dave Glasser of Airshow.