Today, singer, songwriter and author Mary Lee Kortes shared a video for her new song "Green Sand" which features Joe Jackson. "Green Sand is partly inspired by the story of Bonnie and Clyde," writes Kortes, "by the envy and coveting of the riches and plenty of others so prominent in the Depression era—Beulah's era—but also by the more universal desire for what seems forever out of reach. Joe Jackson offered to guest on the record and this song gave the perfect opportunity for the brilliance of both his voice and piano playing." 
The song is the second single from her recently announced album Will Anybody Know That I Was Here: The Songs of Beulah Rowley. Recorded with the Grammy-winning producer Hal Willner, the project presents the story of the fictional dustbowl-era songwriter Beulah Rowley. The record will be released on April 22nd as a Record Store Day vinyl exclusive.
Kortes previously shared the track "Born A Happy Girl," which premiered exclusively with American Blues Scene, who writes that Kortes "…has brought her considerable talents to craft songs that sound like they came right out of the Depression Era."
"As a writer, you get in a zone. You get possessed by something. If you're lucky," says Mary Lee Kortes.
Will Anybody Know That I Was Here: The Songs of Beulah Rowley, Kortes's new stunning and immersive album, was born from one of those all-encompassing possessions, from a feeling she couldn't shake, one she had to write through to fully understand. She knew she wanted to expand upon a typical album format to create a more cohesive work with a sense of character that could incorporate her love for writing fiction. "I went to sleep with all of this on my mind," she says, "and I woke up in the morning with this woman in my head named Beulah Rowley, a depression-era singer-songwriter, from the Midwest like me, and I immediately started writing the song 'Born a Happy Girl.'" Kortes would go on to create the biography of Beulah Rowley—and her complete songbook.
The story Kortes wrote is one of tragic brevity: Beulah Rowley found regional fame throughout the 1930s playing at county fairs and her father's Michigan movie theater, performing original songs she wrote and stored locked inside a custom-made, wrought-iron piano bench. At just twenty-one years old, she died in a house fire with her husband and infant daughter—but the piano bench, and her songs, survived, and would be passed down over generations and through flea markets before ending up with Mary Lee Kortes.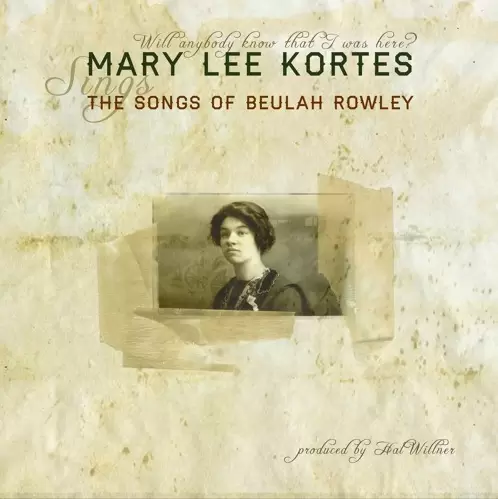 On her tenth birthday, Kortes asked her father to open the bench, and came upon all of Beulah's handwritten melodies and lyrics, alongside her personal diaries. It was then she decided to one day bring her story and songs back to the world where they belonged.
Kortes connected with legendary producer Hal Willner, who admired her demos: "I don't know how you did this," he told her. "I've never seen anything like it." Kortes and Willner eventually convened in the studio to record a full-length album.
"It was so touching and moving to work with him," she says of the legendary Willner, and what would become his penultimate album—and last single-artist album—before his death in 2020. "He came up with great ideas for restructuring some of the songs. He was hearing the whole album, and instrumentation that I wasn't hearing yet, a process I wasn't hearing yet. When we finally did get into the studio to do the basic tracks, it felt like a religious experience."