Now That We Are All Ghosts, nine songs of what the band has coined as "Doom Chamber-Americana," is the second album from Milwaukee's Resurrectionists. Challenging any notion of the so-called sophomore slump, the album weaves together literary lines, parallel narratives, and compelling crossover concepts – marking a stylistic shift from their debut album.
The largest musical departure is related to the physical departure of their pedal steel player. Resurrectionists were originally formed by lyricist, guitarist and banjo picker Joe Cannon, bassist Jeff Brueggeman, drummer Josh Barto, and pedal steel player Gavin Hardy who moved to New York shortly after they put out the first album.
"Pedal steel doesn't factor into this album and not having it changed things significantly," Joe Cannon explains to me. "There are chord and melody ideas that are really characteristic of the pedal steel that don't adapt well to other instruments. Hence the total rethink that happened after Gavin moved. We realized quickly that he would be pretty much impossible to replace. Find another excellent pedal steel player who's into weird rock music and lives in Milwaukee? Good luck!"
So instead of replacing him, the band reconsidered the songs and brought in a multi-instrumentalist, Gian Pogliano. And the different instrumentation as well as his approach to writing and arranging injected more noise and punk elements into the band than before. "We gave him the songs and asked him what he would do with them. He came up with a wild combination of Mellotron and heavily-effected 12-string guitar. We reimagined the existing songs, re-recording a few of them as an EP named What Goes Out – and started writing new ones."
Matching the percussively plucked banjo as helmed by Cannon comes something primal deep in his soul, a sardonic vocal delivery at times reminiscent of Hüsker Dü's Bob Mould. Cannon doesn't really play the banjo in a traditional way. "Nor do I play it what some might call 'correctly.' It has a very particular sound that we use when it suits the song. That plonk plonk and then the wild skree when you overdrive the thing!"
The album's lyrics were informed by two different books by Thomas Mann: The Magic Mountain and Death in Venice. The former is a novel about tuberculosis patients in the Alps, and the latter a novella about a cholera outbreak in Venice. Though at times it seems to address global conditions right on the nose, Cannon was writing the lyrics to these songs in 2019 before the pandemic was even a thought. Songs that sound like they are about the pandemic were written months to a year beforehand.
"Really, lyrics like 'put the city on lockdown/put it on quarantine' came from Death In Venice, not the CDC," he elaborates. "The apocalyptic tone of the lyrics comes more from the other collective trauma we were going through prior to the pandemic: the Trump presidency and all of the ugliness that dredged up in our culture and leeringly put on view. I also collect dictionaries of archaic slang and underworld, so a number of word choice ideas like 'affidavit men,' which is archaic underworld slang for someone who will lie under oath for you."
Lyrically, he nurses lyric ideas for quite a long time. "So anything we write has multiple strata of them, and sometimes I don't remember where they came from because they've been copied and re-copied into multiple notebooks over the years. The top level stratum this time around was in part from novels I was reading…"
The project to commission a video for every song on the album happened gradually as Cannon talked to more and more filmmakers about the idea and noticed there was a lot of expressed interest. Interestingly, it was the addition of Gian with his noisier atmosphere that truly evoked the cinematic qualities that inspired the band's rare and ambitious undertaking. "The visual and narrative ideas for the videos arose collaboratively with me and the filmmakers, which is cool because it gave each of them a different feel while keeping some odd continuities – like that damn clock!"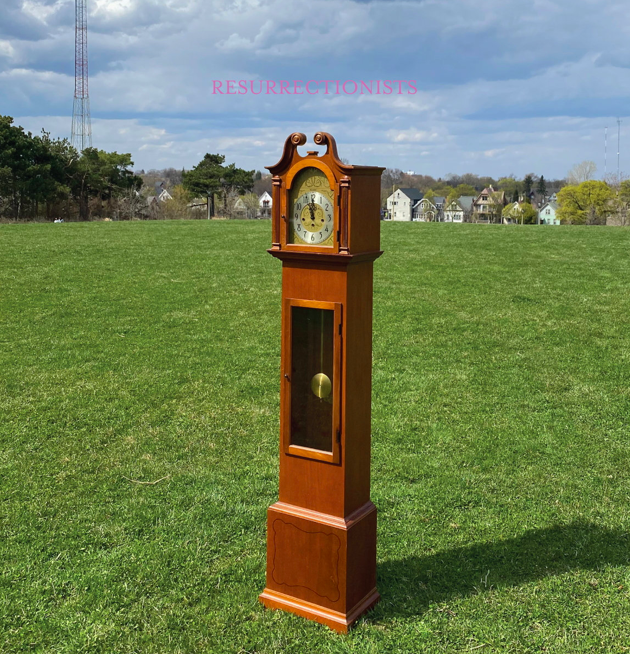 The clock he refers to doesn't just appear on the cover and in the videos; the tracks support the emotional thread that runs through the album: time, a construct which has no meaning until we give it meaning. The same could be said for death as a construct. When you re-define death you begin to re-define life. "The smallest sprout shows there is really no death, and if ever there was it led forward life, and does not wait at the end to arrest it," Walt Whitman wrote in his poem "Song of Myself."
In "The Rest Cure," Cannon sings, "There's a couple things we should ask / About his death mask," concerning the plaster cast of poet Walt Whitman on the day of his death in 1892. "There's a couple things we should ask… About the golden age / And ask again / What happens next."
Now That We Are All Ghosts was self-engineered, recorded and produced; and was mastered by Bob Weston at Chicago Mastering Service. "We recorded this ourselves in our practice space. Actually our bassist, Jeff, did most of the work. It was a learning experience for him and for us and it took forever. It turns out when you have no deadlines or pay-by-the-hour stress and can dicker with things endlessly, you end up dickering with things endlessly! I love the final result, but I think we might take a more traditional approach next time around."
Cannon and Jeff Brueggeman have played together for over ten years, with four of those years in this band and six years earlier in a punk band called WORK. "And for about a year in between trying to hash out what ended up becoming Resurrectionists after WORK ended," Cannon adds. "Jeff's playing and writing style is crucial to what we do. An old bandmate of mine described it thusly: 'His lines always command your attention but never distract it.' It's interesting that one of the core melodic features of our writing is coming from the bass, somehow without failing to also do all that crucial bass stuff like make people move. He is also a main arranger (and task master) in the band. I only half jokingly say that I'm the songwriter but he's the band leader."
Overall, their approach to music and performance has to do with all of the things all four of them are into. "We bring musical ideas in and hassle them until we like what it sounds like!" Cannon continues, "Our drummer, Josh, aside from being the bon vivant of the band — seriously, it's really hard to not be in a good mood around him — brings a subtle but driving style of playing. He and Jeff frequently lock horns about rhythmic ideas while Gian and I look on perplexed. Almost always what they end up agreeing to is amazing, like that odd little side-beat in 'Blue Henry' that makes the song for me, so we let them have at it."
Resurrectionists recently had two events surrounding the record release, the first being a traditional release show with live bands. "We played with our good friends Credentials, who are an amazing band, and it was the first Milwaukee show for a new psych-tropicalia group named Spidora, who were exceptional." Then the next weekend the band hosted The Inaugural Resurrectionists Film Fest where they showed all the videos and other work by the six people who made them: TW Hansen, Conan Neutron, Wendy Norton, Eric Arsnow, Erica Strout, and Brian Theisen.
"Now I can relax a tiny bit before another band I'm in (Delicious Monsters) releases an album in a few weeks!"