Samantha Fish constantly reinvents herself. She's done it again on Death Wish Blues, a new album on which she shares the stage with Jesse Dayton, a singer/songwriter/guitarist whose resume includes sessions with Johnny Cash, Waylon Jennings and Willie Nelson, soundtracks for Rob Zombie horror movies, and leadership of a punk rock band.
You can hear all of these influences upfront and personal in this new release on Rounder Records, the roots music label, hardly known for such excursions into the outer limits of contemporary exploration. To make things even more arcane, the 12 cuts were produced by Jon Spencer whose credits include R. L. Burnside, Pussy Galore, Boss Hog, Heavy Trash and The Jon Spencer Blues Explosion.
"I like to keep things fresh," she tells me. "I like to take pretty sharp turns with every album, you know?"
The most exciting thing about Samantha is that she always pulls it off. When she takes off in space, her fans are with her in the mother ship. Just make sure you fasten your seatbelt.
"I've been doing that pretty much since Wild Heart (2015), putting together these different teams. The thing with Jesse is an idea I've been floating around in my camp for a while. I wanted to put together a kind of duets project, but with a very specific aesthetic and style and something with a really rough edge. A lot of times when you get duets together, there's a softness to it, and though we do delve into that occasionally we've got a pretty raw rock and roll sound and approach, and that's what I really wanted to do."
Death Wish Blues is not your grandfather's blues album. "We talked about sticking with the tradition. I love blues music. It is the foundation of everything I do. So, I try to keep it in the conversation, in the forefront, and it defines a lot of my choices and how I perform and how I play. But I also feel it's my job to say something unique as an artist that maybe only I can say in a way that I say it.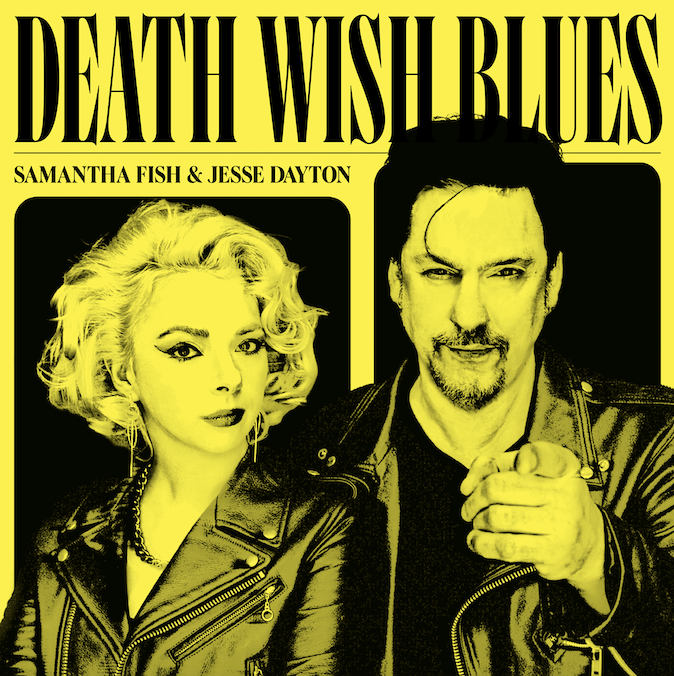 "I can't recreate something better than the originators. Like I can't do Muddy Waters better than Muddy Waters did Muddy Waters. So, I have to do something and somehow find the line between pushing boundaries and finding something new, but also keeping blues in the forefront of it. I like to take chances and also evolve what people think the genre should be, and I like to make things into it."
Her new relationships with Jesse and Jon help her to realize her contemporary vision. "I figured out who I wanted to add to that (raw approach), and we just sort of put it on the back burner for a couple of years. I've known Jesse since I was a teenager.
"I came up in Kansas City, and I went to this club called Knuckleheads, and they had all these different artists that would come through regional, national touring acts. Jesse was one of them, and he was a darling there. They loved him, and so I just sort of knew of him for a long period of time and kept up with him through social clubs, and I have an appreciation for all the different styles or projects he's been a part of.
"His career is pretty amazing. He's fairly well known in the outlaw country world, but (as he says) some of the people he's backed up, the country legends the rock and roll legends he's played on the side of and then his work in cinema. I thought he was a really deep artist, and so we reconnected last year. He played a show in New Orleans, and it just sort of dawned on me as I was watching him. Wow. He would be the guy for this duet project I wanted to do.
"So, it started that relationship, and Jon was brought into the mix when we started talking about making an album, but I've been a fan of his for years. The work he does in bringing different styles together I thought what better person to bring up than somebody who is really incredible at it. And when we talked about sticking with the tradition – I feel like it's my job and role as an artist to keep – That real rockin' roots modern music to me is everything."
Listening to the new album I kept flashing back on Sly and the Family Stone. Samantha and Jesse don't sound like Sly and The Family Stone, but somehow, they keep coming up in my mind. I asked her if she was influenced by them at all.
"I mean, yes. I'm not influenced by a lot of Sly's music. I listen to Sly and other bands from that era. I think that on the newest album when we made Death Wish Blues we were working up in Woodstock, and we had all this cool vintage gear, and so a lot of what we were doing – I felt like we were in a time capsule while we were up there because we were recording on two-inch tape. We weren't messing around much with Pro Tools.
"Everything was being cut live. It felt very much live. It felt very much like a band from a few decades back. We were out there in a studio where Rick Danko used to live in the back, and Big Pink was right up the road. And Woodstock is a place that's so respectable for so much more history."
Samantha describes how she and Jesse evolved as collaborators with each other. "We wrote our songs on acoustic guitars, and we kind of demo-ed electric parts from there, but I wanted it to be very stripped down electric parts, and we sort of described what we were looking for to Jon. But there were times when we'd walk in there, and me and Jesse would think a song was going to go a very specific way, and we'd watch Jon work his way around the room and different parts of the consciousness with us. We'd start to play, and it would be something so different than we'd initially thought the song was gonna be, but it was so much cooler. He just has a way of really doing these hip compositions that are really inspiring.
"On 'Dangerous People' for example, we actually wrote that one in the studio. We had most of the song finished when we walked into the studio, but we were kind of inspired halfway through the session to finish the songs that were just more loose ideas like 'Dangerous People.' I think we thought it was going to be a little more traditional or just something in that vein, and then we started playing. As we were playing it, I was looking at Jesse, going, 'Whoa! What's going on? What is this?'
"We were a little hesitant, and Jon said, 'You could just come in here and listen to what you guys did, 'cause it's actually very cool.' I mean we both fell in love with the song. It was so different than what we'd expected. That's one of the reasons I wanted to bring Jon into this project because he isn't just going to take the traditional route and just serve ya. Ok, here's this song with a little bow on it exactly how you would picture it to be. He's going to take a different path, and come up with something surprising, and that's what I think makes music interesting, you know?"
One of the things that stands out about Samantha is that she eschews traditional female roles as sex objects. She's sensual rather than overtly sexual. I told her I liked that she's not about how short her skirts are or how big her breasts are. Rather, it's about the sensuality of her music. The emphasis is on the music and not on her as a sex object and asked her if that were something she worked hard to do?
"Well, music transcends physicality. It's something that speaks to your heart and your soul, and that has nothing to do with your physicality. I mean I do write songs from the feminine perspective, but I don't let my gender define me. I'm not a girl guitar player. I'm just a fucking guitar player. You know what I mean?
"It's a little aggravating because you constantly have to say that, whereas our male counterparts don't have to talk about their gender at all because that's just the accepted norm for musicians."
I asked her if she thought that had changed in the 15 years or so she's been in the public eye?
"It's gotten better. I've got to say, and I think the internet has helped more than anything. It's about exposure, but I still read articles that quantify me as a female guitarist amongst other guitarists. It's the qualifier I love to get away from, because that's when you start having these disparities and negatives and all this. I think it's gotten better, but if you talk to other musicians, it still happens. I mean sexist things still occur, but I think the fact that we're out here, and we're doing it, it's about representation and showing other young women you can pick up on the internet.
"You can run your own band, you can write your own songs. You can front a band. You can be a leader. And that's what it's all about is showing other people it can be done, and I know there were questions of women before me that took a lot of hard knocks so that I would not have to take as many and so now I'm taking my knocks and trying to change things for generations that come after me."
"This started a little over a year ago, and here we are now. We've got a full-length album. We've got a full tour. Things move fast in our world. It's kind of wild to think about, but I really love the record, and so does Jesse. We talked about that a lot. It's not an easy thing to go into this role of collaborating, but I think we've struck a really good balance, and we both really support each other. And we both love the music that we made on this record. So, we're fully engaged in it. So, it's exciting. It's an exciting time."