When two solo artists with disabilities met while performing at last year's SXSW Conference and Festival in Austin, Texas, a friendship was born, now marked by raising awareness of and accelerating improvements to accessibility at music venues across the world. UK's Ruth Lyon and Eliza Hull from Australia realized they were kindred spirits when appearing as panelists at an event called Disability: Is The Future Of Music Accessible?
"We've faced very similar barriers," says writer, speaker and advocate Eliza, "I am unable to get onto stages so people have to lift me up, but for a long time I hid my disability. If I met prospective managers or record companies I would sit down so they didn't know." Eliza has a genetic neurological illness characterized by gradual loss of muscle tissue and touch sensation which affects her walking. Eliza's music has been described as "stirring, captivating and heartfelt," and she has recently released a new single, "Running Underwater," the video of which features a brilliant disabled dancer, "Roya the Destroya."
Ruth Lyon is the charismatic lead singer, songwriter, multi-instrumentalist and co-founder of the sensational UK folk and rock band Holy Moly & The Crackers. She also launched her solo career three years ago to widespread critical acclaim, released a debut EP, Nothing's Perfect followed by Direct Debit To Vogue, and has just completed her first national headline tour. A wheelchair user from the age of 21 as a result of the chronic condition Ehlers-Danlos Syndrome, Ruth has spent the best part of the past decade campaigning for disability rights and is ambassador for the national charity Attitude Is Everything which promotes disability equality. In one of her early interviews she spoke about the widespread appalling provision.
"If I worked in a bank, it would be unbelievable to think that I'd be carried around to get to work but in the music industry it's almost accepted that for me to get to a venue that will be the case. There's stairs everywhere, to the stage, backstage, to the merchandise area and to meet the audience. It's accepted that someone will carry me around." Despite a grueling schedule of gigs interspersed with hospital visits, Ruth devotes any spare to charity work as an advocate for the disabled community and a diversity and inclusion activist, specifically in relation to improving accessibility in live music. She is also a spokesperson and panellist on forums across three continents.
It was in Texas where Eliza and Ruth hatched a plan to tour together in their respective countries which is why Eliza traveled from her native Australia to the UK to perform, answer questions and write songs. American Blues Scene caught up with them at the iconic venue Sage Gateshead, close to Ruth's home in Newcastle upon Tyne. The show is called Access All Areas – An International Cultural Exchange Celebrating Disabled Creatives. Their very special connection is the shared experience of being disabled artists working in the music industry, and the pressures, barriers but also empowerment that come with it.
Eliza opens the show with a powerful set performed with immense courage, passion and honesty epitomized by the sensational "Running Underwater", the success of which has raised her profile considerably. As she explains, "This song is about pushing up against society's view of disability. It's about letting go of the fear and being authentic and true to myself and showing that its ok to be different."
For the panel question and answer session, the inspirational Clarence Adoo, a professional trumpet player who is paralyzed from the neck down following a car accident, joins Ruth and Eliza. Clarence now performs using a tailor-made instrument called a Headspace. They are asked what they wished were the norms for disabled musicians and the answers are, unanimously, greater equality and representation including more prominent, leading roles in festivals as well as supporting major artists. Ruth makes a plea for patience and flexibility in order to unite able and disabled people in communities, stressing that it is not easy to be cared for because disabled people struggle and need to have a voice, receive active support and be accepted.
Eliza speaks about the production of Spotify lists of disabled performers, creating podcasts and sharing stories of disabled artists. Such a wide ranging and thought provoking debate made this reviewer reflect upon the blues greats whose life-changing disabilities would have severely hampered their already precarious potential to earn a living, from Blind Lemon Jefferson to Peg Leg McDowell through to Jeff Healey and multiple sclerosis sufferer Captain Beefheart.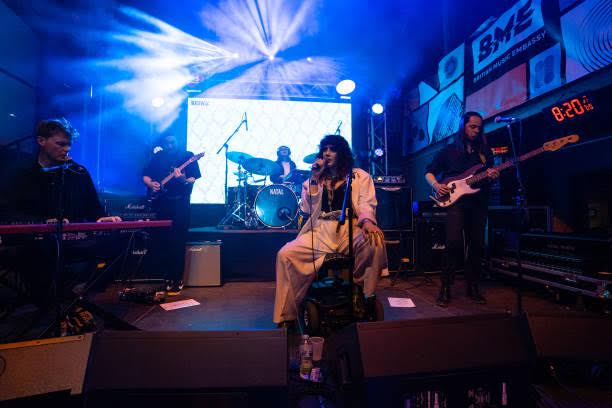 With Ruth center stage for the second half of the show, a packed audience eagerly awaits her return home. The atmosphere is electric with anticipation as the stark piano keys of "Little Blue" introduce one of the best known tracks from her debut EP. It is a dark song about Ruth's symbiosis with the medications she relies on, epitomized by a little blue pill which makes her "lazy' and 'hazy."
The next song is Ruth's personal favorite which she says encapsulates what it is like to spend a lot of time in hospital. Entitled "Hospital Beds" by Cold War Kids, the impassioned, expressive vocals are complemented by Lyon's poignant violin. As usual, Ruth manages to communicate hope and positivity when confronted with tragedy, emphasizing the shared friendship and joy of the song as well as the sadness.
"Black Hole" with its superb percussion from the exceptional Fran Knowles has an otherworldly, almost celestial feel with the haunting, evocative vocals and instruments combining harmoniously in a series of climactic events reflecting the mood of the lyrics. From the outset, Ruth bares her soul with honesty, the words flowing from her heart, exposing her vulnerability. The finale reaches a crescendo of epic proportions which takes Ruth's remarkable vocal range to its peak of despair as she reaches screaming point, with the disturbing realization that, "I'm a black hole sucking you in."
The clever changes of pace, increasing dramatic intensity and additional hand percussion in "Trouble" complement Fran's precise, dynamic drumming and Ruth's brilliant a capella vocal lines. Local musician Ceitidh Mac arrives on stage to harmonize with Ruth the consummate storyteller, starting with "Stone" backed by intricate guitar picking from multi-instrumentalist Ben Fitzgerald in a breath-taking performance with subtle changes of mood. Ceitidh plays an exquisite cello on a glorious arrangement of "Sink Or Swim" adding atmosphere while complementing Calum Howard's flowing keys. Producer John Parish had encouraged Ruth on her latest EP to sing from her mind and emotions and not to sing like anyone else or to try too hard, this advice paying dividends tonight in one of her most accomplished concerts to date, a very special occasion.
Ruth revisits her first blockbuster single as a solo artist where it all started, a spectacular version of "I'd Give It All" enhanced by emotive strings. Nimble electric bass and strong harmonies from Tommy Arch make important contributions to the overall, distinctive sound. Calum's considerable prowess on a Steinway grand piano is another major factor particularly on "Clown" with its infectious rhythm and vocal cadences. Popular with Ruth's legion of fans is "Motormouth," yet another example of her incisive lyricism and storytelling – this one with attitude. A fitting finale is "Flood," a jaunty celebration of differentness with changing vibes and tempos. However, Ruth is also brutally honest as she implores: "Please don't cry when you see me living my best life, surprised I'm a wife/We are all just skin and bone, recycled carbon in time." As always, her phrasing and timing of the carefully crafted lyrics are impeccable.
It has been a long and painful journey for Ruth Lyon since her idyllic childhood in a North Yorkshire village where she chose to play the fiddle aged five and started writing songs and performing on the piano when she was nine. In her teens she was focused on becoming a classical violinist before the aches and pains started and she struggled to use her hands, was hospitalized and diagnosed with juvenile rheumatoid arthritis.
Despite her current condition and against all odds, Ruth's musical career is on a rapid upward trajectory due to her resilience, dedication and amazing creative talents. Alongside Eliza Hull, she has proved that a disability does not prevent the achievement of lifetime goals. In fact just the opposite, this tour marking Lyon's arrival on the international stage as a top-class solo artist and role model for her generation.