Micke Björklöf, from Kauhava, Finland, has been a full-time professional blues artist for over 20 years and teaches music at a local school. He is the front man for both a 5-piece band, Blue Strip, and a trio, Micke & Lefty (Leppänen) featuring Chef. It was as part of his trio that Micke participated in the 2012 International Blues Challenge where I first heard his music, and we have kept in touch ever since.
This month Micke and Blue Strip released their new album, Colors of Jealousy. Recording started in 2017 but was delayed, in part due to Covid. Videos of two of the tracks, "Colors of Jealousy" and "Highway, Highway," have been released.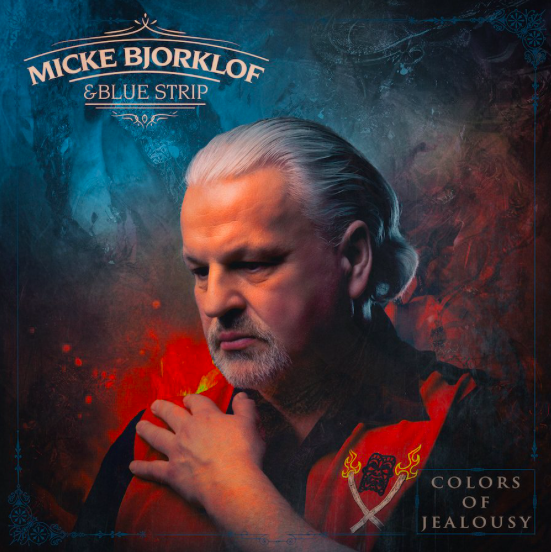 American Blues Scene caught up with Micke recently following a European tour to talk about the new music, the Finnish blues scene, and what it's like to have a war raging right next door.
You just got done touring all over the place. Tell me about that.
We just recently went to Germany and Norway and had some gigs here in Finland. We are a little bit late with the bookings because I'm a one-man show and do management all by myself. I had to give up booking for a while. My goal is for the end of this year and the beginning of next year, we'll do more activities.

How do you get exposed to blues music growing up in Finland?
First, I didn't know it was blues; I just liked the music. My first record was when my grandmother bought me one by a U.K. band named Nazareth – there was a Ray Charles tune on there called "Busted." I don't know why, but I got into that song. I think that was the best song on the album.

It was pretty much the same thing when I listened to other rock albums, there was some bluesier stuff I liked the most. It talked to me more. Then came some blues artists like Rory Gallagher who was pretty big for me, and of course later, Stevie Ray – he was a really big door opener for the music. He was more of the blues blues than Rory Gallagher was.

I think that's the path – through rock, more and more into blues.
Did your friends think you were weird because you listened to blues, was that odd?
No, in the mid-80s we had a big blues boom here. There was a Finnish couple who lived in Los Angeles for a while, and they started bringing U.S. bands to Finland for a while. That was a big step for people to know the blues in Finland.
What job did you think you were going to have when you grew up?
When you finish the nine years of basic school, you have to choose if you go to high school or trade school. My father said I should apply to this school that was kind of like a building engineer but more like a foreman building houses. I don't know the title in English. I got into that school, but I was too young because I was 16, and you have to be 18. For two years I worked practical jobs, then three years in that school which I finished in '86.

I worked construction for almost 10 years. Then we had bad financial times in the beginning of the '90s, banks went bankrupt, I lost my job. I was searching for what to do, then I saw an announcement about a music school in Sweden, Sverigefinska Folkshögskolan i Haparanda. All my dreams were about music. I got in there and was there for three years.
Did you play instruments before you went there?
Yeah, I played mostly drums and sang a little bit. I didn't have music theory. We didn't have music schools here except for some classical, and for a young rock guy, it's not the right place. That was one dream come true and a big step forward for being professional.

After that school, I worked for a couple of years in a normal job at my father's company. When he retired, I didn't want to continue because that business was not my thing. I decided to try music, and we'll see where it leads.
Did you speak Swedish before you went to the music school in Sweden?
Yes, my mother tongue is Swedish. My name is Swedish – Björklöf means birch leaf.
It looks like all of the songs on Colors of Jealousy are originals, and the theme is dark, sad, and angry, "I didn't mean to kill that man;" "You say you're just passing by/Get out of my life," and "I throw this ring into the fire." Did someone have a bad break up?
Some of the tracks are the effects of COVID. There have been some bad times. Maybe the next album will be filled with sunshine (laughs).
I really liked "Good Times Somehow" which is upbeat and starts with handclaps and a jaunty guitar riff, but then the subject is dark.
It's funny because the band on stage is smiling, we're happy people and energetic. I think we had once before an album where the lyrics were dark, but the songs were happy. We are people from Finland.
The drumbeat in "Into the Fire" – I don't know how to describe that.
We couldn't get the groove right. I think the drummer came up with it himself. The Finnish version of Santana.
Do you have distribution in the U.S.?
Not at the moment. I just got a message from CD Baby that they will end their distribution business for physical records.
How does somebody get this record?
Getting the physical album is the problem. Through our own web store.
Do you get paid when people download your music electronically?
I think that's going down because everything is going to the streaming, and for this kind of music, that's not good. It's getting really complicated to finance the albums. The only way to sell them is basically to be on the road. People still buy CDs and vinyl and other merch.

There's not a lot of record stores left. It's very complicated to survive. Streaming doesn't bring anything at all. In a way, streaming is a nice idea, but it just doesn't work. The albums are becoming more and more a promotional tool for the live music. That's pretty sad. It's hard to reach the national media here.
Can you tell who is looking at your videos?
It's people over 50, and 70% are men. Europe some, U.S. some, Australia. Our albums get airplay in Australia. Our live album in 2018 was #2 on the Australian charts. Buddy Guy was #1. Same month in France #1 for 1 month and Buddy Guy was #2. I was shocked – it can't be true. That was crazy.
When is your next tour? Do you have festivals coming up this summer?
Just a couple. We should go to Europe in October, the Netherlands and Germany. This stuff is affecting everything. Just when we get done with Covid, we get this crap with Russia. People don't buy tickets in advance; they wait for the last minute.

Some festivals have to cancel because they don't have enough presales. Many clubs are the same. The war is affecting all over Europe and also economically. People don't have money. They are prepared for bad times because last winter, our electric prices went up like a rocket. That was a really big problem for many poor people.
What kind of a process is it to get work permits U.S. and Canada?
It can take several months. At the end, you have to pay 1500 – 2000 (over $2000) Euros per man. Then you don't get the answer for the working permits until a week or two before. It's a little bit too risky for small businesses. Everybody has to go to Helsinki for the interview for the working permit. We live 400 km (approximately 250 miles) away, and it's usually just one or two questions.

It's pretty complicated, and the risks are high. You have to have really good work to pay for the fees. It's different for U.S. artists to come to Europe, they don't need basically anything.
Are you getting a lot of refugees from Russia before they get put in the army?
There was a wave a year ago. A lot from Ukraine. It is really sad. Where I teach there are a lot of Ukrainian kids. It's so sad, it's terrible. Nobody should have to get through that kind of stuff, especially kids. We have about 50,000 from Ukraine. We don't have the resources to take the really big load. Maybe 8 million people have had to leave Ukraine. The whole thing is bullshit. That country will suffer a long time because of these idiots.
Is there still the freedom to drive back and forth over the border?
I think it was just a couple weeks ago they put a stop to it. You have to stay in Russia for some time and buy gasoline or something. It's getting more and more closed. I don't think there's many people who even want to go there anymore. Russians who want to visit their relatives, it's getting harder and harder.