Los Angeles singer/songwriter Shane Alexander has headlined for years and has also supported acts like Bon Iver, Lucinda Williams, Seal, Jewel, John Hiatt, Styx & Yes, and Suzanne Vega. A fiercely independent artist with a loyal international fanbase, he's known for his intimate tenor voice, signature acoustic guitar style, and moody melodies. His vocal style has been compared to Jackson Browne, Jeff Buckley, and Art Garfunkel. Shane has performed at legendary places like Red Rocks, The Ryman Auditorium, and The Greek Theater in L.A. Dozens of his songs have appeared in T.V. and film. 
His song "Shipwrecked" was featured in the FOX T.V. show Bones, and most recently his song "Everything as One" was featured in Chevrolet's national 'Drive Safe' campaign. Shane records and produces music at Buddhaland, his recording studio in Westlake Village, CA. His eighth record is currently being mixed by Grammy-winner Brian Yaskulka.
What are you currently working on music-wise these days?
The last few years, I have been producing a lot. Since 2021, I have produced six or seven records and another dozen singles or so. It has been pretty intense, but most things are pretty well wrapped up right now. I'm just finishing up a great new EP for Clayton Joseph Scott from Oregon. I'm also finishing up Katie Shorey's record and mine simultaneously. We are mixing them right now. I am home for a month so; we're hoping to get all of the mixes wrapped up before I go back to Europe. I will start putting out singles by the end of the year or definitely in the new year. The basic tracks for my record were recorded over a year and a half ago but I've had a lot of artists coming in doing full records, so they've cut in line.
I built Buddhaland Studios in 2015 and it has really come full circle. In 2020, when the world shut down, we were all getting despondent about the situation and I just hunkered down with my family. By 2021, I'd started writing songs remotely because not much else was going on. I started doing Zoom sessions five days a week. By the end of 2021, I'd written eighty-five songs with people all over the planet – many of them really strong. I ended up producing a lot of those artists. The buds started to shoot back onto the tree (so to speak) and last fall, I went to Europe for the first time in a couple of years. I have been working six or seven days a week on various projects for a couple of years now because I couldn't tour much. I am signed with Warner Chapell in Europe and they sent artists to me to write with, including a girl from Montreal who lives in Holland named Senja Sargeant, who had been on The Voice of Holland.
By our second Zoom session, she asked me to produce her debut self-titled EP. I was able to do that entire project remotely. I'm extremely proud to have produced and co-written that record. Check it out! We recorded the music here with my guys, and I produced her vocals remotely – with Senja at my friend Maarten's studio in Amsterdam. With Audiomovers and Zoom we were basically in the same room together. We did a full EP before Senja and I ever met in person, which is pretty wild.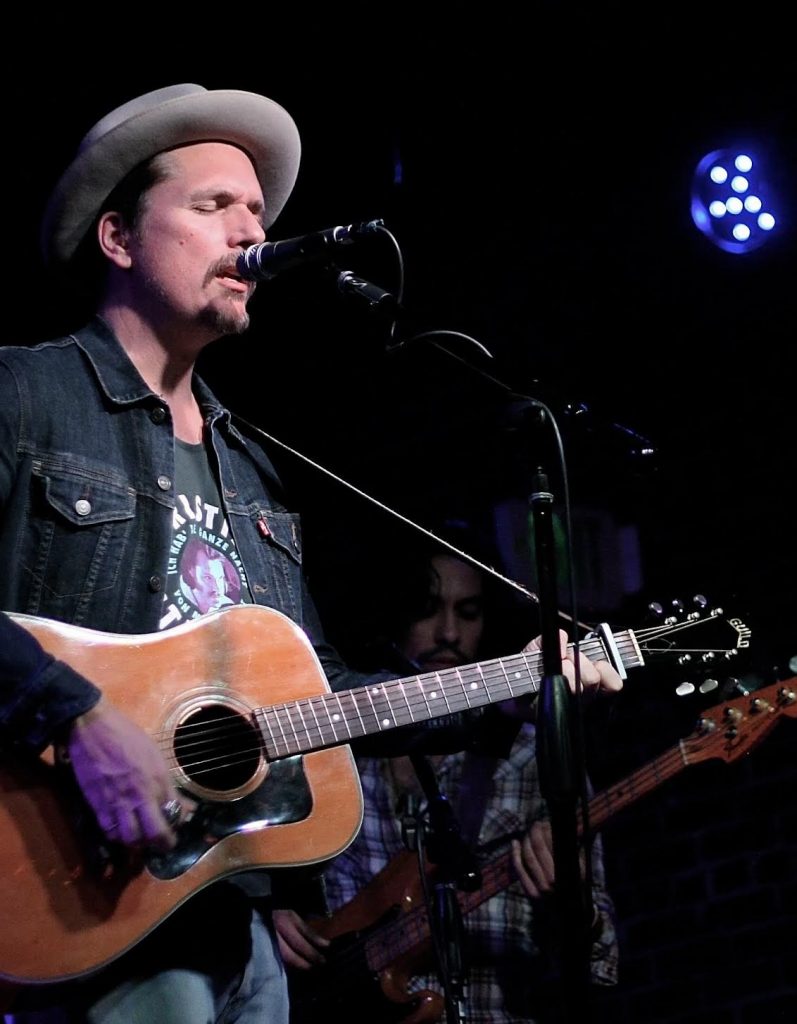 Can you talk about your recording studio, Buddhaland?
We have put a lot of resources into it. In 2015 we added a thousand square feet to the house for my studio. Over the last couple of years, I have upgraded to twenty-four tracks. It is a really beautiful, safe space to create in. It has been really life-affirming to have people from all over the world coming through here. I know we have talked a little bit about spirituality before. I am coming up on twenty-six years of Buddhist practice. Buddhaland is just a term meaning 'where the Buddha dwells.'
Over the years, I'd recorded in studios all over Southern California and Europe. I finally came to the conclusion that I wanted to have my own place and start producing other artists. The main room is fairly large, with a sixteen-foot ceiling. I have a smaller/tighter room that is 10 ft x 10. I have been able to get it stacked with outboard gear, a battery of mics and instruments. The main objective was to create a well-equipped, vibey place where artists can do their thing without it feeling too clinical. We did our best to make the rooms sound great.
I really enjoy the process of producing. The whole thing from beginning to end is a big job. As a producer who is also an independent artist, I feel I can really understand the artist's plight. I have always put a lot of pressure on myself to do a good job. For an independent artist to raise a budget and make a great record is a big deal. I don't take it lightly, and I only work with artists that I really believe in and really like as humans. You are basically getting into a foxhole with somebody. It is a lot to take on, but it's been very gratifying to step outside making/promoting/touring my own records and help bring other's dreams to fruition. I also just did Gustavo Galindo's record. It was really an amazing experience. 
Goose is a Grammy-nominated artist from Mexico City that was on Universal. He's a great writer and guitarist. We wrote that record together. I am super proud of it – the first single is a dark rock ballad in Spanish called "Continentes Distintos." I also did a big slammin' country single for Josiah Falco called "Fields of Tennessee" which will be coming out soon. Another artist I've recently produced is Arielle Silver. Her new record Watershed is coming out this Friday. I produced her previous record as well. We have her full band record release show at The Hotel Café in L.A. the same night. She's gotten some truly killer press on the new stuff already.
How does meditation affect or influence your music?
I practice what is called Nichiren Buddhism. You chant the mantra of Nam-myoho-renge-kyo, recite sutra passages and offer silent prayers. It is beautiful daily practice and it is a discipline. The more you practice and study, the more you develop faith and 'polish the mirror' of your life. We all have our lower life conditions that we wrestle with – and by virtue of doing it as a practice each morning and evening, it helps raise your vibration. As we all work on ourselves and take ourselves out into society, there is sort of a ripple effect. It has been great for me. I always pray for the music to touch people's hearts. I do visualization exercises.
I try to make sure that the intention behind everything I do is really pure. I feel really lucky to be autonomous as an artist and not really beholden to anyone but myself. I am just trying to honor the music that is coming out of me and be grateful for it. I am really happy in my life. I think whatever anybody's spiritual practice is, cultivating gratitude is huge. Forgiveness and gratitude are the recipe for a happy life. In Buddhism we talk about the ten worlds from hell, hunger, and animality all the way up to Bodhisattva and Realization.  
Also, in Nichiren Buddhism the main impetus is what's called Kosen-Rufu, meaning World Peace through individual human revolution (ie. if everyone works on themselves, collectively, we can really make a change in society). Cat Stevens is one of my favorites, and such a spiritual artist. He doesn't beat you over the head with it, but you can feel there is so much love and compassion behind the music. I have always thought that using the microphone for good is a noble enterprise.
Sounds like you are pretty big overseas in Europe? How did this happen?
I am not a household name over there but, I guess fairly known in Holland and to a lesser extent, Germany. I have been touring there since 2005. I first went over there touring in support of my first album The Middle Way and have gone back every year except 2020. I quit my day job in 2006 and I have done music full-time ever since – which I am grateful for. 
Around the release of my first record, I was pounding the virtual pavement and reached out to Real Roots Café which is an online acoustic/Americana blog based in Holland. Jan Janssen had written a great review of my first record and put me in touch with my first label, Lucky Dice. In the fall of 2005, I went to Europe for the first time. Subsequently, I have had four to five record deals overseas both as a solo artist and also with my side project band, The Greater Good. We recorded an album in Germany on a label called Stockfisch and had a very successful tour as well. I have definitely put a lot of work in over there.
How and why did you write "Heart of California"?
I was in Europe doing a T.V. show and I was in my dressing room. I was waiting and waiting for someone to come tell me it was go-time. I was there with my guitar; it was winter and I was alone. I was thinking about my sunny California home, my girls, and stuff like that. I got the riff and wrote half the song in one fell swoop. I came home and finished it. It is a nice upbeat song and always very fun to perform with the band or even solo. It is one of those songs that wherever I am in the world, it always makes me feel connected to home.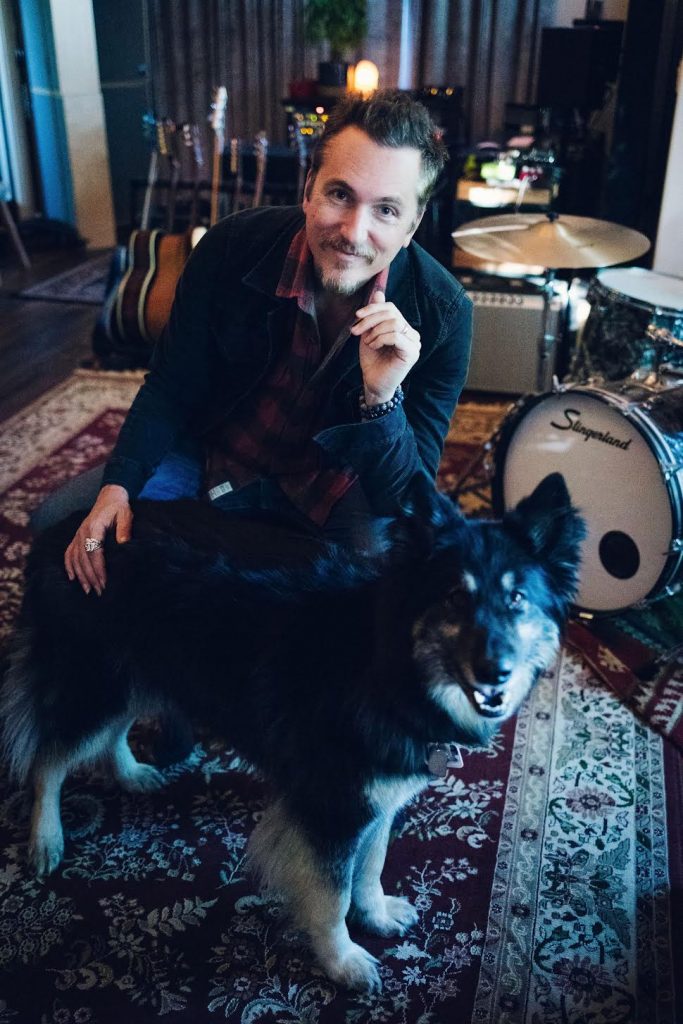 What is your songwriting process like?
It has changed over the years. Writing alone can happen whenever. Late at night I may get some good incense going and try to get into the zone. Sometimes I will be walking down the street in New York City or Amsterdam or wherever and just start throwing words into my phone. Also happens a lot on planes and trains. Sometimes I get lines and sing them into a voice message and eventually, I'll go back through those. When writing my own stuff, it is a little all over the road. It is just letting the inspiration come as it will.
I have also been co-writing for a long time now. During my first couple of records, I didn't want to do it. When I finally got over myself, I realized that co-writing is actually very smart. I go into every co-write session with the same impetus – to write a great song that can stand up with just one instrument and a vocal. During the pandemic, I started doing these remote co-writes. My friend Ted Russell Kamp and I started writing every Thursday on Zoom and I realized it was filling me with purpose. I started stacking my calendar and every day at 10 am, I would have a writing session. I realized it is not some esoteric thing, so much as it's about just showing up. The first hour is usually catching up and talking, but I am writing notes the whole time. I may scribble down a couple of words or a story point.
Usually, I have a whole page of stuff before we even get the guitars out, to have a few nuggets that can get us going. We just start hacking away and pass the ball back and forth. I don't like to get off of our Zoom session until the song is ninety percent complete and we do a phone recording and send it to each other. We may have a lyric sheet or a Google Doc in the chat that we hone in real time. I try to keep it light and keep it moving. I have had a number of non-exclusive agents over the years. Some of the best ones happen completely organically.

One of the juiciest ones was from my second record. My song "Shipwrecked" was in an end-of-episode montage on Bones (Fox). That show is still running in syndication. Someone from Fox was at my show, so I got that without an agent taking a commission. Some things have just come in through my inbox on my artist pages. I've been luckier than some. In 2020 going into 2021 when life was grinding to a halt for most of us, things were getting uncomfortable financially (for lack of a better word), and out of the blue, I got a call about a national Chevrolet commercial. That was such a gift and pulled me out of the weeds.
What is your favorite thing about performing?
It is knowing that the audience is moved and engaged. I just did a short east coast tour and I saw tears every night. People were feeling things, which is exactly why I am there and away from my family. I am out there to be of service and give people a nice experience. Songs come full circle for me when people are receiving them; it feels like such a blessing. I always try to be well-rested and rehearsed so I can do a really good job.
In Holland, there are people who saw me on my first tour in 2005 and they haven't missed me since, which warms my heart immensely. I did a show last fall in Amsterdam and it was my first one after the pandemic. There were people in their thirties who have been seeing me since they were in their teens. There were people in their forties and sixties who have been with me the whole time. I love my audience so much.
What's next for you?
There are a few things. With the studio, I've got a handful of artists on deck to record singles and EPs. I also want to shoot more performance videos. I have done a lot of livestreams that are posted for posterity, but I need to capture more proper multi-camera performances. I am going to release my eighth record soon and start working on my ninth record (which is already written) as well. I am writing a book, and at some point, I want to do a film.
I have a fairly massive collection of both harrowing and life-affirming rock n' roll stories that have happened since I moved to L.A. at 18 years old. I also worked for Irving Azoff's label and/or management company for ten years, which was eye-opening. I have been blessed to be around a lot of influential people. It's all about the artist's journey – A celebration of / cautionary tale about a life in the arts.