Ruthie Foster called it an "honor, a blessing and privilege" to be at The King Biscuit Blues Festival. "You guys are in the spirit tonight and we feel it." She beamed early in a set highlighted by "Healing Time," the title cut of her latest album. Her Thursday night headlining set on October 5th was the highlight of the 36th annual King Biscuit in Helena, Arkansas.
"Thank you for this evening. We had a beautiful time," she declared leaving the crowd with the kind of uplifted spiritual awakening rarely felt outside of tent revivals, sending her followers into complete revelry. From the reggae of "Real Love" and gospel to Delta blues and rock and roll, Ruthie brought the audience to the gates of heaven as she and ecstatic fans became one.
Obliterating any imagined lines between blues, gospel and R&B, she effortlessly crisscrossed between powerful numbers like a cappella standouts that channeled Mahalia Jackson to songs that called on the spirit of Sister Rosetta Tharpe with the line "up above my head I hear music in the air." And from the sacred to the profane she flew high above any genre limitations as in Mississippi John Hurt's "Richland Woman Blues:"
The red rooster said, "Cockle doodle do do"
The Richards woman said, "Any dude will do"
Hurry down, sweet daddy, come blowin' you horn
If you come too late, sweet mama will be gone
A Texas tornado on guitar, Anson Funderburgh called The Biscuit "the only totally authentic blues festival in the world." He's played every Biscuit but one in 36 years.
Days short of his 66th birthday, Kenny Neal played his last show of the year. He began his career at 18 playing bass for Buddy Guy, best friend to Raful, Kenny's dad. Kenny covered the crowd like a warm blanket and was given the only encore I saw on the main stage with "Same Old Blues."
Kenny performed Biscuit patriarch Sonny Boy Williamson's "Don't Start Me to Talking" (with Billy Branch on harp), "Help Me," and "Goin' Down Slow." L'il Ed of The Blues Imperials joined him on "Snap Peas." His originals included "Crank It Up," "Blues Just Leave Me Alone," and "Let Life Flow." He even covered the Willie Nelson hit with the lyrics "My, it's been a long time. Ain't it funny how time just slips away."
His set was a homecoming that proved "I was raised up on Jimmy Reed. I swam in Muddy Waters. I'm a blues man."
Paul Thorn dedicated his entire set to Biscuit patriarch: the late Bubba Sullivan. Paul has played the vaunted event since 2010 when he had the unenviable chore of preceding B.B. King on the main stage and all but stole the show from the King of The Blues. Paul performed "Pimps and Preachers," the title track of his first record.
"I feel like testifying tonight if that's alright," he told us as he too mixed the sacred and profane including an anecdote about taking his toy train tracks to a friend's house. The "friend" ends up lying on the tracks in his "tighty whities" flagellating himself. The "friend" then takes Paul and his buddies out for ice cream and cookies. Paul told the story deadpan, never cracking a smile.
At the end of his set, he told us, "I'm coming out for the last song. I'm so glad to be here tonight. Until we meet again, take me with you." Singing "Take My Love With You," he hugged at least 30 people in the first 10 rows.
I introduced Little Village Records' rising star 24-year-old D. K. Harrell (read part one and part two of our recent interview) in the opening slot on the main stage Friday as an act that would become a major player in blues. Incredibly, his bass player and others in his band had "other commitments" and couldn't do the gig. To D.K.'s credit he did a credible set, but without some of the cuts from his debut album The Right Man because the artists on stage didn't know the numbers. Most artists would move heaven and earth to play the gig barring the funeral of their mother.
Some of the best music occurred on the various secondary stages. I think I may have lost whatever nuances of hearing I still have at the Front Porch, a claustrophobic hall on Cherry St. a few blocks from the mainstage.
Jimbo Mathus, perhaps the edgiest delta blues artist ever to emerge from Clarksdale, called Helena a sacred place while his music was anything but. He and his five-piece band The Dirty Crooks did a smoking version of "Baby Please Don't Leave Me" from Buddy Guy's Sweet Tea album, Albert King's "Born Under a Bad Sign," and the aptly titled originals "Call It Dangerous" and "Bad Taste in Your Mouth."
West Helena native Lonnie Shields played the first ever Biscuit in 1986. Last year he had a deserved main stage performance, but he was back on The Front Porch this year. His 15-minute version of "The Thrill Is Gone" rivals the King's. Dressed all in white, he pranced up and down the aisle doing pirouettes with his guitar in the air on "Start All Over Again," "Let's Straighten It Out," and "Take Me to the River."
John Primer (read recent ABS interview), whose credits include The Rolling Stones and two years as Muddy Waters' last band leader from 1981 to '83, was relegated to The Lockwood Stackhouse stage on a backlot several blocks from the main stage for its final presentation at 7 p.m. Saturday night. Primer's playing is so close the Muddy's that you would swear Muddy was there with him on "Long Distance Call." Other numbers included "Why Are You So Mean to Me," "Party Girl," "I Call My Baby," and "Hard Times," the title of his latest studio album.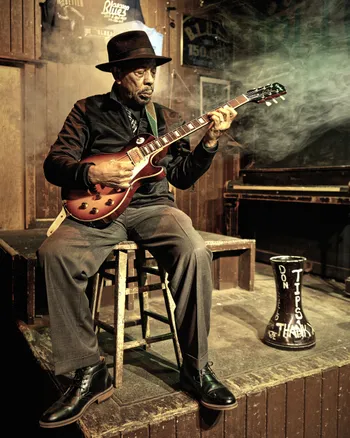 Primer's four-piece Real Deal Blues Band included Steve Bell playing a set of harps from his cartridge belt. He has style all his own with enough James Cotton in it to fit perfectly into Primer's repertoire.
At my Call and Response Seminar he eloquently revealed what it was like losing his father at age three and picking cotton from sunup to sundown while living in a shack with no electricity, no running water and no bathroom.
Chicago blues guitarist Nick Moss and harp player Dennis Gruenling proved two plus two equals more than four in their headlining set Friday night. At my seminar they talked about that chemistry that has taken their album Get Your Back Into It to the top of the charts.
Festival Director Munnie Jordan described how her role as what Forbes magazine described as a "fundraising phenom" has kept the festival solvent. She admitted to me after the seminar that that was the only time in her role as executive director that she'd sat down for an hour during the event.