This is the story of Elizabeth Eaton Converse, singer-songwriter whose music once was lost but now is found. She was born in Laconia, NH on August 3, 1924, and graduated from Concord High School as class valedictorian and the recipient of eight academic awards. She attended Mount Holyoke College in Massachusetts, leaving after two years of study and moved to New York. It was there she acquired the nickname "Connie" which she began to use in place of Elizabeth.
Connie Converse began writing songs and performing them for her friends in the 1950s. She at one point made an appearance on The Morning Show on CBS, hosted at that time by Walter Cronkite. Despite the appearance and the hiring of an agent, Connie's music career never gained traction. She had a small but loyal following at local listening parties and she even used a reel-to-reel tape recorder to make an album of her songs that, thankfully, she gave to her brother and sister-in-law. Record labels, however, were not interested. Her brand of folk music, they said, was "lovely but not commercial."
In 1961, a young Minnesotan going by the name of Bob Dylan moved to New York City and his brand of folk music would soon take not only the City but the world by storm. That same year, Connie would leave both New York City and her attempts at a music career behind. It appeared her music would be lost forever. But time had another fate in mind.
In the early 2000s, Gene Deitch, who had helped arrange Connie's appearance on The Morning Show, appeared on music historian David Garland's WNYC radio show, Spinning On Air. Deitch played some recordings of Connie's songs he had made on a reel-to-reel tape recorder, perhaps back in 1954. The songs caught the attention of young film students Dan Dzula and David Herman. They pursued Connie's story and found a collection of her songs which they released in 2009 in the album How Sad, How Lovely. And now, during the 99th anniversary of her birth and 49th anniversary of her disappearance, a double album collection of Connie's songs has been released.
Musicks is the album of songs she gave to her brother and sister-in-law back in the 1950s. Some of the songs appeared on How Sad, How Lovely. Others recorded those tracks at listening parties but the 30-plus tracks on Musicks are all original Connie Converse recordings.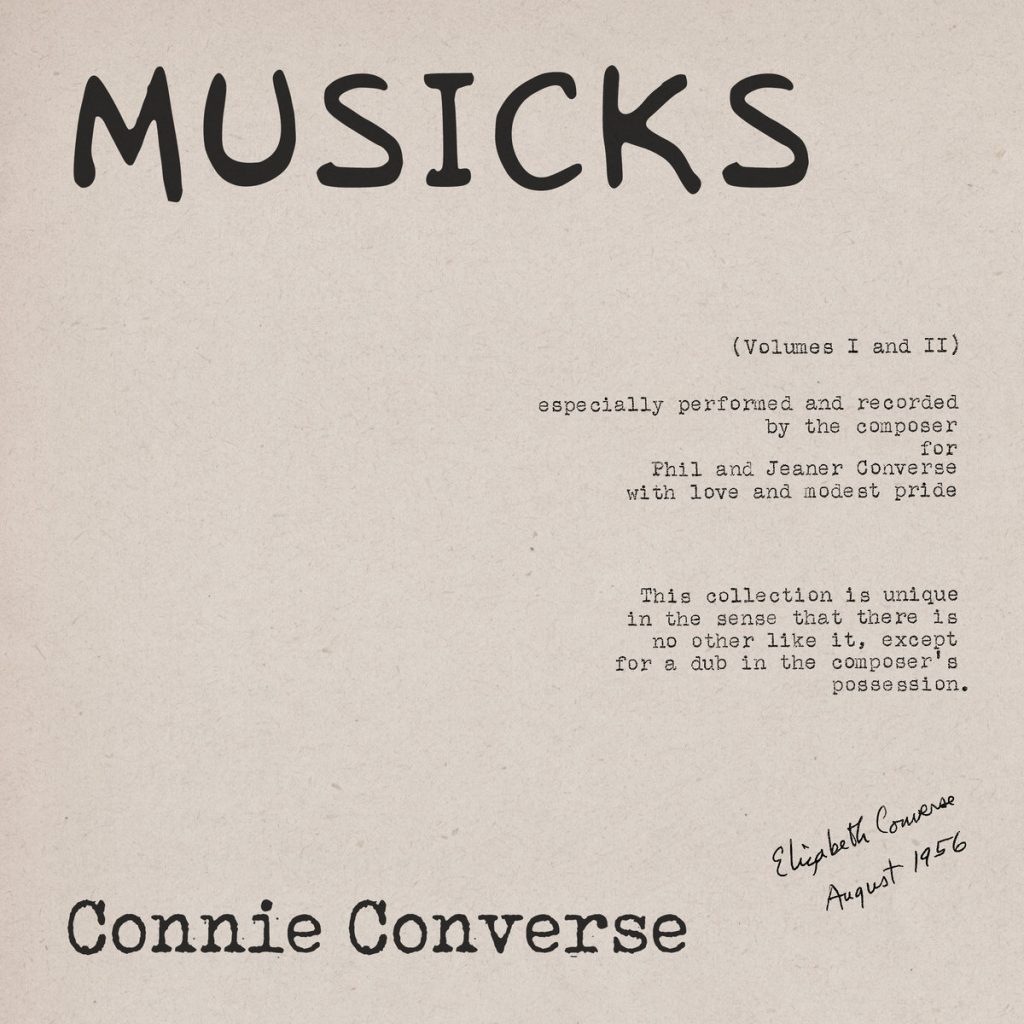 Connie's songs are very stark, very much unpolished, and very refreshingly honest. Though her songs are from a time some seven decades removed from our own, they remain exceptionally relatable. She weaves stories on loneliness ("One By One" and "Two Tall Mountains"), of love not fully requited ("Father Neptune"), of poverty ("Empty Pocket Waltz"), and a bit of a tongue-in-cheek mystery ("Johnny's Brother").
Connie Converse's musical story is one of being lost and then found. Connie's songs were indeed lost for a time, but with the release of Musicks they and the world as seen through her eyes have been found again. Lamentably, Connie herself remains lost and with the passing of her 99th birthday it is unlikely she will ever be found again.
After leaving NYC in 1961, Connie moved to Ann Arbor, MI where her brother Philip was a professor of political science at the University of Michigan. It was there she became a writer and managing editor of the Journal of Conflict Resolution. She poured her energies into that publication and when it was sold, she was devastated. Her life seemed to hold no purpose or interest for her.
In August of 1974, at the age of 50, a depressed and disillusioned Connie Converse packed up her Volkswagen Beetle and left her brother, her family, her friends, and the city of Ann Arbor for good. She was never seen or heard from again. Her family once tried to search for her, but in the end honored her wish, which she had conveyed to each of them by letter before she left – to "Let me go. Let me be if I can. Let me not be if I can't."
For those who wish to learn more about her, author and musician Howard Fishman recently published an examination of the life of Connie Converse entitled To Anyone Who Ever Asks: The Life, Music, and Mystery of Connie Converse.
For those who have not yet heard any of Connie's recordings, "Johnny's Brother" is a good place to start.