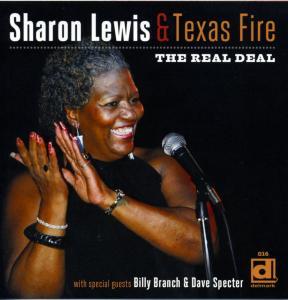 Sharon Lewis is a Chicago Blues staple, finally stepping out and giving her own stamp on her album, The Real Deal, released through the immortal Delmark Records. Along with her band Texas Fire, she tells it, as she says, "like it is". Sharon has a big voice simply built for the blues, with tonal inflections and emotion-stirring abilities that make listening to her a magical experience.
Eight of the twelve tracks are originals that cover the usual blues standards of love, cheatin', the economy and more. "Please Mr. Jailer" is a standout, poignant cover of a Wynona Carr track from the 50s'. "Angel" is a gospel-soaked number with an emotional connection that leaves a listener hanging on her words.
If there is a consistent theme, it can be found in Sharon's vocals. She spans a number of familiar themes and genres in Texas Fire, which creates an overall pleasing album with plenty of style to look forward to. The horns that grace some tracks were a great addition, adding that ever-valuable Soul sound with. The Piano is, for lack of a better word, killer, and keeps that Chicago sound fresh and traditional at the same time.