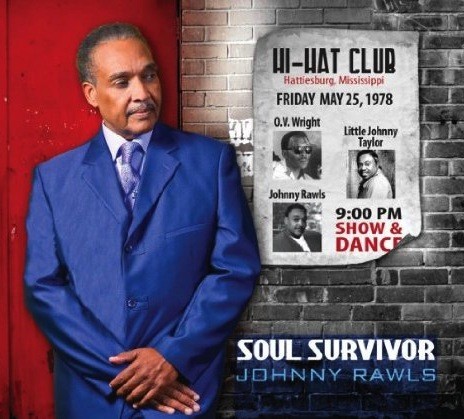 Sometimes the gods just smile upon you. They bathe you in sunlight and your day starts off in an amazing way. Such was the case this morning as Soul Survivor by Johnny Rawls found its way to the inbox. After two delicious run through all we can say is "Wow!" We have not enjoyed an album this much in a very long time.
Soul Survivor is old school soul, with a hint of laid back blues, played to perfection. Issued on the Catfood Records label, the album has Johnny Rawls backed by a stellar band. Music is tight and very much in the groove, providing some 70's sounding soulful blues in the vein of Lou Rawls and Johnny Taylor but with the sophistication of Wilson Pickett's arrangements.
While every song on the album is good, there are several standout cuts. "Soul Survivor" features some great funky rhythm guitar with low key backing horns. "Hand Me Downs" is more of the same with luscious backing vocals provided by Jessica and Jillian Ivey. "Eight Men, Four Woman" is a masterful lesson in how to execute a stirring soul ballad. Rawls is in great form with an almost Brook Benton delivery as the rhythm section keeps the beat and perfect low key lead guitar fills enhance the aural palette; just a really great song. "Drowning" is another cut in the same vein; slow, and beautiful. "J.R.'s Groove" is straight up old school Funk, complete with wah-pedal infused guitar, pulsing electric piano, and a jamming sax solo. The album's closer, "Yes", is a slow blues with a Memphis Soul twist that has Michael Kakuk playing a Dobro lead and midway in, Doug Skoogs gives us some sweet harmonica stylings.
The sparse but luscious arrangements really let you hear everything being played and draw you in. The music is unhurried and just so well done you just have to smile. Seriously: This is one of the best albums to cross our desk recently. Go ahead, break down and treat yourself to this music. You deserve it.