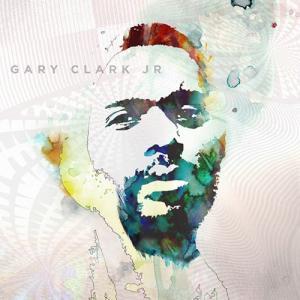 Up until recently, Gary Clark Jr. was one of the best kept secrets in the blues/rock genre (unless of course, you live in Texas). His career exploded when he appeared at Eric Clapton's 2010 Crossroads Festival, and released the critically well received The Bright Lights EP (Warner Bros.) later that year. Blak and Blu is his first full-length release on a major label, and more than antes up. With 13 songs, there is plenty of material to experience, and it is varied! While the production on this album is polished, it isn't overdone. Be aware that the sound is not laid back or "old school," but very modern and "in-your-face"; there is nothing timid about it. Mike Elizondo (Dr. Dre and Fiona Apple) and Rob Cavallo (Green Day) were recruited to produce, and they brought their various textures and styles to the party, making the sound quite interesting actually.
The album starts off with the updated horn infused soulful thumper "Ain't Messin 'Round,' which is air-play ready. This is followed by "When My Train Pulls In," Clark's take off on the Hendrix classic "Hear My Train a Comin'," and he rocks it with a very tastefully controlled solo that has incredible tone. (The backing vocals are tight too.) Next up is "Blak and Blu," an R&B cut in the Johnny Gill vien. Coming on the heels of this is the absolutely mammoth "Bright Lights," with its copious walls of crushing guitar, and great funky textures layered underneath! This is an amazing and powerful performance.
As the album continues, there are several other standout cuts. "Glitter Ain't Gold (Jumpin' for Nothin')" is kinetic, souped up Prince meets Lenny Kravitz with Vernon Reid rhythm tracks: extremely awesome! "Numb" features a towering facade of stunningly bruising guitar that is immense in its sonic spacial footprint, along with brilliant use of controlled feedback and distortion. "Numb" will leave listeners exhausted! "Things Are Changin'" has a soulful Al Green feel to it. "Third Stone From The Sun/If You Love Me Like You Say" starts off as a very spacious prog-rock excursion that transforms from vaguely Hendrix into a great version Little Johnny Taylor's hit, then back again to vaguely Hendrix. The guitar work here is dirty, but with sweet overtones to it; and the control Clark exhibits, along with incredible tone, is just brilliant.
This album is a keeper for several reasons. The influence this one album will have on the blues/rock genre will be felt for a long time, in much the same way Blues Breakers with Eric Clapton influenced guitarists' tone, technique, and equipment. Also, it is a promise of the untapped potential yet to come. Finally; It's just a damn good album!