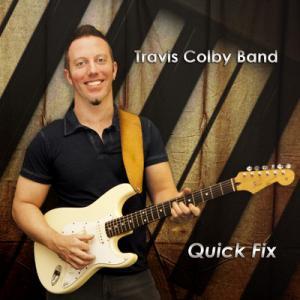 Travis Colby is no stranger to blues. Having been a member of Room Full Of Blues for eight years, he knows what good blues is. He spent six years touring and recording with Grammy Award winner Luther "Guitar Junior" Johnson. He is a multi-instrumentalist, playing keyboards and guitar; and he plays both exceptionally well. Quick Fix is the self issued debut album from the Travis Colby Band. Joining Colby are multi-instrumentalist Jeremy Kindsvatter on bass, and Bart Lingley on drums. Guests on this outing are Rich Lataille on saxophone, Chris Vachon guitar on "Look Out," and Doug Woolverton on trumpet. Doug Woolverton also did the horn arrangements. All songs on this album are written by Colby.
Quick Fix is a strong outing, especially as a debut album. This album features funky blues, Memphis style soulful blues (with a pulse!), swing blues, piano boogie, and superior ensemble style playing. Production values are very good, and the sound quality is good as well. A strong album overall, there are several standout cuts here. The album opens with "Look Out," a late 40's, early 50's style piano driven boogie that also features rockabilly guitar chords and a good vocal by Colby.  "Quick Fix" is a funky blues with great guitar and horn playing, and has a driving beat thanks to Lingley and Kindsvatter. "Comin' Back" has a very cool Dave Brubeck vibe, and the musicianship here is exquisite! "The Reverend" is a blues with great guitar lines, killer organ and piano fills, and some nice backing from Lingley and Kindsvatter (again).
As we wade further into Quick Fix, we come to "Baby, Baby, Baby," which is swing, and well played. "Triscuit Jam" is a funky, jazzy, organ infused instrumental delight with a great beat. "About You" is blues with guitar that is reminiscent of Earl Slick's great chord playing on the early David Bowie albums; nothing flashy, just really fine guitar work here! "Standing By My Window" is slow Memphis blues, again with some sweet guitar work by Colby. "Strut" is a moderate Texas style shuffle, with Colby stretching out on guitar here too.
If you are looking for something new and cool, Quick Fix is the ticket. This is a well rounded, well played, spirited album. Any blues aficionado would do well to take this for a spin!