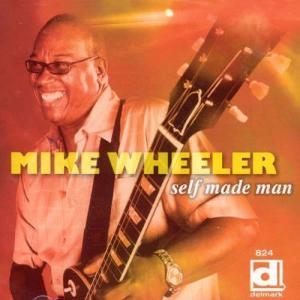 Do you enjoy funky blues where the guitarist not only knows how to play, but when not to play? If you enjoy the type of honest funky blues that was at its peak in the 1970's, then Mike Wheeler's Self Made Man is for you! There was a time when funky blues was elevated to an art form and produced masters that still influence playing today. Included in this group are Curtis Mayfield, The Bar-Kays, Funkadelic, Johnny "Guitar" Watson, Issac Hayes, The Ohio Players, Bootsy's Rubber Band, and many more.
Mike Wheeler knows about this level of funky goodness because he has been around, working with some great artists himself. For 13 years he was the guitarist for Big James and The Chicago Playboys. He has also performed with Shemekia Copeland, Son Seals, B.B. King, Koko Taylor, and Buddy Guy, just to name a few. Wheeler is from the school of "I will let my guitar do the talking." He knows when to let loose, and when to let things breathe a bit. He does not try to impress with a million notes in 12 bars. All his playing makes sense, is for the betterment of the song, and every note belongs right where he plays it.
Along with Wheeler on guitar and vocals, other personnel are: Larry Williams on bass, Cleo Cole on drums, Brian James on keys, and Omar Coleman plays harp on tracks 3,9, and 12. Everyone contributes to the great grooves and textures. Funkadelic used to say "We want the Funk! Gotta have some Funk!" Wheeler and company bring it, along with some soulful, bluesy overtones. Also: the sound and production values are thoughtfully executed, and the album has an overall "warmth" to the sound. There is an almost vinyl-like ambience to it that is really nice.
Standout tracks include "Here I Am," with its nice keyboard backing from Brian James, and spot on bass and drumming from Williams and Cole. Wheeler lays down some great rhythm playing, and subtle lead work too. "I'm Missing You" has a great bass line, with Wheeler's artful playing over, under, and wrapped around it. Nice job; and the keys and drumming are sweet too.
Of particular note is the band's rendering of the Muddy Waters staple "Let Me Love You Baby." This cut is just rich, delicious Chicago blues, dripping with a big helping of funky goodness. It has the heavy, funky beat of Bootsy Collins, and the guitar has both the funk of Johnny "Guitar" Watson and the edge that made Chicago blues guitar famous. Great work here.

Another exciting track is "You're Doing Wrong," which has a wonderful Byther Smith/Otis Rush feel to the guitar work. Excellent playing by the entire band on this; really masterful stuff!
Give Mike Wheeler Self Made Man a spin in your player soon.