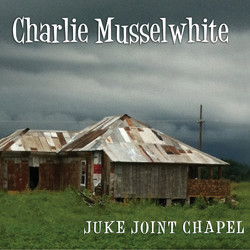 "The blues sounded like how I felt growing up. Too many people think of the blues as sad, but I think many of these tunes will immediately dispel that notion, as they are fun, dancing tunes that lift your spirits. I often tell people that the blues is your buddy in good times and your comforter in bad times. It empowers you to keep going. It is secular spiritual music, the gospel blues. It's music from the heart instead of the head." – Charlie Musselwhite.
With over 20 albums under his belt, it would be easy for living harmonica legend Charlie Musselwhite to put the musical vehicle in cruise control and just go through the motions. He's paid his dues and played with everybody who's anybody in the blues and beyond, but Juke Joint Chapel, recorded live at the Shack Up Inn in Clarksdale, Mississippi, is anything but cruise control. This is a high energy, "get your butt moving" type of album that covers all the bases.
Of course, the highlight is once again his harmonica mastery. The 7-time Grammy nominated master bluesman leaves nothing to be desired for harp fans. The highly energetic Juke Joint Chapel includes seven covers and five originals with some stellar guitar work from Matt Stubbs. Mike Phillips lays down the thick lower end and is in the pocket throughout with the drummer June Core. Always the blues storyteller, Musselwhite sings that "Blues Overtook Me" and he "ain't complaining he's just tellin' like it is".   "Roll Your Money Maker"  is a spirited cover of the Shakey Jake Harris classic by the same name, with Charlie having some fun with the audience during the stop-start portions of the song. Another interesting track is "Feel It In Your Heart". It features some very tasty South American-influenced guitar riffery, and the harmonica work adds to it in a perfect way. The syncopated drum beat matches the other musicians stride-for-stride, and the lyrics contain some profound statements, such as how "music can bring us together, it can heal all your wounds". It's a real toe tapper for sure.
One song rolls right into the next one seamlessly. It really plays exactly how you would hear it live, which is how a live album should sound. It was said that that this wasn't something that was planned out — they just hit the record button. It turned out to be a shrewd move, because the entire album has a "juke joint" feel. The crowd whoops it up in between songs and Musselwhite interacts with them without ever overdoing it. There is nothing overproduced on this album and it's great the way it is.
Charlie has journeyed through the blues all the way from Mississippi to Memphis, Chicago to California. His unmistakable vocals on Juke Joint Chapel are as good as they've ever been, and as he truly seems to be getting better with age. This is a must-have album for all Charlie Musselwhite fans.