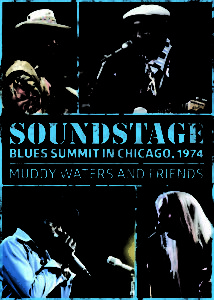 If B.B. King was the King of the Blues, Muddy Waters could easily be called the Godfather. And if Muddy's performance at the Newport Folk Festival in 1958 didn't cement that reputation on film, the Sony Legacy DVD Soundstage Blues Summit in Chicago, 1974 does.
Related: Soundstage featured in latest American Blues Scene Mag issue!
The show filmed in the round for Chicago's PBS station captures Muddy playing with a cadre of his friends including former band members and adoring students of his style. The camera work is so up close, you can count the pores on Muddy's face, and the intimate in-the-round atmosphere puts the viewer on stage with the master and his subjects.
"The inspiration for the show, honestly came from Fathers and Sons, the Chess album," says Producer Ken Ehrlich. "It seemed like a really good idea so let's try and translate that to television."
The Fathers and Sons album released in 1969 had Muddy playing with guitarist Michael Bloomfield (the only artist to appear on every song on Soundstage Blues Summit), harp player Paul Butterfield, and drummer Sam Lay all from the Butterfield Blues Band, with Booker T. and the M.G.'s Donald "Duck" Dunn. At the time, the album shot holes in the status quo that made blues a good old boys' club and was almost as controversial as Dylan going electric in '65. "I'm not a critic," says Ehrlich. "To me if I listened to something and I liked it, it was great. And I thought there were cuts on that record that were spectacular. I wasn't a snob about it."
Blues Summit, filmed five years after Fathers and Sons, expands on the then fresh paradigm of the new kids on the block playing with their mentor. It is a powerful and extraordinary document packed into a compact, one-hour, 10-song video. Ehrlich lets the tape roll as Johnny Winter and Dr. John pay homage to their primary inspiration; former bandmates Jr. Wells, Bob Margolin, and Willie "Big Eyes" Smith reunite with the architect of Chicago blues who first presented them to the world. Contemporaries Willie Dixon and Koko Taylor demonstrate their work as fellow innovators of the post-war electric blues sound.
Plus we get a rare and intimate glimpse at guitarist Mike Bloomfield who was as important at the time as Winter and Dr. John – if not as popular – in crossing blues over to a white audience with the Paul Butterfield Blues Band in the mid-60s. Mike Bloomfield is the only act on the DVD that appears on every cut. David Fricke in Rolling Stone called him "the forgotten guitar protégé." He died in 1981. Ehrlich recalls that he was a particular favorite of Muddy's. "I think the reason he was in most of it was because Muddy kind of wanted him to be there. From the Chicago days they knew him. So there wasn't any conscious effort. No, I was not prescient enough to know what a stamp he would leave, but he played his ass off and belonged there."
Put into historical context, every song on Soundstage Blues Summit is particularly dazzling. The show was a prototype for the decades-long nationally broadcast Soundstage show taped less than a decade after Howlin' Wolf became the first African American blues man to appear on national television. In 1965 the Rolling Stones refused to play network TV's pop music showcase Shindig unless the producers broke precedent and presented Wolf on the same show with them. Nine years later, this initial Soundstage Blues Summit not only set a new standard for bringing both white and African American artists together into an intimate setting as they jammed for a live audience, but it also was Ehrlich's introduction to a national audience.
"It was adventurous," says Ehrlich today. "I know the way I felt was that's kinda what Public Television is for and should be a place where you can experiment. The stakes, while high, were not as high as commercial broadcast television which I then went into and realized it's harder to do those kind of things when advertisers are paying $700,000 a minute for commercials."
Ehrlich's work on this initial offering would lead to a career as the executive producer of the Grammy Awards TV show, which he transformed from a talking heads snorefest into must-see TV by pairing artists who didn't even know of each other like Dave Grohl (of the Foo Fighters) and jazz legend Chick Corea in performance. And he's still at it today, 30 years into the job. Considering his track record for increasing the size of the Grammy TV audience with such matchups, his influence on the entire the general public's awareness of great musicians is unprecedented.
"I don't run the world," he says flatly. "So, yes, I love to take chances, and certainly in 1974 (I did) put a bunch of guys in a studio that knew of each other but not necessarily knew each other and said, 'Ok, this is what we're going to do. We're going to rehearse for two hours, bring in an audience of kids, and then we're going to shoot a show until we get a show.'
"We used everything. There were not three or four songs that were not used on the show because, had there been, we would have added them to the DVD, but this show that's on the DVD is the show we recorded that night. So, yeah, it was risky, but again it was like would I want to do a show where we said, 'Ok, "Mojo" is going to be three and a half minutes? That's it? Thank you very much?'
"You look at that show. Muddy's pointing. He's just nodding his head over to Bloomfield or over to Johnny or whatever. Those solos weren't – I think maybe in a couple of places maybe they were preplanned during rehearsal. 'You take it here. You take it there,' but that show was as spontaneous as television can be."
It took television a long time to figure out how to use the intimacy of the medium to bring the viewer closer to the artist than the ticket holder sitting in the front row of a concert. Performers lip synched their hits on Dick Clark's American Bandstand beginning in the '50s. The TV industry at the time wasn't sure the pop music of blues-inspired artists like Elvis was even appropriate until the family friendly Ozzie and Harriet situation comedy presented the real life husband and wife team's son Rickie Nelson singing at the end of their half-hour show in 1956.
Rickie's first appearance turned him into an overnight sensation prompting the press of the time to coin the word "teen idol" for a young man emulating Elvis. Ed Sullivan allowed musicians one song wedged in between circus performers balancing spiraling plates on sticks, puppets with Italian accents, and standup comedians. The Midnight Special, a Friday night live concert program hosted by deejay Wolfman Jack at the dawn of the '70s, was a giant step forward in presenting rock stars of the day unadorned or hindered by variety show trappings.
Soundstage was the next step in the evolution of bringing real American music to a mass TV audience. What Ehlich does on this Soundstage production is illustrate the love, admiration and simple enjoyment of musicians who are thrilled to play together. The warmth captured at the beginning of the tape as these artists greet one another is unrehearsed and natural. Their total familiarity with Muddy's repertoire demonstrates the influence he had over each of them.
"Even that opening that we did there was a legitimate approach. It wasn't as though we said, 'Oh, let's stage this and then let's do it again.' That was them walking in to Muddy Waters, sitting there. You can tell. There's his reaction to them, and their reaction to him. They were in the presence of a God, and he was kind of like, 'This is pretty cool. I'm glad my disciples are here. So let's play some music,' and that's really what it was.
"That rehearsal was amazing, and it was loose. It wasn't structured. I knew what the set list was. We laid out the set list. I think I had talked to most of the artists about which of Muddy's songs they would like to do, and obviously Willie (Dixon) was a great help on the show because as he was at Chess in a way he helped A&R (artist and repertoire) that show a lot."
If you close your eyes and listen to songs like "Hootchie Kootchie Man," "Got My Mojo Workin,'" and "Mannish Boy," it's almost impossible to detect the difference between these renditions vs. Muddy's original recordings for Chess.
"That was their education," explains Ehrlich. "That's how they learned how to play. They didn't learn taking lessons from a guitar teacher. They listened to those records over and over and, when they took their solos, they were playing solos that Muddy's guys were playing."
Junior Wells had long since left Muddy as his harmonica player and was working with his own band and with Buddy Guy. Willie Dixon – shown here singing "Wang Dang Doodle" with Koko Taylor who would go on to become Queen of The Blues – had been instrumental in elevating Muddy from an acoustic delta blues artist into Chess Records' best loved electric band leader. Dixon's duet with Koko Taylor offers a unique event between the man who called Koko at 3 in the morning to tell her he had a hit for her, and the future Queen of The Blues arguing that she didn't like the lyrics.
By 1974, Bloomfield had helped the bi-racial Butterfield Blues Band cross real blues over to a mass audience and created a template for improvisation on "East/West." Johnny Winter and Dr. John had taken Muddy Waters' electric band compositions and added their own spin, again paving the way for this paradigm-changing Soundstage production. In the next nine years Winter would go on to produce some of Muddy's most energetic recordings of his career until Muddy's passing in 1983.
Ehrlich makes it sound like he changed the template for live concert recordings by accident. "I was working with kids for the most part even though I wasn't a kid at the time, and my favorite expression about them was they don't know what they don't know which means if you don't know what you don't know, then you're not afraid of fucking it up. And at that time in all honesty, I didn't know what I didn't know. I had produced a little local TV show prior to that. It was a personality driven show on a UHF station.
"There were a bunch of local acts that we did, but this one was the first network music series that had come from Chicago to PBS, and I think there was very little of it anywhere. So we had no boundaries, and we could try things. It is pretty adventurous to say, 'Oh, I wanna do a show in the round. We'll gather all these people. We're gonna under rehearse it. It's gonna be as close to the way blues has been perceived all its life and if we pull it off, it will be great and if not, it'll just be forgotten, and we'll go onto Don McLean and the Persuasians,' which I think we did three weeks later."