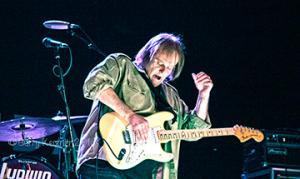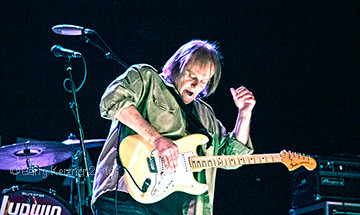 American Blues Scene was able to spend some quality time with our friend Walter Trout recently. In a wide-ranging interview, Walter shares his gratitude for even being alive, and for all those that helped him along the way. He talks about the value of family, and the love and caring they showed him as he traveled the long road back from the edge of death.
Walter also discusses his latest album, Battle Scars, being on tour, and recording his new video with Supersonic Blues Machine, "Can't Take It No More." Then there's the soon-to-be-released double live album, and he tells us why John Mayall is "like a dad" to him.
Barry Kerzner for American Blues Scene: Battle Scars was based on the struggle that you went through with your liver, and the transplant, and then fighting your way back.  Is there any particular song that is more near and dear to you than any other, or are all of them important in their place?
Walter Trout:
The whole thing is near and dear. What I did was I was trying to write something that said 'I made it. I was happy to be alive and I'm here.' It was all very clichéd and I didn't know what to say, or how to say it, without it sounding like your basic cliché of  'See the sunshine, smell the daisies,' you know?

My wife said, 'What you need to do is write about what you went through. You need to sit down and put yourself mentally back in that hospital bed, facing death every minute for months on end.' I was really just struggling for the next breath.

Once she gave me that idea, I wrote six songs in one day. It really came quickly, and so, it's all near and dear to me. I focused in on different aspects of the experience, and each song is a different part o what that was like.
People can sympathize, they can empathize, but they really don't know. They have an idea of what it was like for you to go through what you did, but they really don't. About the closest thing might be people in recovery. That was a year and a half struggle for you.
Yeah. It was fucking intense man. I lost 120 pounds and I had brain damage. I had to relearn how to talk, I couldn't speak; I didn't recognize my kids. I had to relearn how to walk again. Basically, I was gone. It's a miracle that I got back, and I still have some residual damage. For instance, I still have trouble pronouncing words with "r" in them, like a phrase like 'liner notes,' I really have a hard time with that word. I can't get it to come out! I mean I still got some damage here, you know?
You had to learn things that most people take for granted all over again. All of us are really thrilled for you; for you, and your family.
Well thank you man. Thank you.
There was so much joy in the community when you got the liver, and once it looked like you had really turned that corner and were truly on a fairly stable road back again. There really was!
I gotta say, through all of that, my wife, my family and I really got to experience and understand just what a community, the blues community really is, and how it will rally around members of that community. It was a beautiful thing how the fans got behind us and helped us. They helped us with prayers, wishes, cards, their concerns, and they also really helped us financially. It was a huge hit on our finances. I mean, it was an insane amount of money. I was in the hospital over seven months and a lot of it in ICU. Without that fundraiser, we would have probably had to sell our house. I don't know what we'd have done, and they rallied behind us. It was an incredibly beautiful and moving thing to feel that; to experience it and to feel it.
Going through an adventure like that – the gratitude inside them really comes out. In your case, we see it in your music, the way you try to help people, which you've always done, but even more so now.
The gratitude is hard to even express. It's hard to talk about without either having a breakdown (brief pause) It's just hard to talk about; don't want to loose it here. It's a deep, deep thing, and if I could help somebody now, I want to do that. I have a new understanding of when people go through things like this, you know? I get these incredible things that are so fulfilling. I got a message from a kid who's a guitar player, he's a young kid, I'm not gonna say names; he doesn't want to be publicized.

He basically was a kid who was in a terror attack and he was shot … but he survived. He was in a bad terror attack where a lot of people were killed. He sent me a message that my album, Battle Scars is helping him have inspiration and maintain hope that he'll be able to survive and that he will be able to play the guitar again. That right there meant more to me than any critical acclaim or chart position. right there, that made my whole life worthwhile to me, that I could do that for that kid with music.
Then too, when you go through a long, deep, traumatic event where you claw your way back from the edge of death, and you get another chance, the desire to give back is really intense. When I got clean and sober 27 years ago, I was so ready to give back because the odds of making it were so long, and I made it. I was so grateful.
For me, people go, 'Well this is your second chance.' and I go, 'No. My second chance was in the '80s I should have been dead from drugs.' I went through everything. I went through heroin addiction. I'm with you; I got sober 27 years ago. When I got sober and came out of it, I had friends that had died around me and I thought 'Well, that's my second chance.' I want to help people and I want to talk about it, I want to write about it. I want to see if my experiences with this – if I talk about coming out of it, and talk about what I have learned, maybe I can help somebody. Maybe, I can help a young person who's going down that road.

So, that was my second chance, and then coming out of this was really my third chance. I know exactly what you mean, and I have tried to write a lot of songs about addiction, and coming out of it.

I wrote a song called 'Recovery,' which is directly about it. I wrote a song called 'Transition' which is about it. I've written a lot about trying to get out of addictions, a what a difficult thing that can be, but how great it can be to get on the other side.
You're back on tour now. You played the US version of Lead Belly Fest at Carnegie Hall recently.
I did. I was there with Edgar Winter and Buddy Guy and Kenny Wayne Shepard, and Nick Moss, Michael Ledbetter. I mean, it was an awesome show. Really a great show.
Being in that particular venue, with it's long history, the people you were playing with, and just being able to BE there had to be a gratifying experience for you.
It was great! I played there in the '80s, when I was with John Mayall. We played there on a bill with B.B. King, I think Albert Collins, but I have to say that was in my drinkin' days so, I don't really remember a lot of it. This time, this was, I was much more in the moment this time.
Your son Jon has been very well received the last year and a half since he's been out playing and joining you on stage. He's a god guitarist, and an excellent rhythm guitarist as well. fans and critics alike are excited to see him perform with you.
You know, he's kicking ass, I gotta say! He's played guitar since he was a kid, but it's always been kind of a hobby for him. When he was 12 years old, his brother Mike was 8, and my son Dylan was like, four, they used to tour and open up for me. They had a band called Sibling Rivalry. They'd come out and do "Highway to Hell," and the Beastie Boys, some Johnny Cash, some Ramones, and they used to stop the show.

He didn't really get serious bout playing lead until I got sick. I was very moved by him telling me that when I got sick, he realized 'Well, maybe I'm gonna lose my dad now, and maybe it's up to me to carry on for him.' That's when he really started playing, got into the blues and playing lead guitar. He's killing it now. As a matter of fact, I'm just right now in the process of – I did a live album in Europe, a couple of months ago and and it's being mixed and mastered today. There's a jam session on there between he and I. He's blazing. Anything I throw at him, he throws right back at me. So, I am very proud of all my sons actually.
Your whole family was there for you throughout this ordeal. And Marie – Marie was the best kind of partner a person could have, being there for you, the way she was.
Yeah, I know.
I understand if it's too personal, but It was really inspiring and beautiful to see that.
It is personal, but it's also the truth. She showed the depth of her love for me in ways that I will never forget and it was a moving, beautiful, deep experience to have her there every day, telling me I had to fight. Telling me I had to fight; not letting me go. She really saved my life. There were many days when I said 'I can't take this anymore, it hurts too bad, I want to go!' She'd say 'No. No; you stay for me, you stay for our kids, you stay for people who love your music. You have to stay, so fight! Don't go, you just fight, you hold on.' She was incredible and I'll never ever forget that. I'll never be able to repay her for that.
You played on the Supersonic Blues Machine album. Would you tell the fans about that?
That was a blast man, I mean, what a chance to play with these great players, ya know? Kenny Aronoff on drums and Fabrizio Grossi on bass, and Lance Lopez. I was a guest on a song, and on the album you've also got Billy Gibbons, and Robben Ford, and Chris Duarte, and Eric Gale. I hope I'm not leaving anybody out – you'd have ta look it up. It was a really great experience. As a matter of fact, tonight, I'm going up to Kenny Arronoff's studio in LA and we are gonna do a video press kit for the album. Warren Haynes is gonna be there and Lance Lopez, Robben Ford, Fabrizio, and we are all gonna do the press kit, then go out and have a dinner. I am really looking for to that.
We premiered your video that you did for that record.
That was fun trading off with Lance; that guy's a badass!
You mentioned the live album and Europe. Want to tell us some more about that?
It's done. It's being mastered. They are sending me high res files and I have to download it and make a CD of it. I have to listen to the whole thing through and go 'OK. It's OK. I approve it.' Then they send it off to the record label and I imagine it should be out for the summer tour. I think. We don't have a release date, but I know they would like to get it out for the summer. It will be a double CD. It's two hours long.
Will you ever do an 'unplugged' or a jazz album?
I couldn't do a jazz album. I'm a blues guy, ya know? Acoustic, we could look at, but coming out of the blues, I think of a quote from Billy Gibbons, a very funny quote. Somebody asked him, 'What is your fear in life?' and he said 'Learning the fourth chord.' That's a fucking great quote if you're coming out of a blues background like me. So jazz, as much as I love it and I grew up on it … You, know, I got to hang out with Duke Ellington when I was ten years old. Then, at an early age, I found the blues, and I went that direction, and I have been there ever since.
Any plans to do more work with John Mayall in the future?
I'd love to. I don't know. John is, as we speak, in the studio today with my producer Eric Corne who also produces John, and he's doing a new album. I'm not gonna be on that album. I imagine if I were to do another studio album, and I were to invite him, I'd bet you he would show up.

My next goal is to get this live album out there. After that's out, and I tour behind that live album. I've never done a tour in the states where I've played Battle Scars. That's what I'm gonna be doing in April, is playing the songs off Battle Scars. After I do that, I'll look forward to the future, I'll do another studio record and maybe I'll have him [Mayall] come in on that. He's a dear friend. I talk with him a lot, he's like my father. He's a dad to me, and I love and admire and respect the man, to an incredible degree.
He's amazing, and such a humble person.
Yes. And, he's almost a freak of nature in that he's 82 years old, and he has the energy of a 25-year-old. He still goes out and does 200 one nighters, and he does at least an album a year, sometimes two. One of the real blessings of my life was being able to play in his band for five years.
You had said at some point that as much as you had enjoyed that, he was very cool when you told him 'Hey I have to go out on my own and try and do my own thing.' He was very understanding and cool about that.
He was very understanding. I think he knew I had more to give. I wanted to write songs, and front my own band. He actually nurtured all that in me and supported me in it, and helped me develop as an artist. He gave me the chance to get on big stages and he featured me. He let me come out and sing, and he recorded one of my songs when I was in his band. He did 'Life in the Jungle.' He did that before I ever recorded it.

But he did say, I'll never forget, he said, 'More power to ya. God bless you. Good luck. But if you really leave my band, and it doesn't work out for you, don't call me up in a year and say you want your gig back, because I'll have somebody else that I'm nurturing.' It was definitely 'I'll support you, go ahead, but once you are gone from here, you're gone.' It was a big decision; a hard thing to walk away from.