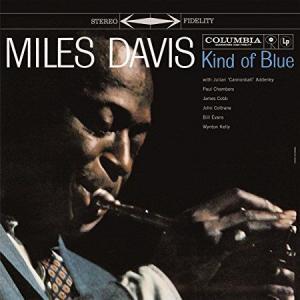 Editor's Note: Miles Davis would have been 90 years old today. Throwback Thursday looks at his landmark album "Kind of Blue." The original article appeared at ChicagoBlues.com on October 16th, 2014. Thanks to them for allowing us to share this with our fans.

While not specifically blues, Kind of Blue, by Miles Davis has had a profound influence on blues as a whole.  Released in August of 1959 on the Columbia label, this album sucked all the oxygen out of the room as far as the music world was concerned.
Charlie Parker and Dizzy Gillespie had turned the jazz world upside down in the 1940s with their introduction of bebop, where improvisation of melodies was based on chord changes. Another trademark of the style was solos and runs that were played at breakneck speeds. This made for some remarkable technical displays and powerful statements. One needs only listen to Town Hall, New York City, June 22, 1945, to get a taste of this.
By 1959, Davis was looking for something new. He had a phenomenal band at this point and was looking for that next level. The band was Cannonball Adderley – alto sax, Paul Chambers – bass, Jimmy Cobb – drums, John Coltrane – tenor sax, Bill Evans – piano, and Davis on trumpet. Wynton Kelly plays piano on Freddie Freeloader.
George Russell, a friend of Davis' shined the light that led Davis out of the cave that was bebop. Basically, instead of basing everything on chord changes, players would base their journeys on scales or modes. This was less restrictive in that the choices of direction taken were endless. As Russell put it, "It is for the musician to sing his own song really, without having to meet the deadline of a particular chord." He continued, "You are free to do anything as long as you know where home is."
Whereas previous to this, piano players accompanied playing chords for changes, and since this was to be music based not on chords, but modes, a change was needed. Bill Evans was the pianist selected to play this upcoming session. Evans was not one for playing the root of any given chord, but instead played a note that suggested the chord. This arrangement allowed much more freedom.
So, when Davis showed up at the sessions, all he had were sketches of basic themes. The players were given complete freedom to play their own lines, relative to these "sketches." This is one reason that the music here sounds so spontaneous. That's because it IS. The artists are literally composing it as they play it.
At just over 55 minutes, there are many aspects of Kind of Blue that contribute to its awe-inspiring dexterity. The mix on this album is as perfect as a Cherry Blossom bloom. The sound quality is excellent. Davis had unshackled the band from the confines of the past and told them to go forth and create. And create they did. Individually, their playing is stunning. We are privy to witnessing their rebirth as musicians. What makes the music though, is the synchronicity of everyone's lines together.
Another facet of this album is that we begin to see Davis (and everyone else) practicing the "less is more" method of playing. The notes that are not played, the pauses, let the music breathe and say as much as what is played. This was completely opposite from trying to play as many notes as possible in a given space, as Bird and Dizzy were masters of doing.
This music had subtleties within subtleties. It had finesse and panache at the same time, without beating listeners over the head. They could follow this, and lose themselves in the music without consciously having to try to "keep up" with everything going on.
This might be jazz, but it was also blues. Sweet, elegant, sexy, alluring, soulful, radiant, and glorious blues.
The implications and reach of this album have been astonishing. It is unquestionably regarded as the best jazz album ever made. It freed musicians from the past and allowed them to approach their craft in a whole new light. It influenced jazz. It also informed rock and blues as well. Listen to live versions of "Hoodoo Man Blues" or "Scratch My Back." Yes, of course they are blues, but what makes these tracks particularly satisfying is their almost free-form essence. Listen to the Yes album or Fragile, also by Yes. There's that same spirit of free from exploration in the delivery.
There is not a single musician I know that does not have at least one copy of Kind of Blue in their collection. You do too. It's right there, sandwiched between Jack Johnson and Bitches Brew. Put it on and fall in love all over again.