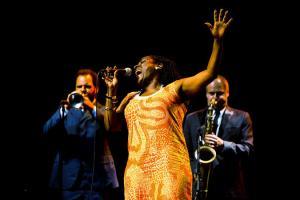 Cooperstown, NY – Sharon Jones, the dynamic soul singer backed by the Dap-Kings band died Friday after losing her battle with pancreatic cancer. Ms. Jones was 60 years old.
Her publicist, Judy Miller Silverman, said in a written statement, "We are deeply saddened to announce that Sharon Jones has passed away after a heroic battle against pancreatic cancer. She was surrounded by her loved ones, including the Dap-Kings."
Ms. Jones had been diagnosed with stage two pancreatic cancer in 2013, and she had her gallbladder, the head of her pancreas and 18 inches of her small intestine removed. Nine months later she was in remission, but at the September, 2015 premiere of "Miss Sharon Jones!," a documentary about her life, she announced that her cancer had returned, tumors having spread to her lung, liver and lymph nodes.
One of a rare breed of performers who found success later in life, Ms. Jones was a force to be reckoned with in her live performances. Powerful, energetic, dynamic, and intoxicating on stage, she would have the audience exhausted as they watched her command not only the stage, but everyone in the venue as well. Totally. Completely. She paid tribute to the very qualities of funk and soul that had elevated the genre to its place on high. She was confident without being arrogant, and gifted without being conceited.
She had started and worked with bands in the 1970s, and for decades she performed but never broke through. Among the jobs she worked when she had stopped performing for a time were armored car guard for Wells Fargo, and as a corrections officer at the notorious Rikers Island prison in New York City.
Upon finding her stride with the Dap-Kings, she would go on to make seven albums with them. These records were funk and soul works of art that featured a tip of the hat to the greatness of the Stax sound; playful horns, a solid groove, Jones' great vocals, and a revival and reinterpretation of what made classic soul great in the first place.
A strong personality, she had battled hard against her cancer, never giving in, or giving up. "I have cancer; cancer don't have me."
According to Ms. Jones' representative, donations may be made to The Lustgarten Foundation, the James Brown Family Foundation, and Little Kids Rock.