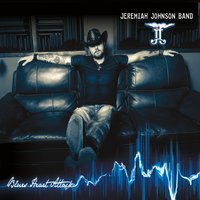 This three-time Houston Blues Society winner and 2011 St. Louis Blues Society International Blues Challenge winner has laid out a savory new album that he calls the best of the bands past, present and future.
Jeremiah Johnson's Blues Heart Attack is an all original set of twelve tunes released July 22nd, 2016 on the Conner Ray Music label. The new album was produced by James McIntire and recorded/mixed at the Sawhorse Studios located in the bluesy city of St. Louis where Johnson grew up. The 6th album by the band gets right to the heart of the blues with masterful, soulful guitar and vocals, portrayed in Johnson's unique style.
Band members include Jeremiah Johnson (lead guitar and vocals), Jeff Girardier (bass and backup vocals) and Benet Schaeffer (drums). Special guests for the new album include Nathan Hershey (Hammond B3, Wurlitzer, and piano), Frank Bauer (sax & backing vocals), and Tom "Papa" Ray (harmonica).
Johnson says "I really wanted Blues Heart Attack to be a roller coaster of emotions that reflect the life, heart, and soul of a blue-collar blues man." We believe he accomplished that, with a list that's diverse and captivating, throughout. Jeremiah describes Blues Heart Attack as a combination of all his earlier works blending Mississippi blues, southern rock, and country into the overall sound. He says he started writing some of the album's cuts more than ten years ago, and the rest of Blues Heart Attack evolved in the studio. "Flat Line," the album's lyrical title tune, quickly becomes one of those catchy melodies that lingers in your head throughout the day. It's an engaging original song that we found refreshingly unique.
"Get in the Middle" carries a snappy, upbeat tempo with transitions that reflect the country influence in Johnson's style. "Southern Drawl" taps into that classic southern rock infusion also found in Johnson's personal brand. This one is an easy-going tune that brings memories of days gone by, and we enjoyed the track.
Lean back, relax and grab a partner for a slow dance with "Summertime." "It's Been Hard" showcases gritty guitar, and delves a little more into the mud, with the perfect amount of distortion dialed in.
We think this one will please the most critical blues fans. It's one we could listen to over and over. Johnson looms as one of today's premiere blues artists, making that clear to us with Blues Heart Attack.
Blues Heart Attack by Jeremiah Johnson
Label:     Conner Ray Music
Tracks:   12 for a total of
Running time: 47:04