St. Petersburg, FL —  While it is a little warm today, the humidity is down and there is a welcome breeze making its way across Vinoy Park. Held every year since 1995, the annual Tampa Bay Blues Festival brings together blues fans and blues artists from around the world. Always showcasing the best in blues, whether it's icons or emerging new talent, this festival never disappoints. This year's lineup is no exception.
Starting things off is British blues virtuoso Matt Schofield, who brought his unique, modern take on the blues to the fans with his usual vigor and enthusiasm. Now living in Florida, Schoefield is obviously enjoying himself as he plays a comprehensive set that includes newer music and older works as well. What makes his playing all the more breathtaking is that Schoefield drops blues, jazz, rock, and soul in his music blender and serves up a delicious banquet of aural delights. The music is deep, rousing, and expressive indeed. His offerings are well received by the ever growing crowd.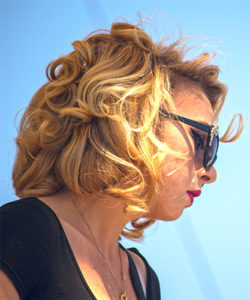 Next up is Samantha Fish, who not only is a great musician but also never disappoints as a fashion plate. Working her way through virtually all of her new album Chills & Fever, she leaves no stone unturned in her performance, giving the crowd the show they came to see and hear. This is the first time touring with the full band, including sax, trumpet, and piano in addition to the core players. The band delivers and so does Fish, whose playing grows by leaps and bounds with every passing album, as does as her writing. The new album covers everything from rock to blues, and soul to swing. Two songs in, she has the crowd in the palm of her hand.
Taking the stage following Fish is Chicago sensation and CTA bus driver Toronzo Cannon. Having recorded for Delmark Records and now on Alligator Records, Cannon brings a new sensibility to the blues. His modern approach blends blues and rock with his spot-on lyrics about modern life as he sees it in his neighborhood, and a wry sense of humor to boot. He does quite a bit of material from his latest release The Chicago Way, as well as old favorites such as "John the Conquer Root." His playing is exciting and the tales he spins, along with his outgoing demeanor win the audience over in no time at all.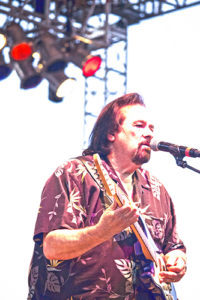 Although Cannon is a tough act to follow, having played for the likes of Albert Collins (as a drummer!!) and later John Mayall, Coco Montoya is more than up to the task, and in mere moments begins to hypnotize the assembled fans with his fretboard strutting. What really excites and impresses is that one minute Montoya is almost playing rockabilly chording, the next, a souped-up Chuck Berry style riff, and then, in an instant, he's knee deep into serious shredding a lá Albert Collins' "ice style." Even more impressive is the way the music tugs on the edges of chaos, but he retains control keeping it loose, fluid, and spicy, but never sloppy.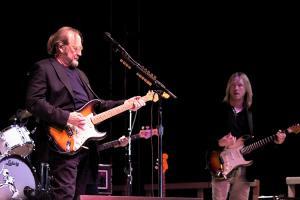 The final act of the evening is The Rides, consisting of Stephen Stills, Kenny Wayne Shepherd, and Barry Goldberg. Having had so much success with their 2013 Can't Get Enough, in mid-2016 the group released Pierced Arrow. Buffalo Springfield, CSNY alumni Stills has referred to the band as "the blues band of my dreams." Listening to them, it's easy to see why. The textures of sound they weave are incredible, and the fans eat it up. Stills may be in his seventies but he has not lost a step and he continues to impress on the guitar, even after all these years. Sheperd's fretwork is explosive and impressive as well.
The crowd this day is announced as "the largest Saturday crowd in the festival's history." With lineups and performances like this, the festival will surely continue to grow.
As always, besides all the amazing music at the festival, proceeds from the event will benefit charity partner, Pinellas Association for Retarded Children (PARC). This means that fans and guests enjoy the music and help the children in the community as well.