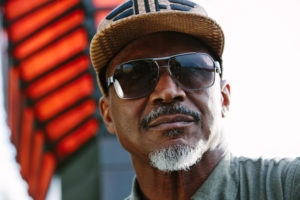 To call Karl Denson a blues man is like saying Bob Dylan plays old folk songs.  Karl Denson replaced Bobby Keys as the Stones' sax player in 2014. He opened for the Dead's Phil Lesh in NYC for two shows in May and has played with a plethora of greats in every corner of hip American music for almost 40 years. But his fulcrum is blues. An academic African American who nevertheless creates music from the lower chakra as much as from his cranium, he's an academically educated jazzer who drove away from high school in the mid-70s in a low rider Camaro playing Emerson, Lake and Palmer's Brain Salad Surgery blowing out his car speakers at 110 db's.
Karl has a European attitude about jazz and its connection to pop, soul and rock and roll and flies above the clichés of each. "I graduated in '75, and I was lucky enough that my older brother who was five years older than me became a jazz head when I was about12 or 13. So, I had this really great nexus. I grew up listening to Motown and soul. Through my peers, I listened to Sly and The Family Stone, James Brown, The Ohio Players, and all that stuff, and then my brother introduced Herbie Hancock, Freddy Hubbard, John Coltrane and Eddie Harris into my midst.
"Out of that, I grew into Rahsaan Roland Kirk, Anthony Braxton and Art Ensemble of Chicago. So, I as pretty wide open by the time I went to college. I felt like that's part of why I've been as confused musically as I am. I just like everything. I did not like cool jazz at all. So, I avoided that like the plague. When Lee Ritenour and Larry Carlton hit the scene, I was completely out. I started listening to punk as sort of a protest vote."
"I never was a blues guy. I liked John Lee Hooker. That was was it, and then probably like 15 years ago, I discovered Howlin' Wolf, and that changed my whole thing. It was the writing. It was his voice and the writing. When I heard "Shake for Me," "Smokestack Lightning" and realized when they were written, I was like, damn. That's like 1954 when you hear that on the radio. That only makes sense because when you listen to "Smokestack Lightning" or "Shake for Me" and "Spoonful," they're like a little askew of what was really going on in the blues scene. You know, like they're funky.
"I started listening to Son House, and I started listening to Mississippi John Hurt and Skip James where I'm like wow. This shit is funky. I've always been about whatever is funky basically. What is the funkiest thing you can find? That's what I like."
Last month he performed with Phil Lesh at the Capital Theater. Last year his "Running With The Diesel" Tour had him and his band The Tiny Universe doing covers of Prince, The White Stripes, and Beastie Boys. Diesel is his nickname and Running with The Diesel he says is kind of a play on Van Halen's "Running with the Devil."
Imagine a clear-headed Sly and The Family Stone with an open-ended love for all kinds of music as long it permeates the crowd with a powerful sense of funk. That's Karl Denson and his Tiny Universe band.
Karl was the right guy to replace the late Bobby Keyes as the Rolling Stones' sax player, a job he refers to as a "plush" gig with "an insane catalog." The Stones tours put everything else in a box. Imagine playing sax on "Brown Sugar" at the Desert Trip, the highest grossing concert festival of all time in Indio, California.
Don Wilcock for American Blues Scene:
Last weekend you were with Phil Lesh. You're out with the Rolling Stones. You've done stuff with Luther Dickinson. How do you make that decision which way to go?
Karl Denson:
Yeah, it's kind of a fluid motion. I discovered The Stones as a kid probably in my late teens, early 20s because of Bobby Keyes. I knew who the Rolling Stones were of course, but seeing T Bone (Burnette) mixing Bobby Keyes, their saxophone player (was it). So, I studied his work, and I realized some of the guys who taught me how to play and the Grateful Dead – I'm not a Grateful Deadhead or any of that.

So, it's been more of a process of hearing all the music around me. From the jam band scene, everybody kind of got some kind of connection with the Dead, so over the years I've listened to it, figured out what was good about it which is just the song forms and the fact that it's blues-based. From that standpoint like this last weekend, I did Phil and Friends out in New York, and it was really fun because it was just playing the blues over a bunch of weird forms.
Yeah, is it more fun to be free form like Lesh or do you get the same kick out of playing with the Stones?
The Stones gig is more about just how plush it is, and the catalog is insane, you know what I mean?
Yeah.
But as far as a player, the Phil Lesh gig is more fun because I get to pretty much do what I want to do. He's of the moment. He doesn't put any guideline. I just play music.
The thing I like about The Dead is they give space to everybody.
Exactly. I feel it's really a back and forth kind of communication, and I see what he wants. The jazz gigs and my early career, my early days I wanted to be free jazz guy. So, from the Phil Lesh standpoint, I totally get that he wants it different and inventive every night. I understand that, and I like it. So, I feel like we really have a good time together.
On the other hand, I've seen the Stones probably 11 times since 1965. They're my favorite act to see live, and even though they seem to stick to the same songs pretty much the same way each time, I think the interaction between Ron Wood and Keith Richards on stage each time that I see them is enough different that I almost get the same kick that I get out of seeing the Dead.
I agree. I agree. That band is very interesting in terms of how they play because you've got Keith and Ron thing going on. In the middle of that, man, Charlie Watts is like really one of the greatest drummers ever from the standpoint of how he's able to keep that naivete through his drumming.
That's a great way to describe his drumming. I never heard anybody call him naïve, but you're right.
Yeah, it's like the paintings at House of Blues. It's on purpose that way.
Right, right, right.
And you know with over 60 years playing, he can play technically more if he wanted to, but he's smart enough not to, which makes it really cool.
Does he get bored by it because when I interviewed Bill Wyman he said, "I should have left The Stones in '81 instead of '89.
You mean, does Charlie get bored?
Yeah.
You know what? I don't think so, and I'm sure there's been a boring period of it, and then to some extent, the catalog is really incredible. I asked Keith about that once. 'Do you ever get bored with your catalog,' and he said, 'Definitely not.' He said, 'You write a song, and the you record it. Then, you go back and (perform) it for 20 years, and you're relearning it every time.
I feel that when I see them. You do the same thing in your playing through the years, and that is while you stay true to your muse, at the same time there are little flavors that sneak in that are more contemporary and just different enough that it's like the seasoning on a good gumbo.
Yeah, yeah. I think that's kind of like the composer part of all this music. That's what I'm trying to do constantly is trying to write better songs. The process is you have to live, and you have to write music, and you have to talk to people, and then it comes out in the music, and then at the end of the day, I'm gonna play better saxophone every day and write better songs. It's a constant motion.
You must have an interesting time with Keith Richards because he loves the kind of eclecticism you represent, and he was a friend of Bobby Keyes. Have you been able to live up to Bobby Keyes' stories with him?
You know what? I feel like we have a connection. It's still budding over three years, but half of it is just understanding what he's saying. It's like talking to a Jamaican or something. But yeah, he's all about music. So, we had a couple of good hangs, but I haven't been able to kind hang with him on the complete musical level, been inside. That would be super fun. He's pretty amazing. I can tell he really loves music. Like he loves all the intricacies of it. So, that whole band is really amazing. I don't get to pick their brain as much as I'd like to 'cause I know what's in there.
Yeah, when I read his Live book I realized what an intellect he was – who he is totally different than the image he presents to the public.
Right, exactly.
But it is what it is. I still love him.
Yes! Yeah, exactly!
Why did you pick Sticky Fingers out of the total repertoire to do your live album homage?
Because of "Can You Hear Me Knocking" and "Brown Sugar." Not to mention the other great songs on the record, but yeah, those two songs just made sense for a sax player in Chicago.
If you were gonna do another one, what would you do?
Well, we just did a little (set) on Exile on Main St. at (New Orleans) Jazz Fest. We called it Exile on Bourbon St. and then mixed 'em with our songs. And that was just like a month ago.
I never agreed with most of the critics who thought that Exile on Main St. was the Stones' high water mark. I thought Sticky Fingers and Beggar's Banquet were better. Is that because I'm not a jazzer?
No, I would agree with you. The (cool) thing about Exile on Main St. is kind of the raggedness of it, but I prefer Sticky Fingers, definitely. I think it's just more concise, and the songs are more like "Moonlight Mile." The inner songs are better on Sticky Fingers for my taste even though I discovered one that was really amazing on Exile that I'd never paid any attention to, but we turned it into a real form which is "Just Want to See His Face." I took that one apart and kind of reconstructed it 'cause it's kind of deconstructed in its form.

At the end of the day, the idea is still just learning how to play the blues. As a jazz guy, that's really what it's about, learning how to play the blues. So, my continual search is for that perfect blues solo.